Caption: Board of Trustees Minutes - 1992
This is a reduced-resolution page image for fast online browsing.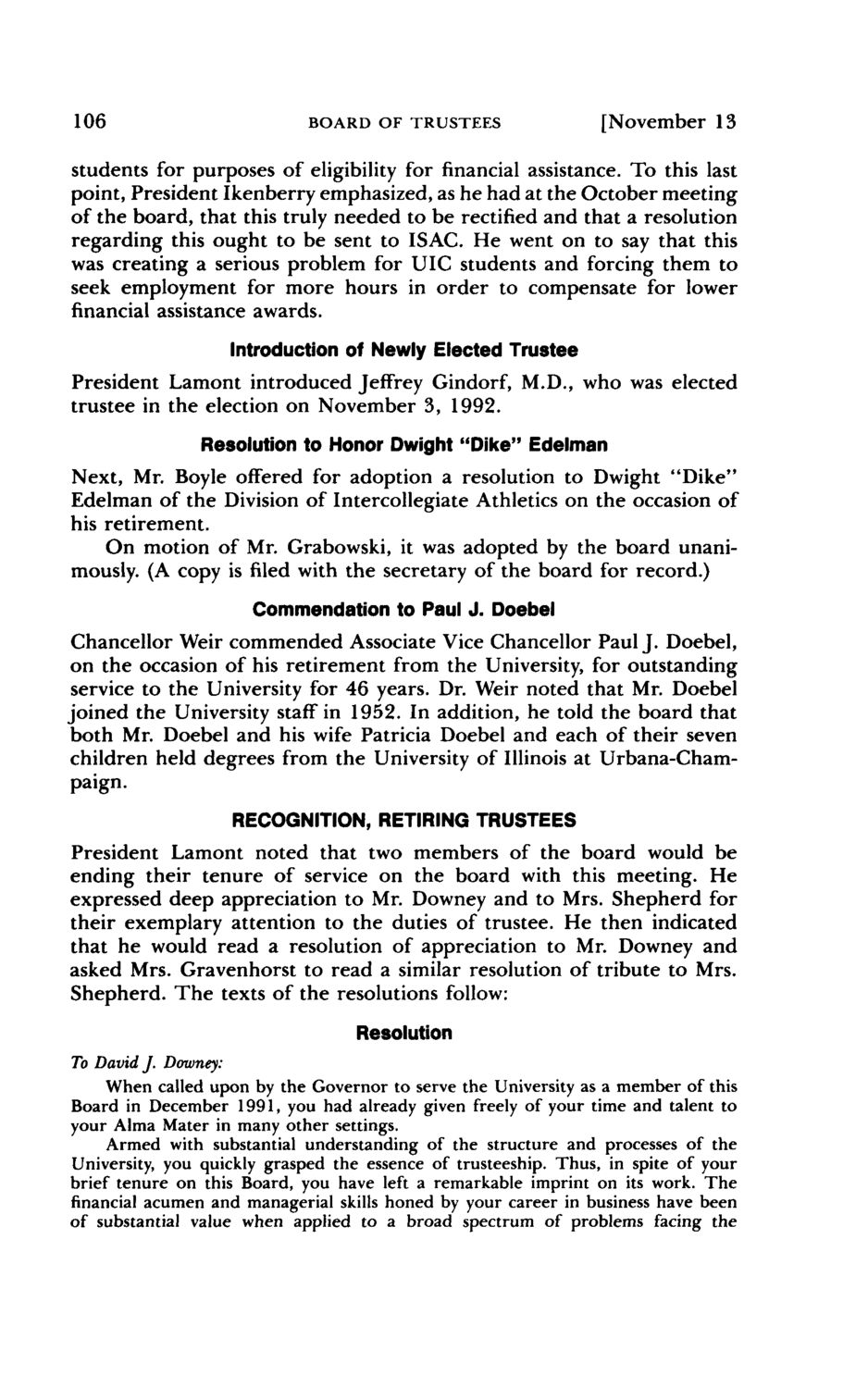 ---
EXTRACTED TEXT FROM PAGE:
106
BOARD OF TRUSTEES
[November 13
students for purposes of eligibility for financial assistance. To this last point, President Ikenberry emphasized, as he had at the October meeting of the board, that this truly needed to be rectified and that a resolution regarding this ought to be sent to ISAC. He went on to say that this was creating a serious problem for UIC students and forcing them to seek employment for more hours in order to compensate for lower financial assistance awards.
Introduction of Newly Elected Trustee
President Lamont introduced Jeffrey Gindorf, M.D., who was elected trustee in the election on November 3, 1992.
Resolution to Honor Dwight "Dike" Edelman
Next, Mr. Boyle offered for adoption a resolution to Dwight "Dike" Edelman of the Division of Intercollegiate Athletics on the occasion of his retirement. On motion of Mr. Grabowski, it was adopted by the board unanimously. (A copy is filed with the secretary of the board for record.)
Commendation to Paul J. Doebel
Chancellor Weir commended Associate Vice Chancellor Paul J. Doebel, on the occasion of his retirement from the University, for outstanding service to the University for 46 years. Dr. Weir noted that Mr. Doebel joined the University staff in 1952. In addition, he told the board that both Mr. Doebel and his wife Patricia Doebel and each of their seven children held degrees from the University of Illinois at Urbana-Champaign.
RECOGNITION, RETIRING TRUSTEES
President Lamont noted that two members of the board would be ending their tenure of service on the board with this meeting. He expressed deep appreciation to Mr. Downey and to Mrs. Shepherd for their exemplary attention to the duties of trustee. He then indicated that he would read a resolution of appreciation to Mr. Downey and asked Mrs. Gravenhorst to read a similar resolution of tribute to Mrs. Shepherd. The texts of the resolutions follow:
Resolution
To David J. Downey: When called upon by the Governor to serve the University as a member of this Board in December 1991, you had already given freely of your time and talent to your Alma Mater in many other settings. Armed with substantial understanding of the structure and processes of the University, you quickly grasped the essence of trusteeship. Thus, in spite of your brief tenure on this Board, you have left a remarkable imprint on its work. The financial acumen and managerial skills honed by your career in business have been of substantial value when applied to a broad spectrum of problems facing the