Caption: Board of Trustees Minutes - 1896
This is a reduced-resolution page image for fast online browsing.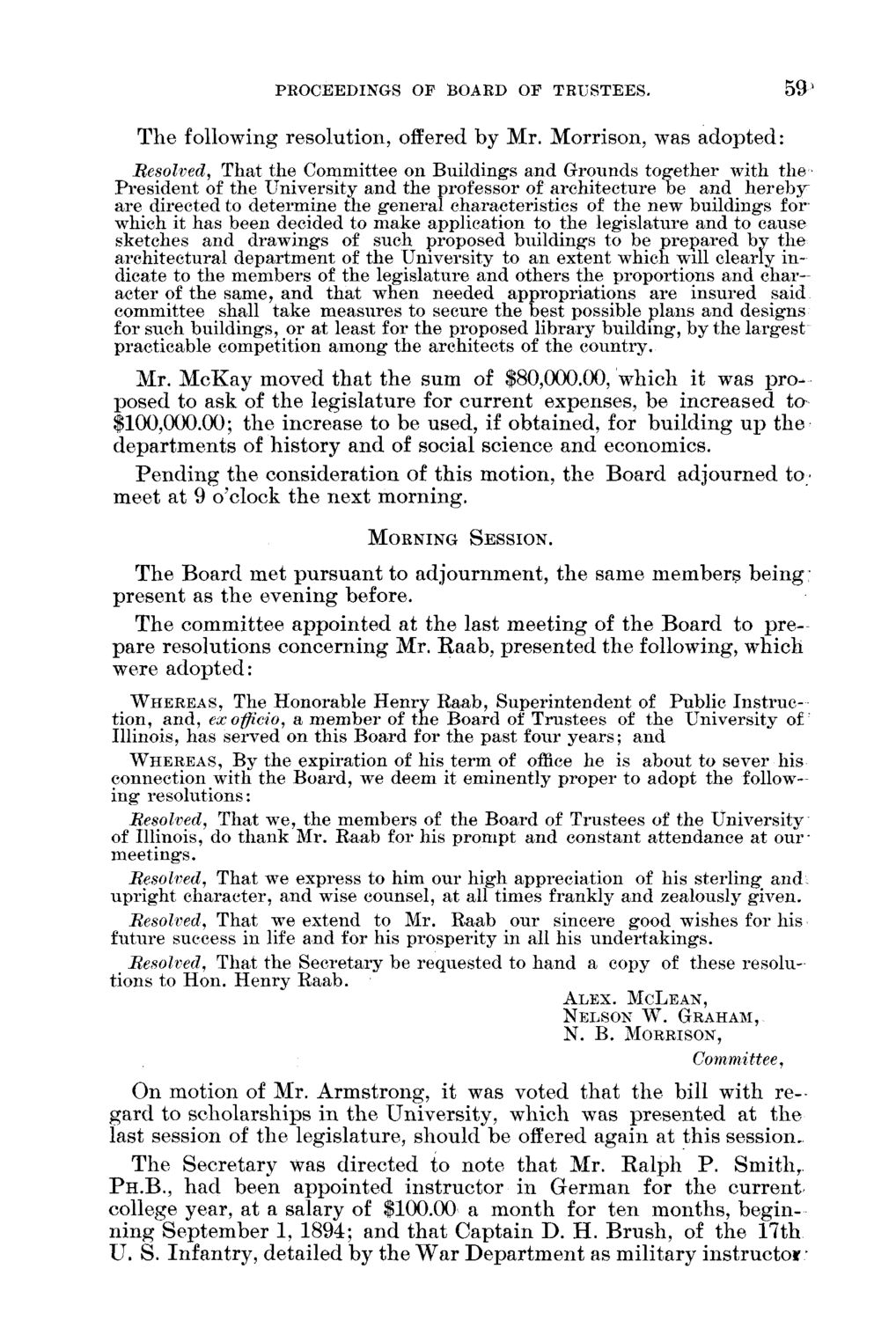 ---
EXTRACTED TEXT FROM PAGE:
PROCEEDINGS OF BOARD OF TRUSTEES.
59'
T h e following resolution, offered by Mr. Morrison, was a d o p t e d : Resolved, That the Committee on Buildings and Grounds together with the President of the University and the professor of architecture be and hereby are directed to determine the general characteristics of the new buildings for which it has been decided to make application to the legislature and to cause sketches and drawings of such proposed buildings to be prepared by the architectural department of the University to an extent which will clearly indicate to the members of the legislature and others the proportions and character of the same, and that when needed appropriations are insured said committee shall take measures to secure the best possible plans and designs for such buildings, or at least for the proposed library building, by the largest practicable competition among the architects of the country. M r . M c K a y moved t h a t t h e sum of $80,000.00, w h i c h it was p r o posed to ask of t h e legislature for c u r r e n t expenses, be i n c r e a s e d t o $100,000.00; t h e increase to be used, if obtained, for b u i l d i n g u p t h e d e p a r t m e n t s of h i s t o r y a n d of social science a n d economics. P e n d i n g t h e consideration of t h i s motion, t h e B o a r d a d j o u r n e d to • meet at 9 o'clock t h e n e x t m o r n i n g .
MORNING SESSION.
T h e B o a r d met p u r s u a n t to a d j o u r n m e n t , t h e same m e m b e r s b e i n g p r e s e n t as t h e e v e n i n g before. T h e c o m m i t t e e a p p o i n t e d at t h e last m e e t i n g of t h e B o a r d to p r e p a r e resolutions c o n c e r n i n g Mr. R a a b , p r e s e n t e d t h e following, w h i c h were a d o p t e d : WHEREAS, The Honorable Henry Eaab, Superintendent of Public Instruction, and, ex officio, a member of the Board of Trustees of the University of Illinois, has served on this Board for the past four years; and WHEREAS, By the expiration of his term of office he is about to sever his connection with the Board, we deem it eminently proper to adopt the following" resolutions: Resolved, That we, the members of the Board of Trustees of the University of Illinois, do thank Mr. Raab for his prompt and constant attendance at our* meetings. Resolved, That we express to him our high appreciation of his sterling; and upright character, and wise counsel, at all times frankly and zealously given. Resolved, That we extend to Mr. Raab our sincere good wishes for his future success in life and for his prosperity in all his undertakings. Resolved, That the Secretary be requested to hand a copy of these resolutions to Hon. Henry Raab.
ALEX. MCLEAN, NELSON W. GRAHAM, N. B. MORRISON,
Committee, O n motion of Mr. A r m s t r o n g , it was voted t h a t t h e bill w i t h reg a r d to scholarships i n t h e U n i v e r s i t y , w h i c h was p r e s e n t e d at t h e last session of t h e legislature, s h o u l d be offered a g a i n at t h i s session. T h e S e c r e t a r y was directed to n o t e t h a t M r . R a l p h P . S m i t h , P H . B . , h a d been a p p o i n t e d i n s t r u c t o r in G e r m a n for t h e c u r r e n t college year, at a salary of $100.00 a m o n t h for t e n m o n t h s , b e g i n n i n g S e p t e m b e r 1, 1894; a n d t h a t C a p t a i n D . H . B r u s h , of t h e 17th U. S. I n f a n t r y , detailed by t h e W a r D e p a r t m e n t as m i l i t a r y i n s t r u c t o r :