Caption: Board of Trustees Minutes - 1896
This is a reduced-resolution page image for fast online browsing.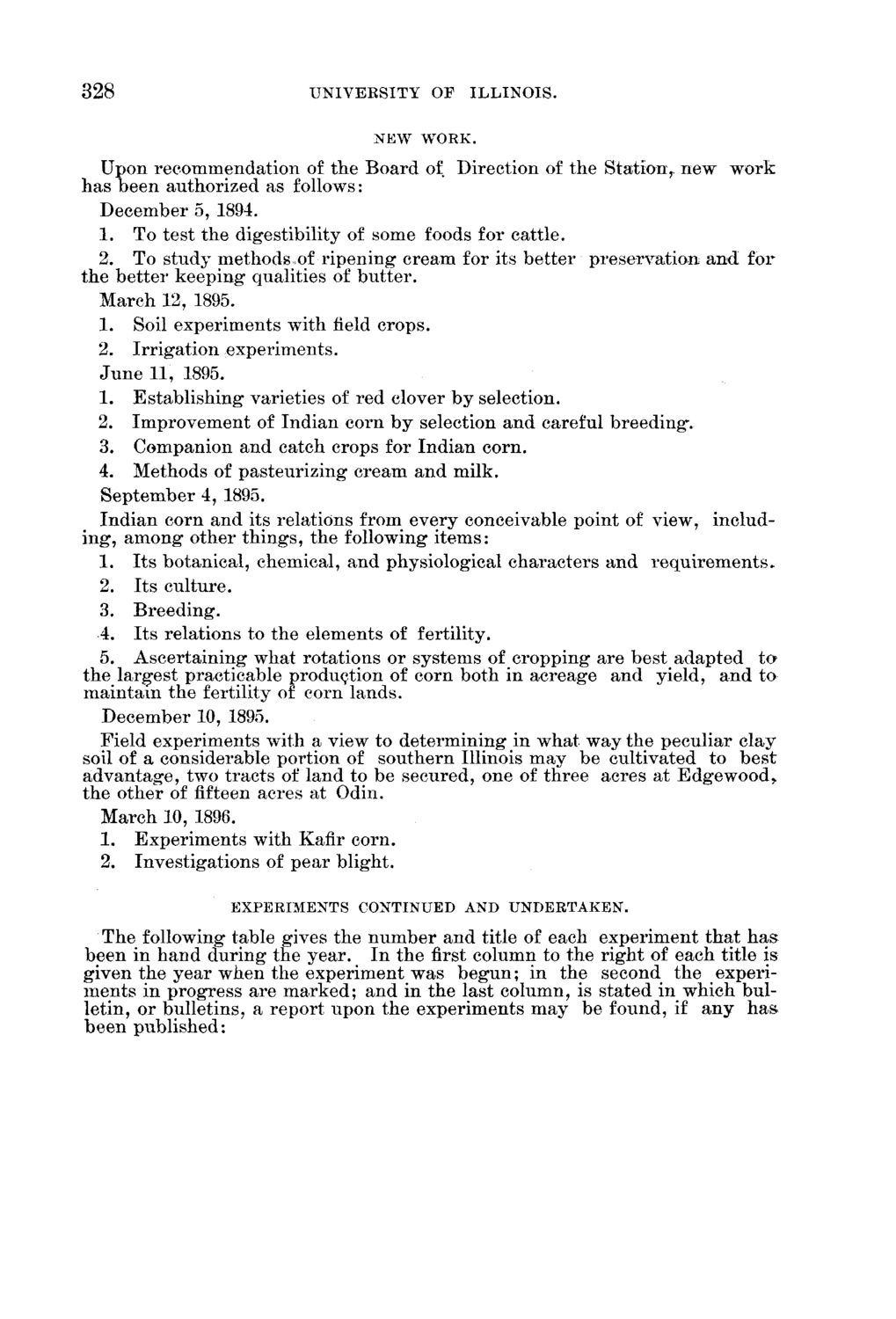 ---
EXTRACTED TEXT FROM PAGE:
328
UNIVEESITY OF
ILLINOIS.
NEW WORK.
Upon recommendation of the Board of Direction of the Station,, new work has been authorized as follows: December 5, 1894. 1. To test the digestibility of some foods for cattle. 2. To study methods of ripening cream for its better preservation and for the better keeping qualities of butter. March 12, 1895. 1. Soil experiments with field crops. 2. Irrigation experiments. June 11, 1895. 1. Establishing varieties of red clover by selection. 2. Improvement of Indian corn by selection and careful breeding. 3. Companion and catch crops for Indian corn. 4. Methods of pasteurizing cream and milk. September 4, 1895. Indian corn and its relations from every conceivable point of view, including, among other things, the following items: 1. Its botanical, chemical, and physiological characters and requirements. 2. Its culture. 3. Breeding. 4. Its relations to the elements of fertility. 5. Ascertaining what rotations or systems of cropping are best adapted to the largest practicable production of corn both in acreage and yield, and to maintain the fertility of corn lands. December 10, 1895. Field experiments with a view to determining in what way the peculiar clay soil of a considerable portion of southern Illinois may be cultivated to best advantage, two tracts of land to be secured, one of three acres at Edgewood* the other of fifteen acres at Odin. March 10, 1896. 1. Experiments with Kafir corn. 2. Investigations of pear blight.
EXPERIMENTS CONTINUED AND UNDERTAKEN.
The following table gives the number and title of each experiment that has been in hand during the year. In the first column to the right of each title is given the year when the experiment was begun; in the second the experiments in progress are marked; and in the last column, is stated in which bulletin, or bulletins, a report upon the experiments may be found, if any has been published: