Caption: Board of Trustees Minutes - 1896
This is a reduced-resolution page image for fast online browsing.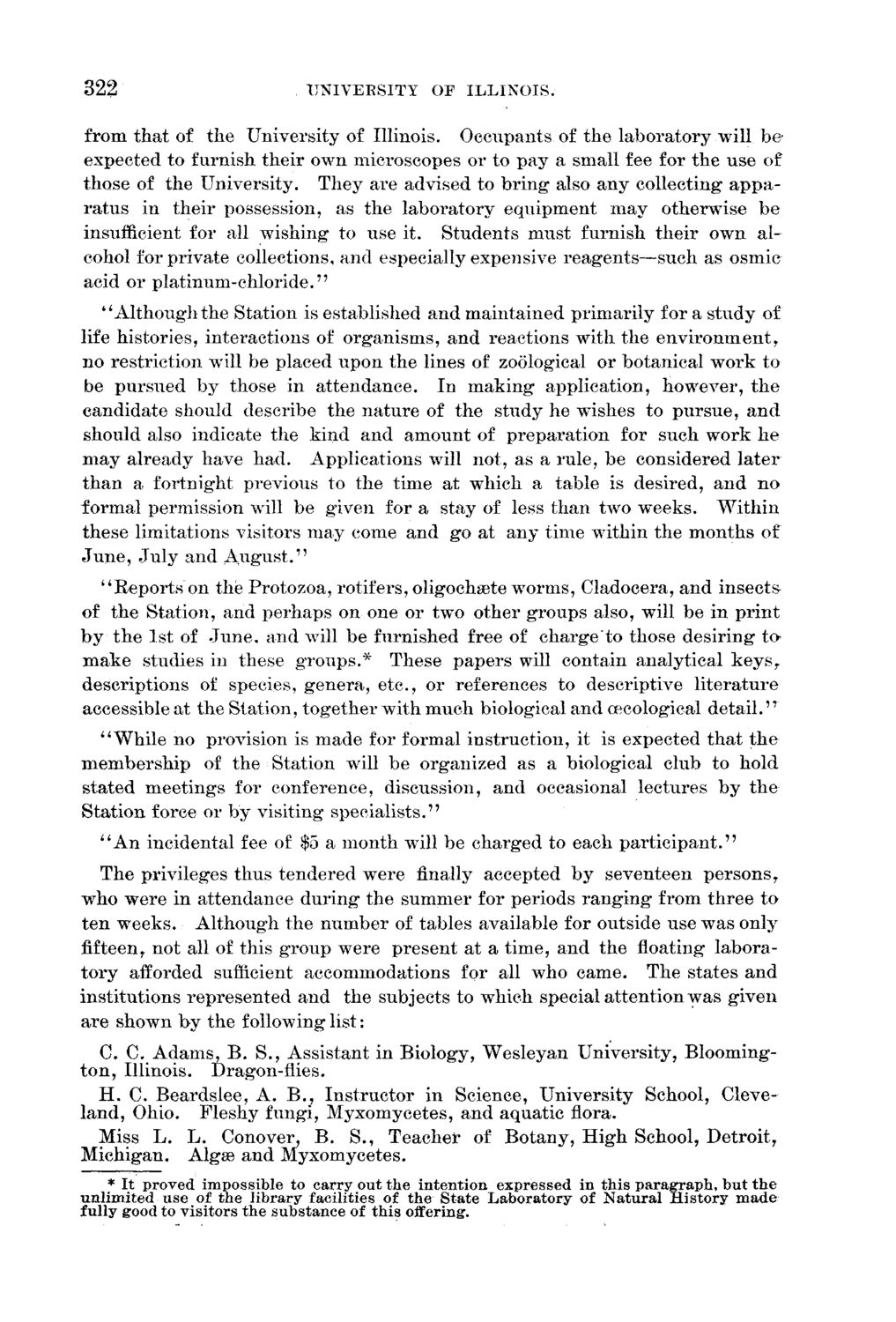 ---
EXTRACTED TEXT FROM PAGE:
322
IINIVEKSITY OF ILLINOIS.
from that of the University of Illinois. Occupants of the laboratory will b e expected to furnish their own microscopes or to pay a small fee for the use of those of the University. They are advised to bring also any collecting apparatus in their possession, as the laboratory equipment may otherwise be insufficient for all wishing to use it. Students must furnish their own alcohol for private collections, and especially expensive reagents—such as osmic acid or platinum-chloride." *'Although the Station is established and maintained primarily for a study of life histories, interactions of organisms, and reactions with the environment, no restriction will be placed upon the lines of zoological or botanical work to be pursued by those in attendance. In making application, however, the candidate should describe the nature of the study he wishes to pursue, and should also indicate the kind and amount of preparation for such work he may already have had. Applications will not, as a rule, be considered later than a fortnight previous to the time at which a table is desired, and no formal permission will be given for a stay of less than two weeks. Within these limitations visitors may come and go at any time within the months of June, July and August.'" "Reports on the Protozoa, rotifers, oligochsete worms, Cladocera, and insects of the Station, and perhaps on one or two other groups also, will be in print by the 1st of June, and will be furnished free of charge'to those desiring tomake studies in these groups.* These papers will contain analytical keys, descriptions of species, genera, etc., or references to descriptive literature accessible at the Station, together with much biological and oeeological detail." "While no provision is made for formal instruction, it is expected that the membership of the Station will be organized as a biological club to hold stated meetings for conference, discussion, and occasional lectures by the Station force or by visiting specialists." " A n incidental fee of $5 a month will be charged to each participant." The privileges thus tendered were finally accepted by seventeen persons, who were in attendance during the summer for periods ranging from three to ten weeks. Although the number of tables available for outside use was only fifteenr not all of this group were present at a time, and the floating laboratory afforded sufficient accommodations for all who came. The states and institutions represented and the subjects to which special attention was given are shown by the following list: C. C. Adams, B. S., Assistant in Biology, Wesleyan University, Bloomington, Illinois. Dragon-flies. H. C. Beardslee, A. B., Instructor in Science, University School, Cleveland, Ohio. Fleshy fungi, Myxomycetes, and aquatic flora. Miss L. L. Conover, B. S., Teacher of Botany, High School, Detroit, Michigan. Algae and Myxomycetes.
* It proved impossible to carry out the intention expressed in this paragraph, but the unlimited use of the library facilities of the State Laboratory of Natural History made fully good to visitors the substance of this offering.