Caption: Board of Trustees Minutes - 1896
This is a reduced-resolution page image for fast online browsing.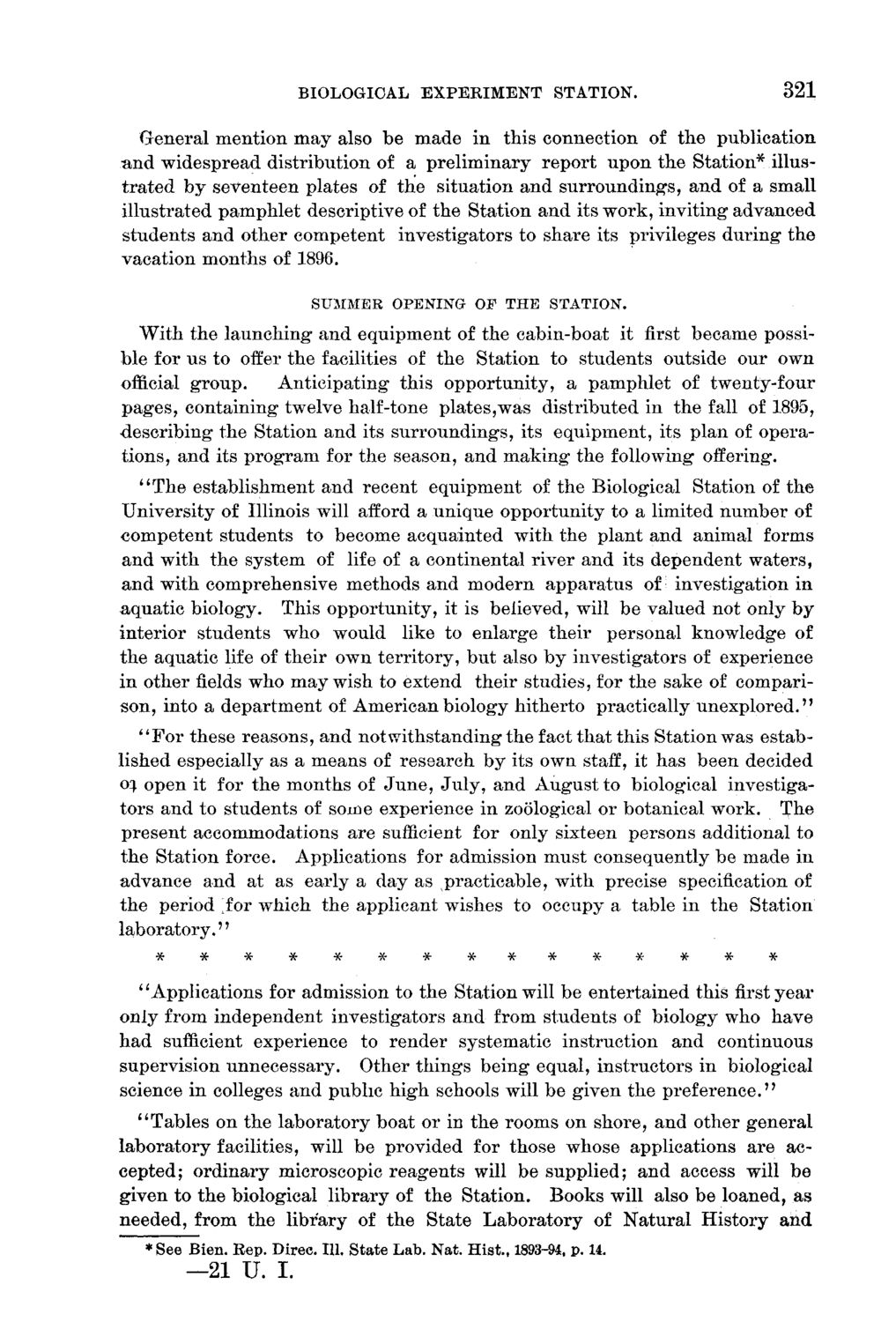 ---
EXTRACTED TEXT FROM PAGE:
BIOLOGICAL EXPERIMENT STATION.
321
General mention may also be made in this connection of the publication and widespread distribution of a preliminary report upon the Station* illustrated by seventeen plates of the situation and surroundings, and of a small illustrated pamphlet descriptive of the Station and its work, inviting advanced students and other competent investigators to share its privileges during the vacation months of 1896.
SUMMER OPENING OF THE STATION.
With the launching and equipment of the cabin-boat it first became possible for us to offer the facilities of the Station to students outside our own official group. Anticipating this opportunity, a pamphlet of twenty-four pages, containing twelve half-tone plates,was distributed in the fall of 1895, describing the Station and its surroundings, its equipment, its plan of operations, and its program for the season, and making the following offering. 'The establishment and recent equipment of the Biological Station of the University of Illinois will afford a unique opportunity to a limited number of competent students to become acquainted with the plant and animal forms and with the system of life of a continental river and its dependent waters, and with comprehensive methods and modern apparatus of investigation in aquatic biology. This opportunity, it is believed, will be valued not only by interior students who would like to enlarge their personal knowledge of the aquatic life of their own territory, but also by investigators of experience in other fields who may wish to extend their studies, for the sake of comparison, into a department of American biology hitherto practically unexplored." " F o r these reasons, and notwithstanding the fact that this Station was established especially as a means of research by its own staff, it has been decided o} open it for the months of June, July, and August to biological investigators and to students of some experience in zoological or botanical work. The present accommodations are sufficient for only sixteen persons additional to the Station force. Applications for admission must consequently be made in advance and at as early a day as practicable, with precise specification of the period ~for which the applicant wishes to occupy a table in the Station laboratory."
1
*
*
*
*
*
*
*
*
*
*
*
*
*
*
*
" Applications for admission to the Station will be entertained this first year only from independent investigators and from students of biology who have had sufficient experience to render systematic instruction and continuous supervision unnecessary. Other things being equal, instructors in biological science in colleges and public high schools will be given the preference." "Tables on the laboratory boat or in the rooms on shore, and other general laboratory facilities, will be provided for those whose applications are accepted; ordinary microscopic reagents will be supplied; and access will be given to the biological library of the Station. Books will also be loaned, as needed, from the library of the State Laboratory of Natural History and
*See Bien. Rep. Direc. 111. State Lab. Nat. Hist., 1893-94, p. 14.
—21 U. I.