Caption: Board of Trustees Minutes - 1896
This is a reduced-resolution page image for fast online browsing.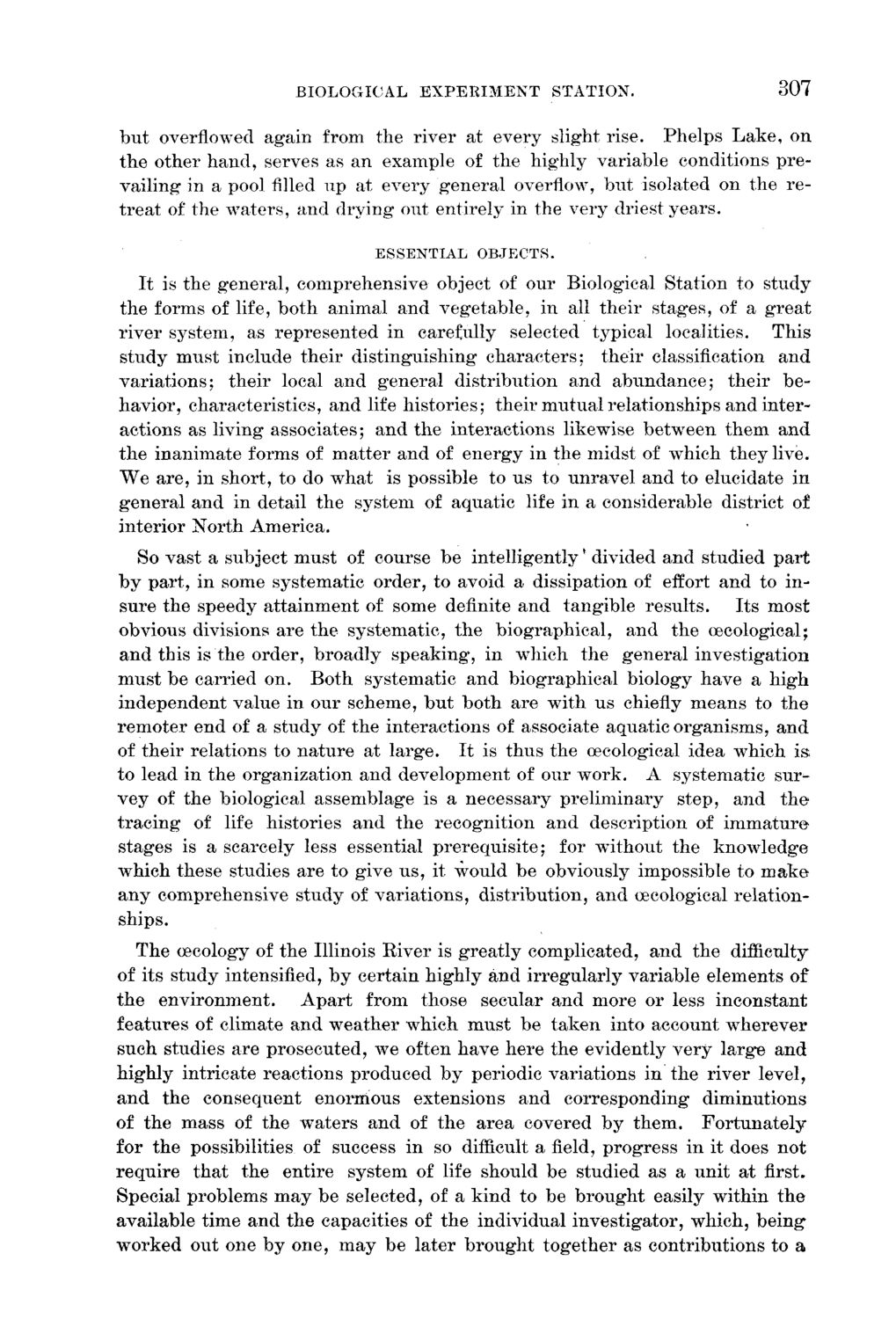 ---
EXTRACTED TEXT FROM PAGE:
BIOLOGICAL E X P E R I M E N T
STATION.
307
but overflowed again from the river at every slight rise. Phelps Lake, on the other hand, serves as an example of the highly variable conditions prevailing in a pool filled up at every general overflow, but isolated on the retreat of the waters, and drying out entirely in the very driest years.
ESSENTIAL OBJECTS.
It is the general, comprehensive object of our Biological Station to study the forms of life, both animal and vegetable, in all their stages, of a great river system, as represented in carefully selected typical localities. This study must include their distinguishing characters; their classification and variations; their local and general distribution and abundance; their behavior, characteristics, and life histories; their mutual relationships and interactions as living associates; and the interactions likewise between them and the inanimate forms of matter and of energy in the midst of wThich they live. We are, in short, to do what is possible to us to unravel and to elucidate in general and in detail the system of aquatic life in a considerable district of interior North America. So vast a subject must of course be intelligently * divided and studied part by part, in some systematic order, to avoid a dissipation of effort and to insure the speedy attainment of some definite and tangible results. Its most obvious divisions are the systematic, the biographical, and the oecological; and this is the order, broadly speaking, in which the general investigation must be carried on. Both systematic and biographical biology have a high independent value in our scheme, but both are with us chiefly means to the remoter end of a study of the interactions of associate aquatic organisms, and of their relations to nature at large. It is thus the oecological idea which is to lead in the organization and development of our work. A systematic sur^ vey of the biological assemblage is a necessary preliminary step, and the tracing of life histories and the recognition and description of immature stages is a scarcely less essential prerequisite; for without the knowledge which these studies are to give us, it would be obviously impossible to make any comprehensive study of variations, distribution, and oecological relationships. The oecology of the Illinois Eiver is greatly complicated, and the difficulty of its study intensified, by certain highly and irregularly variable elements of the environment. Apart from those secular and more or less inconstant features of climate and weather which must be taken into account wherever such studies are prosecuted, we often have here the evidently very large and highly intricate reactions produced by periodic variations in the river level, and the consequent enormous extensions and corresponding diminutions of the mass of the waters and of the area covered by them. Fortunately for the possibilities of success in so difficult a field, progress in it does not require that the entire system of life should be studied as a unit at first. Special problems may be selected, of a kind to be broiight easily within the available time and the capacities of the individual investigator, which, being worked out one by one, may be later brought together as contributions to a