Caption: Board of Trustees Minutes - 1896
This is a reduced-resolution page image for fast online browsing.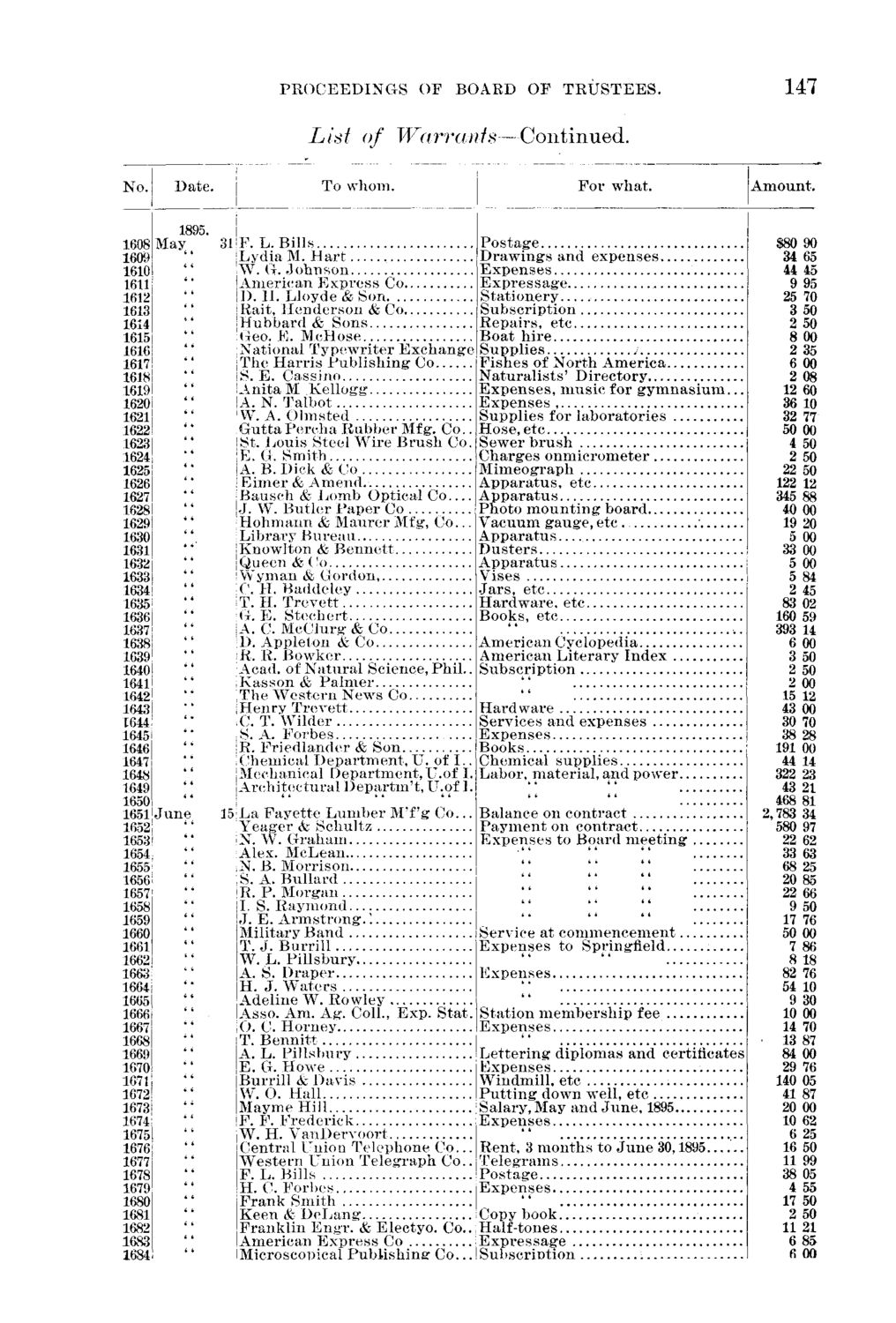 ---
EXTRACTED TEXT FROM PAGE:
PROCEEDINGS OP BOARD OP TRUSTEES.
147
List of
To whom.
Warrants—Continued.
I For what. Amount.
1608 May 1609 1610! 1611 1612! 1613) 1614 1615 i 1616! 1617! 1618! 1619! 1620! 1621 1622! 1623! 1624! 1625 1626) 1627 1628| 16291 1630! 1631 1632! 1633! 1634 1635! 1636 1637 1638 1639J 16401 164l| 16421 1643 i 1644) 1645 1646 1647 16481 1649 1650| 1651 1652!June 1653 1654 1655 1656 1657 1658 1659 1660 1661 1662 1663| 1664 1665 1666 j 1667 16681 1669 1670 1671 16721 16731 1674 16751 1676 1677 1678 1679| 1680 1681 1682] 1683] 1684
31 F. L.Bills Postage jLydiaM. Hart Drawings and expenses W. G. J o h n s o n Expenses ! American E x p r e s s Co Expressage iD. H. L l o y d e & S o n Stationery I Rait, H e n d e r s o n & Co Subscription !Hubbard & Sons Repairs, etc jGeo. E. McHose Boat hire INational Typewriter E x c h a n g e Supplies J jThe H a r r i s Publishing- Co.. Fishes of North America iS. E. Cassino N a t u r a l i s t s ' Directory !Anita M KelloggE x p e n s e s , m u s i c for g y m n a s i u m . I A. N. Talbot Expenses , |W. A. Olmsted Supplies for laboratories G u t t a p e r c h a Rubber Mfg. Co.. Hose, etc !St. Louis Steel Wire B r u s h Co. Sewer b r u s h |E. G. Smith Charges onmicrometer jA. B. Dick & Co Mimeograph ! E i m e r & Amend. Apparatus, etc iBauseh & Lomb Optical Co Apparatus j J. W. Butler P a p e r Co Photo m o u n t i n g board iHohmann & Maurer Mfg, C o . . . Vacuum gauge, etc ! Library B u r e a u Apparatus jKnowlton & Bennett Dusters I Queen <e Co f Apparatus | W y m a n & Gordon, Vises \C. H. Baddeley J a r s , etc iT. H. Trevett H a r d w a r e , etc iG. E. Stechert Books, etc jA. C. McClurg & Co jl). Appleton & Co American Cyclopedia |R. R. Bowker American Literary Index . j Acad, of Natural Science, Phil.. Subscription iKasson & P a l m e r The W e s t e r n News Co jHenry Trevett Hardware |C. T. Wilder Services and expenses j S. A. Forbes Expenses JR. Friedlander & Son Books IChemical Department, U. of I . . Chemical supplies Mechanical Department, U.of I. Labor, material, and power. I Architectural Departm't, U.of I. 15 La Fayette L u m b e r M'f'g C o . . . ! Yeager & Schultz IN. W. Graham j Alex. McLean !N. B. Morrison IS. A. Bullard |R. P. Morgan 11. S. Raymond J. E. A r m s t r o n g . I Military Band T . J . Burrill W. L. Pillsbury A. S. Draper H. J. W a t e r s Adeline W. Rowley lAsso. Am. Ag. Coll., Exp. Stat. IO. C. Horney iT. Bennitt A. L. Pillsbury Balance on contract P a y m e n t on contract E x p e n s e s to Board m e e t i n g .
Service at c o m m e n c e m e n t . E x p e n s e s to Springfield... Expenses. Station m e m b e r s h i p fee . Expenses
L e t t e r i n g diplomas and certificates Expenses j Burrill & Davis Windmill, etc jW. O. Hall P u t t i n g down well, etc jMayme Hill Salary, May and J u n e , 1895 jF. F. Frederick Expenses |W. H. VanDervoort !Central Union Telephone C o . . . Rent, 3 months to J u n e c W e s t e r n Union Telegraph Co.. Telegrams F.L.Bills Postage JH. C. Forbes Expenses | F r a n k Smith Copy book iKeen & D e L a n g j F r a n k l i n E n g r . & Electyo. Co.. Half-tones !American E x p r e s s Co E x p r e s s a g e .. I Microscopical P u b l i s h i n g C o . . . Subscription .
JE. G. Howe
$80 90 34 65 44 45 9 95 25 70 3 50 2 50 800 2 35 6 00 2 08 12 60 36 10 32 77 50 00 4 50 2 50 22 50 122 12 345 88 40 00 19 20 5 00 33 00 5 00 5 84 2 45 83 02 160 59 393 14 6 00 3 50 2 50 2 00 15 12 43 00 30 70 38 28 191 00 44 14 322 23 43 21 468 81 2,783 34 580 97 22 62 33 63 68 25 20 85 22 66 9 50 17 76 50 00 7 86 8 18 82 76 54 10 9 30 10 00 14 70 • 13 87 84 00 29 76 140 05 41 87 20 00 10 62 6 25 16 50 11 99 38 05 4 55 17 50 2 50 11 21 6 85 6 00