Caption: Board of Trustees Minutes - 1896
This is a reduced-resolution page image for fast online browsing.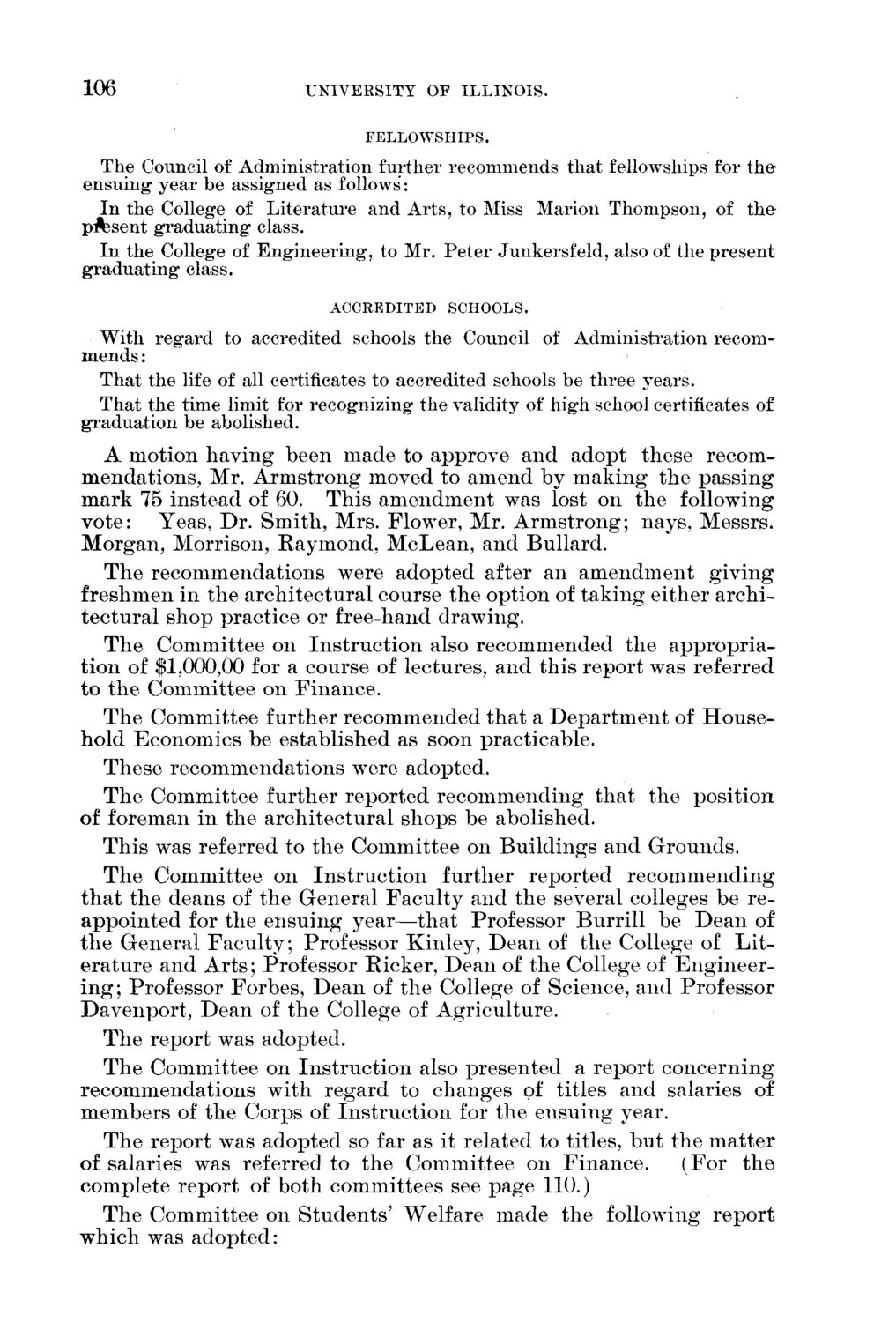 ---
EXTRACTED TEXT FROM PAGE:
106
UNIVERSITY OF ILLINOIS. FELLOWSHIPS.
The Council of Administration further recommends that fellowships for the ensuing year be assigned as follows: In the College of Literature and Arts, to Miss Marion Thompson, of the pftsent graduating class. In the College of Engineering, to Mr. Peter Junkersfeld, also of the present graduating class.
ACCREDITED SCHOOLS.
With regard to accredited schools the Council of Administration recommends : That the life of all certificates to accredited schools be three years. That the time limit for recognizing the validity of high school certificates of graduation be abolished. A motion having been made to approve and adopt these recommendations, Mr. Armstrong moved to amend by making the passing mark 75 instead of 60. This amendment was lost on the following vote: Yeas, Dr. Smith, Mrs. Flower, Mr. Armstrong; nays, Messrs. Morgan, Morrison, Raymond, McLean, and Bullard. The recommendations were adopted after an amendment giving freshmen in the architectural course the option of taking either architectural shop practice or free-hand drawing. The Committee on Instruction also recommended the appropriation of $1,000,00 for a course of lectures, and this report was referred to the Committee on Finance. The Committee further recommended that a Department of Household Economics be established as soon practicable. These recommendations were adopted. The Committee further reported recommending that the position of foreman in the architectural shops be abolished. This was referred to the Committee on Buildings and Grounds. The Committee on Instruction further reported recommending that the deans of the General Faculty and the several colleges be reappointed for the ensuing year—that Professor Burrill be Dean of the General Faculty; Professor Kinley, Dean of the College of Literature and Arts; Professor Ricker, Dean of the College of Engineering; Professor Forbes, Dean of the College of Science, and Professor Davenport, Dean of the College of Agriculture. The report was adopted. The Committee on Instruction also presented a report concerning recommendations with regard to changes of titles and salaries of members of the Corps of Instruction for the ensuing year. The report was adopted so far as it related to titles, but the matter of salaries was referred to the Committee on Finance. (For the complete report of both committees see page 110.) The Committee on Students' Welfare made the following report which was adopted: