Caption: Board of Trustees Minutes - 1874
This is a reduced-resolution page image for fast online browsing.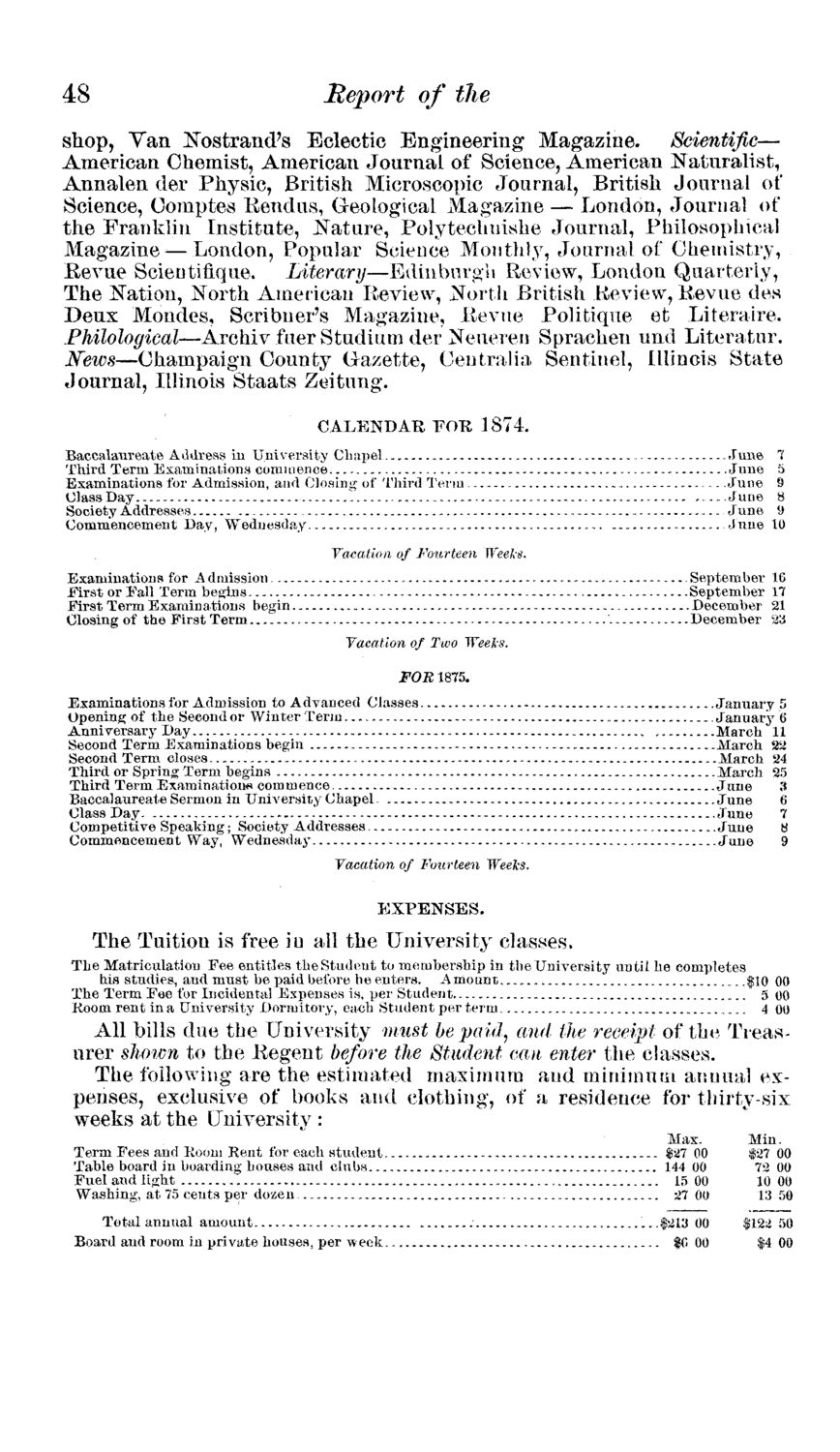 ---
EXTRACTED TEXT FROM PAGE:
48
Heport of the
shop, Yan £Tostrand7s Eclectic Engineering Magazine. Scientific— American Chemist, American Journal of Science, American Naturalist, Annalen der Physic, British Microscopic Journal, British Journal of Science, Comptes Rendus, Geological Magazine — London, Journal of the Franklin Institute, Nature, Polytechnishe Journal, Philosophical Magazine — London, Popular Science Monthly, Journal of Chemistry, Revue Scientifique. Literary—Edinburgh Review, London Quarterly, The Nation, North American Review, North British Review, Revue des Deux Mondes, Scrioner's Magazine, Revue Politique et Literaire. Philological—Archiv fuer Studium der Neueren Sprachen und Literatur. News—Champaign County Gazette, Centralia Sentinel, Illinois State Journal, Illinois Staats Zeitung.
CALENDAR FOTC 1874.
Baccalaureate Address in University Chapel Third Term Examinations commence Examinations for Admission, and Closing of Third Term Class D a y . . . . " Society Addresses Commencement Day, Wednesday Vacation of Fourteen Weeks. Examinations for Admission First or Fall Term begins -.-, First Term Examinations begin Closing of the First Term Vacation of Two Weeks. FOR 1875. Examinations for Admission to Advanced Classes Opening of the Second or Winter Term Anniversary Day Second Term Examinations begin Second Term closes Third or Spring Term begins Third Term Examinations commence Baccalaureate Sermon in University Chapel Class Day ' Competitive Speaking; Society Addresses Commencement Way, Wednesday Vacation of Fourteen Weeks. ,. January 5 January 6 March 11 March 22 March 24 March 25 June 3 June 6 June 7 June 8 June 9 , September September December December 16 17 21 23 June June . . . June June June June 7 5 9 8 9 10
,-
EXPENSES.
The Tuition is free iu all the University classes.
The Matriculation Fee entitles the Student to membership in the University until he completes his studies, and must be paid before he enters. A mount $10 00 The Term Fee for Incidental Expenses is, per Student 5 00 Room rent in a University Dormitory, each Student per term 4 00
All bills due the University must be paid, and the receipt of the Treasurer shown to the Kegent before the Student can enter the classes. The following are the estimated maximum and minimum annual expenses, exclusive of books and clothing, of a residence for thirty-six weeks at the University :
Term Fees and Room Rent for each student Table board in boarding houses and clubs Fuel and light Washing, at 75 cents per dozen Total annual amount Board and room in private houses, per week Max. $27 00 144 00 15 00 27 00 .$213 00 $6 00 Min. $27 00 72 00 10 00 13 50 $122 50 $4 00