Caption: Board of Trustees Minutes - 1874
This is a reduced-resolution page image for fast online browsing.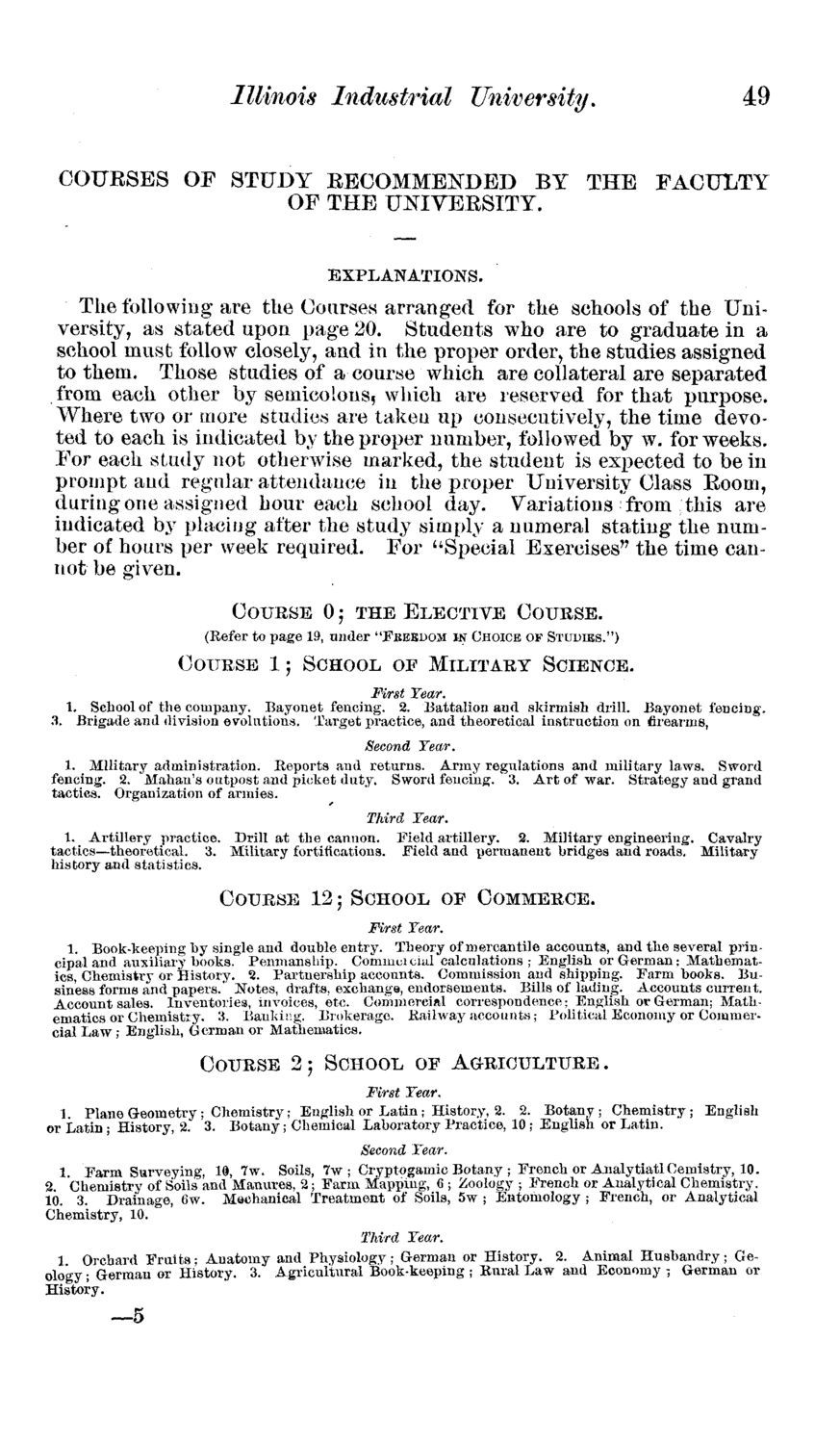 ---
EXTRACTED TEXT FROM PAGE:
Illinois Industrial
University.
49
COURSES OF STUDY RECOMMENDED BY THE FACULTY OF THE UNIVERSITY.
EXPLANATIONS.
The following are the Courses arranged for the schools of the University, as stated upon page 20. Students who are to graduate in a school must follow closely, and in the proper order, the studies assigned to them. Those studies of a course which are collateral are separated from each other by semicolons5 which are reserved for that purpose. Where two or more studies are taken up consecutively, the time devoted to each is indicated by the proper number, followed by w. for weeks. For each study not otherwise marked, the student is expected to be in prompt and regular attendance in the proper University Class Room, during one assigned hour each school day. Variations from this are indicated by placing after the study simply a numeral stating the number of hours per week required. For "Special Exercises" the time cannot be given.
COURSE 0 ,• THE E L E C T I V E COURSE.
(Refer to page 19, under "FKEEDOM M CHOICE OF STUDIES.")
COURSE 1; SCHOOL OF MILITARY SCIENCE.
First Tear. 1. School of the company. Bayonet fencing. 2. Battalion and skirmish drill. Bayonet fencing. 3. Brigade and division evolutions. Target practice, and theoretical instruction on firearms, Second Tear. 1. Military administration. Reports and returns. Army regulations and military laws. Sword fencing. 2. Mahan's outpost and picket duty, Sword fencing. 3. Art of war. Strategy and grand tactics. Organization of armies. Third Tear. 1. Artillery practice. Drill at the cannon. Field artillery. 2. Military engineering. Cavalry tactics—theoretical. 3. Military fortifications. Field and permanent bridges and roads. Military history and statistics.
COURSE 12; SCHOOL OF COMMERCE.
First Tear. 1. Book-keeping by single and double entry. Theory of mercantile accounts, and the several prin cipal and auxiliary books. Penmanship. Commoicud calculations,- English or German; Mathematics, Chemistry or History. 2. Partnership accounts. Commission and shipping. Farm books. Business forms and papers." Notes, drafts, exchange, endorsements. Bills of lading. Accounts current. Account sales. Inventories, invoices, etc. Commercial correspondence; English or German; Math ematics or Chemistry. 3. Banking. Brokerage. .Railway accounts; Political Economy or Commer cial Law; English, German or Mathematics.
COURSE 2 ; SCHOOL OF A G R I C U L T U R E .
First Tear. 1. Plane Geometry; Chemistry; English or Latin; History, 2. 2. Botany; Chemistry; English or Latin ; History, 2. 3. Botany; Chemical Laboratory Practice, 10 ; English or Latin. Second Tear. 1. Farm Surveying, 10, 7w. Soils, 7w ; Cryptogamic Botany ; French or Analytiatl Cemistry, 10. 2. Chemistry of Soils" and Manures, 2; Farm Mapping, 6 ; Zoology ; French or Analytical Chemistry, 10. 3. Drainage, 6w. Mechanical Treatment of Soils, 5w ; Entomology ; French, or Analytical Chemistry, 10. Third Tear. 1 Orchard F r u i t s ; Anatomy and Physiology; German or History. 2. Animal Husbandry ; Geology ; German or History. 3. Agricultural Book-keeping ; Kural Law and Economy ; German or History.