Caption: Board of Trustees Minutes - 1874
This is a reduced-resolution page image for fast online browsing.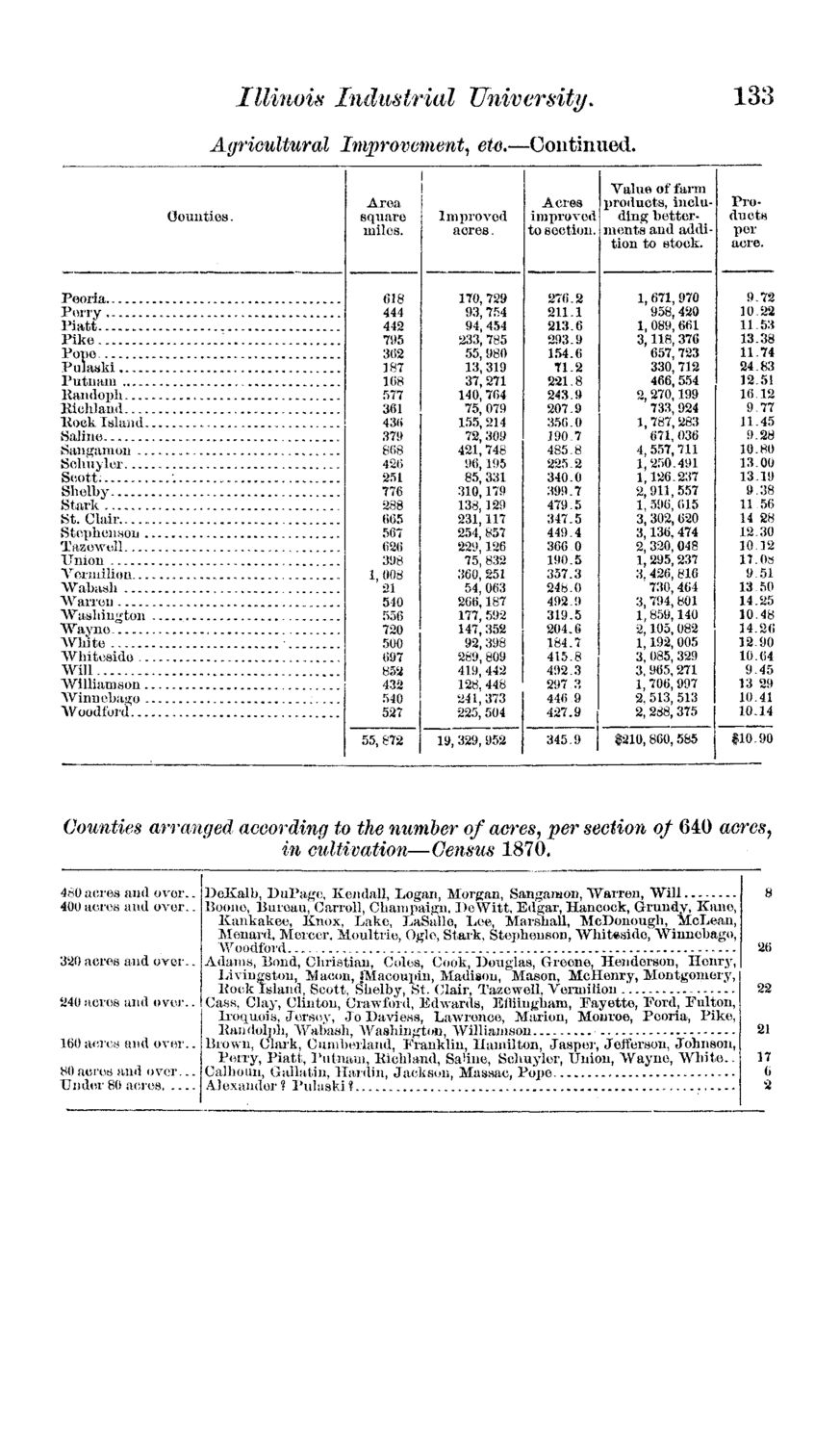 ---
EXTRACTED TEXT FROM PAGE:
Illinois Industrial
University.
133
Agricultural Improvement, etc.—Continued.
Counties. Area square miles. V a l u e of f a r m p r o d u c t s , incluAcres ding betterimproved t o section. m e n t s a n d addition t o stock.
Improved acres.
Peoria Perry ... Piatt Pike Pope Pulaski Putnam Randoph Richland.... Rock Island. Saline Sangamon .. Schuyler Scott. Shelby Stark ., S t . Clair Stephenson . Tazewell Union Vermilion... Wabash .... Warren Washington Wayne White W h i t e s i d e .. Will Williamson. Winnebago . Woodford...
618 444 442 795 362 187 168 577 361 436 379 868 426 251 776 288 665 567 626 398
1, 008
21 540 556 720 500 697 852 432 540 527
55, 872
170,729 93, 754 94, 454 233, 785 55, 980 13, 319 37, 271 140, 764 75, 079 155,214 72, 309 421,748 96,195 85, 331 310,179 138,129 231,117 254, 857 229,126 75, 832 360, 251 54, 063 266,187 177,592 147, 352 92, 398 289,809 419, 442 128, 448 241, 373 225, 504 19, 329, 952
276.2 211.1 213.6 293.9 154.6 71.2 221.8 243.9 207.9 356.0 190 7 485.8 225.2 340.0 399.7 479.5 347.5 449.4 366.0 190.5 357.3 248.0 492.9 319.5 204.6 184.7 415.8 492.3 297 3 446 9 427.9 345.9
1, 671, 970 958, 420 1, 089, 661 3,118, 376 657, 723 330,712 466, 554 2,270,199 733, 924 1,787,283 671, 036 4, 557, 711 1,250.491 1,126.237 2,911,557 1, 596, 615 3, 302, 620 3,136,474 2, 320, 048 1,295,237 3, 426, 816 730, 464 3, 794, 801 1,859,140 2,105,082 1,192, 005 3, 085, 329 3, 965,271 1, 706, 997 2. 513, 513 2,288,375 $210, 860, 585
Counties arranged according to the number of acres, per section of 640 acres, in cultivation—Census 1870,