Caption: Board of Trustees Minutes - 1874
This is a reduced-resolution page image for fast online browsing.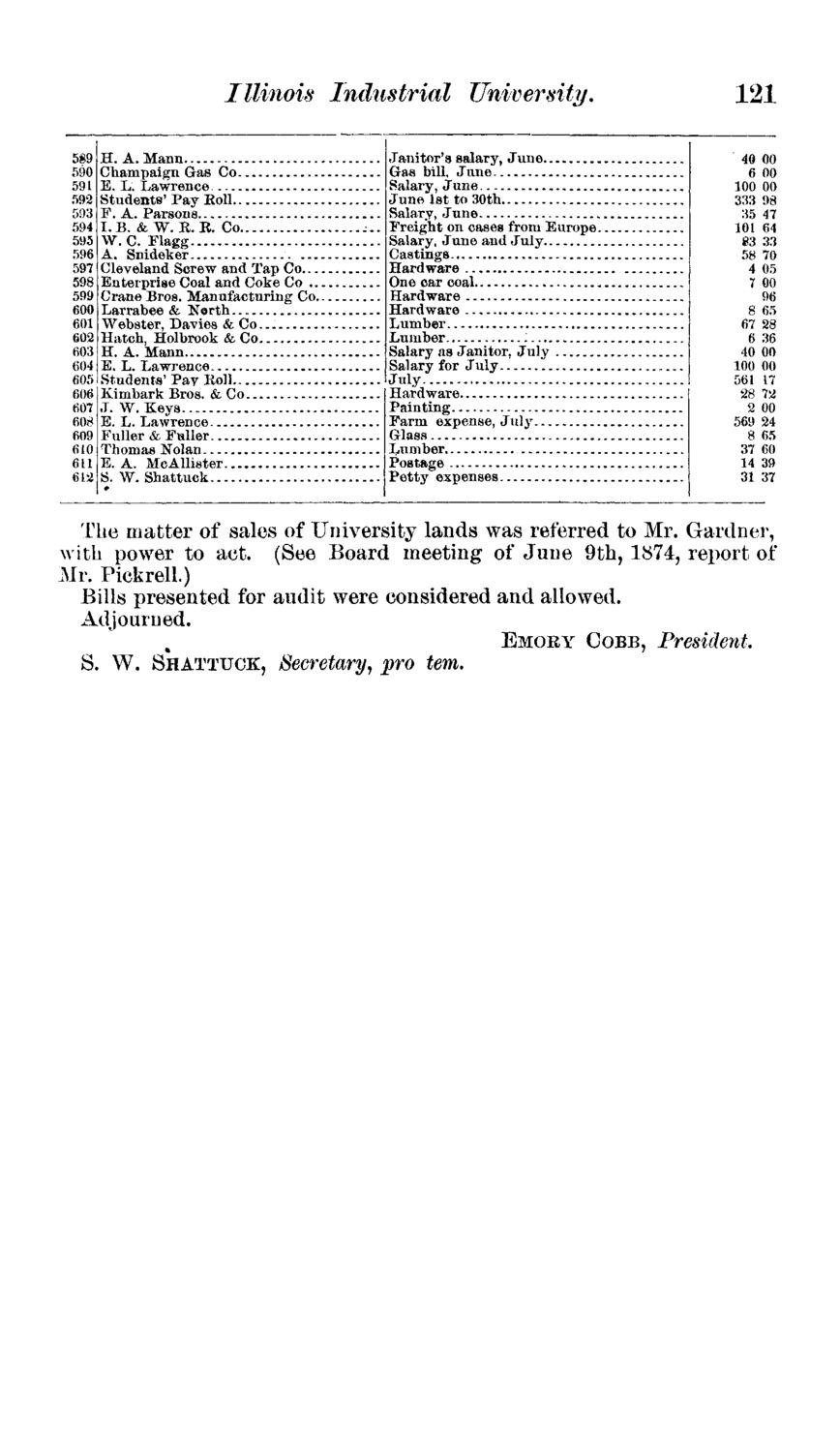 ---
EXTRACTED TEXT FROM PAGE:
Illinois
589 590 591 592 593 594 595 596 597 598 599 600 601 602 603 604 605 606 607 608 609 610 611 612
Industrial
University.
121
H. A. Mann Champaign Gas Co E. L. Lawrence Students' Pay Roll F. A. Parsons I . B . & W . R . R . Co W. C. Flagg A. Snideker ... Cleveland Screw and Tap Co... Enterprise Coal and Coke Co .. Crane Bros. Manufacturing Co, Larrabee & North Webster, Davies & Co Hatch, Holbrook & Co H. A. Mann E. L. Lawrence Students' Pay Roll Kimbark Bros. & Co J. W.Keys E. L. Lawrence Fuller & Fuller Thomas Nolan E. A. McAllister S. W. Shattuck
Janitor's salary, June Gas bill, June Salary, June J u n e 1st to 30th Salary, June Freight on cases from Europe Salary, June and July Castings Hardware One car coal Hardware Hardware Lumber Lumber : Salary as Janitor, July Salary for July '. July Hardware Painting Farm expense, July Glass Lumber Postage Petty expenses
The matter of sales of University lands was referred to Mr. Gardner, with power to act. (See Board meeting of June 9th, 1874, report of Mr. Pickrell.) Bills presented for audit were considered and allowed. Adjourned.
EMORY COBB, President
S. W.
SHATTUCK,
Secretary, pro tern.