Caption: Book - Mining Engineering Overview (1913)
This is a reduced-resolution page image for fast online browsing.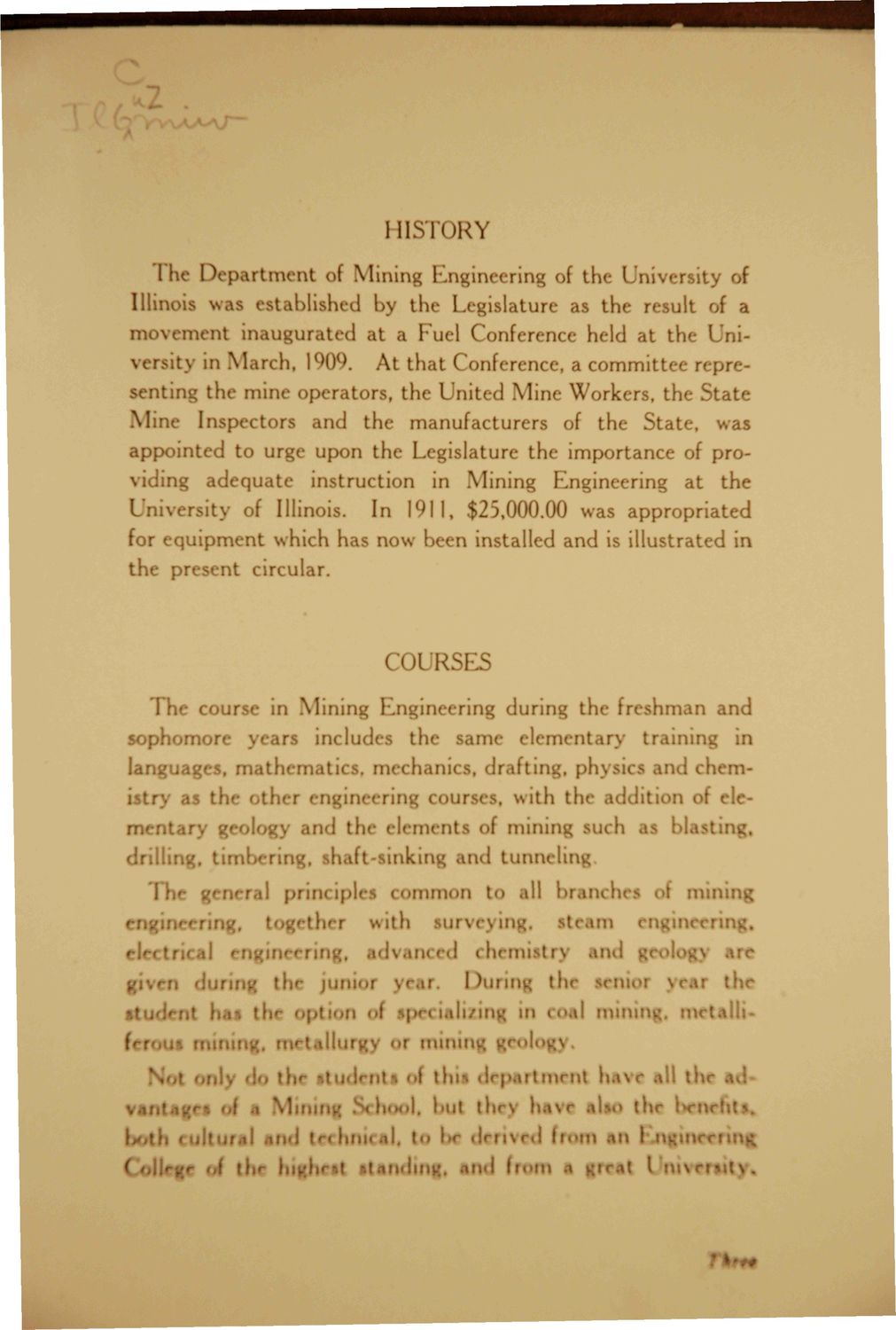 ---
EXTRACTED TEXT FROM PAGE:
-
HISTORY
I he Department ol Mining Engineering of the University of
Illinois v established l>y the Legislature as the n ult of a :io\ merit inaugurated at a Fuel Conference held at the University in March, 1900. At that Conference, a commit! representing the mine 0| rators, the Unit I Mine Workers, th State Mine Inspectors and the manufacturers of the State, was appoint J to urge upon the Legislature the important of providing adequate instruction in Mining Engineering at the University of Illinois. In 1911, $23,000.00 was appropriated for equipment which has now been installed and is illustrated in th present circular.
COURSES
1 he course in Mining Fngineering during the fi hman nd soph more y( rs include the same elementary trai ng in languages, mathemati< m Jiani I, drafting, physi and hemistry as the other engineering COUTO I, with the lit > ol ele n n< la geology and the elements ol mining such $ bl( ig drill: timbering, shaft inking and tunneling
The f neral prin t$ common to all branches < ig engineering, tog'-tl • ith surveyii steam eng . < < lectncal ng. adva I chemistry and geologN i t given d ring th< junior .u. I)inm^ the itn \< the * i a» the option of specializing in \\ mining, m \\\\feno metallurgy < mining geology,
fv |o tl tudentl o( th: irtmrnt h.wr §j ., Minuig l»OC>l. hut the ha\ \\%Q hoth turil ntui trchnical. to l»r i r m e d hotfl an Collegr of the hiKhrit ftUiicltiiK, ami from < \ttr*i * all the i d the l>cnrt ngtitri University,
. ' /