Caption: Book - Overview of University of Illinois for Chicago Alumni (1926)
This is a reduced-resolution page image for fast online browsing.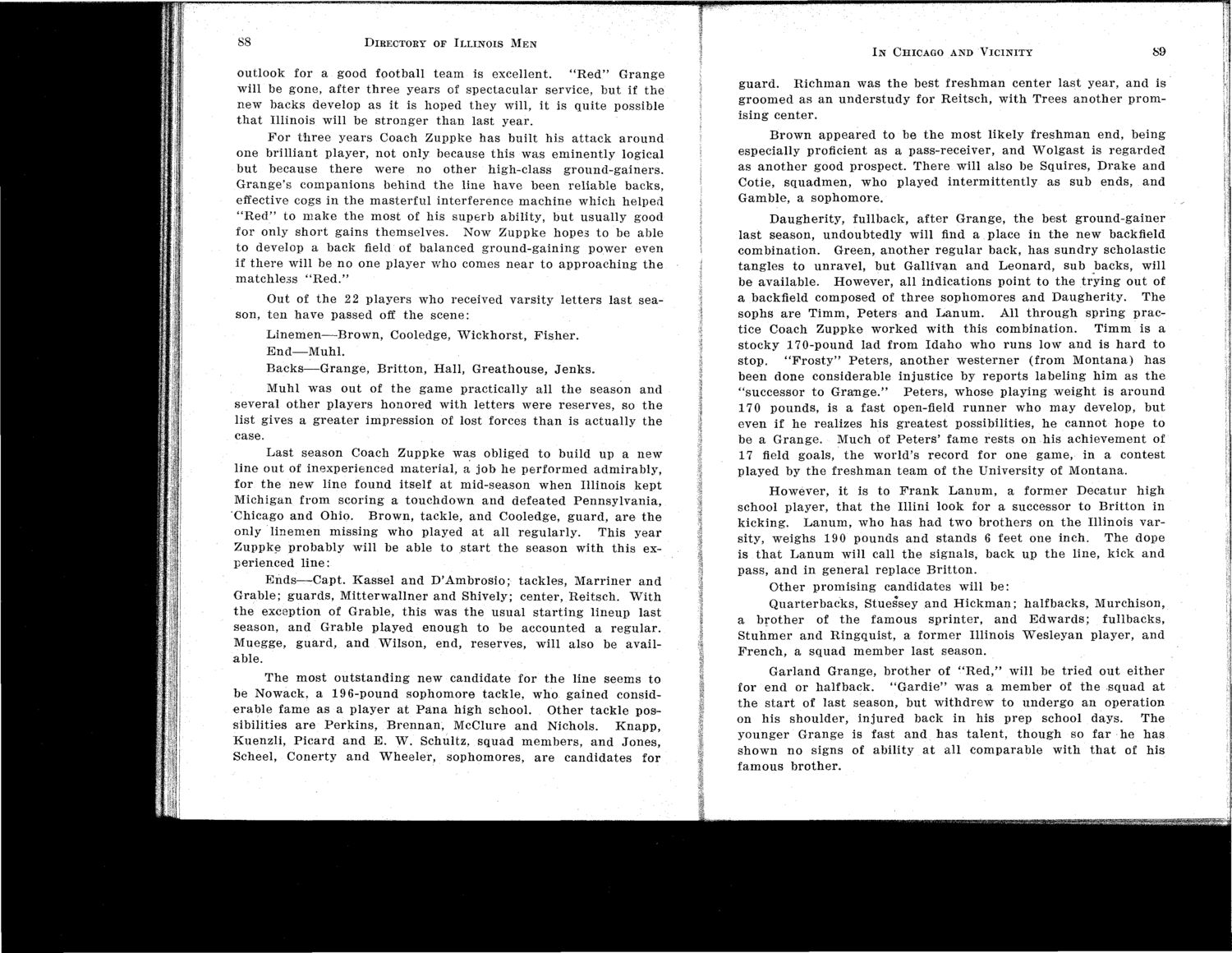 ---
EXTRACTED TEXT FROM PAGE:
88
DIRECTOKY OF ILLINOIS MEN
IN CHICAGO AND VICINITY
89
outlook for a good fpotball team is excellent. ''Red" Grange will be gone, after three years of spectacular service, but if the new backs develop as it is hoped they will, it is quite possible that Illinois will be stronger than last year. For three years Coach Zuppke has built his attack around one brilliant player, not only because this was eminently logical but because there were no other high-class ground-gainers. Grange's companions behind the line have been reliable backs, effective cogs in the masterful interference machine which helped "Red" to make the most of his superb ability, but usually good for only short gains themselves. Now Zuppke hopes to be able to develop a back field of balanced ground-gaining power even if there will be no one player who comes near to approaching the matchless "Red." Out of the 22 players who received varsity letters last season, ten have passed off the scene: Linemen—Brown, Cooledge, Wickhorst, Fisher. End—Muhl. Backs—Grange, Britton, Hall, Greathouse, Jenks. Muhl was out of the game practically all the season and several other players honored with letters were reserves, so the list gives a greater impression of lost forces than is actually the case. Last season Coach Zuppke was obliged to build up a new line out of inexperienced material, a job he performed admirably, for the new line found itself at mid-season when Illinois kept Michigan from scoring a touchdown and defeated Pennsylvania, Chicago and Ohio. Brown, tackle, and Cooledge, guard, are the only linemen missing who played at all regularly. This year Zuppke probably will be able to start the season with this experienced line: Ends—-Capt. Kassel and D'Ambrosio; tackles, Marriner and Grable; guards, Mitterwallner and Shivery; center, Reitsch. With the exception of Grable, this was the usual starting lineup last season, and Grable played enough to be accounted a regular. Muegge, guard, and Wilson, end, reserves, will also be available. The most outstanding new candidate for the line seems to be Nowack, a 196-pound sophomore tackle, who gained considerable fame as a player at Pana high school. Other tackle possibilities are Perkins, Brennan, McClure and Nichols. Knapp, Kuenzli, Picard and E. W. Schultz, squad members, and Jones, Scheel, Conerty and Wheeler, sophomores, are candidates for
guard. Richman was the best freshman center last year, and is groomed as an understudy for Reitsch, with Trees another promising center. Brown appeared to be the most likely freshman end, being especially proficient as a pass-receiver, and Wolgast is regarded as another good prospect. There will also be Squires, Drake and Cotie, squadmen, who played intermittently as sub ends, and Gamble, a sophomore. Daugherity, fullback, after Grange, the best ground-gainer last season, undoubtedly will find a place in the new backfield combination. Green, another regular back, has sundry scholastic tangles to unravel, but Gallivan and Leonard, sub backs, will be available. However, all indications point to the trying out of a backfield composed of three sophomores and Daugherity. The sophs are Timm, Peters and Lanum. All through spring practice Coach Zuppke worked with this combination. Timm is a stocky 170-pound lad from Idaho who runs low and is hard to stop. "Frosty" Peters, another westerner (from Montana) has been done considerable injustice by reports labeling him as the "successor to Grange." Peters, whose playing weight is around 170 pounds, is a fast open-field runner who may develop, but even if he realizes his greatest possibilities, he cannot hope to be a Grange. Much of Peters' fame rests on his achievement of 17 field goals, the world's record for one game, in a contest played by the freshman team of the University of Montana. However, it is to Frank Lanum, a former Decatur high school player, that the Illini look for a successor to Britton in kicking. Lanum, who has had two brothers on the Illinois varsity, weighs 190 pounds and stands 6 feet one inch. The dope is that Lanum will call the signals, back up the line, kick and pass, and in general replace Britton. Other promising candidates will be: Quarterbacks, Stuessey and Hickman; halfbacks, Murchison, a brother of the famous sprinter, and Edwards; fullbacks, Stuhmer and Ringquist, a former Illinois Wesleyan player, and French, a squad member last season. Garland Grange, brother of "Red," will be tried out either for end or halfback. "Gardie" was a member of the squad at the start of last season, but withdrew to undergo an operation on his shoulder, injured back in his prep school days. The younger Grange is fast and has talent, though so far he has shown no signs of ability at all comparable with that of his famous brother.