Caption: Course Catalog - 1876-1877
This is a reduced-resolution page image for fast online browsing.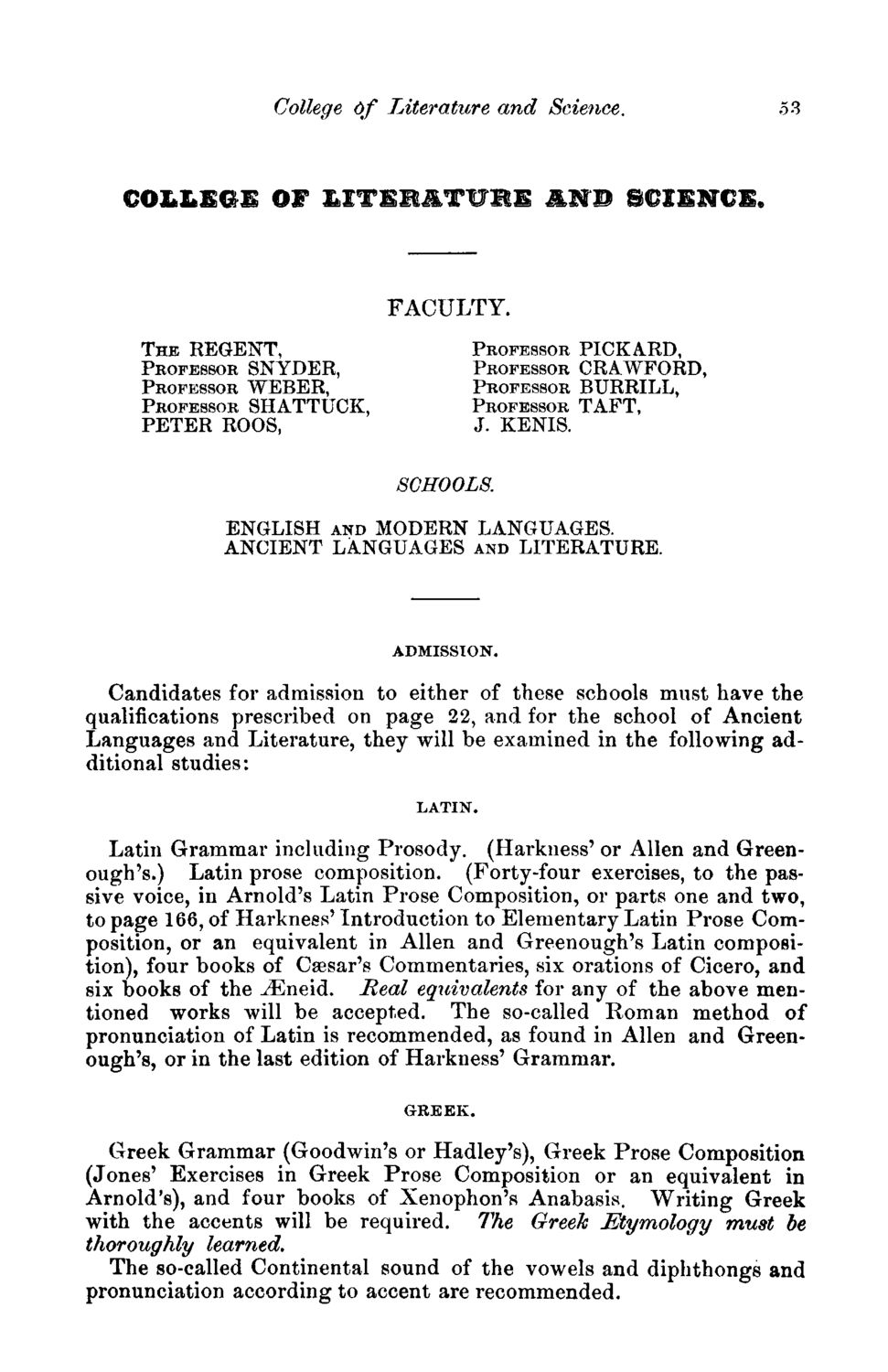 ---
EXTRACTED TEXT FROM PAGE:
College of Literature and Science.
53
COLLEGE OF UTSRATUIIE ANP SCIENCE,
FACULTY.
THE REGENT,
PROFESSOR SNYDER, PROFESSOR WEBER, PROFESSOR SHATTUCK,
PROFESSOR PICKARD,
PROFESSOR CRAWFORD, PROFESSOR BURRILL, PROFESSOR TAFT,
PETER ROOS,
J. KENIS. SCHOOLS.
ENGLISH AND MODERN LANGUAGES. ANCIENT LANGUAGES AND LITERATURE.
ADMISSION.
Candidates for admission to either of these schools must have the qualifications prescribed on page 22, and for the school of Ancient Languages and Literature, they will be examined in the following additional studies:
LATIN.
Latin Grammar including Prosody. (Harkness' or Allen and Greenough's.) Latin prose composition. (Forty-four exercises, to the passive voice, in Arnold's Latin Prose Composition, or parts one and two, to page 166, of Harkness' Introduction to Elementary Latin Prose Composition, or an equivalent in Allen and Greenough's Latin composition), four books of Caesar's Commentaries, six orations of Cicero, and six books of the iEneid. Heal equivalents for any of the above mentioned works will be accepted. The so-called Roman method of pronunciation of Latin is recommended, as found in Allen and Greenough's, or in the last edition of Harkness' Grammar.
GREEK.
Greek Grammar (Goodwin's or Hadley's), Greek Prose Composition (Jones' Exercises in Greek Prose Composition or an equivalent in Arnold's), and four books of Xenophon's Anabasis. Writing Greek with the accents will be required. The Greek Etymology must be thoroughly learned. The so-called Continental sound of the vowels and diphthongs and pronunciation according to accent are recommended.