Caption: Course Catalog - 1876-1877
This is a reduced-resolution page image for fast online browsing.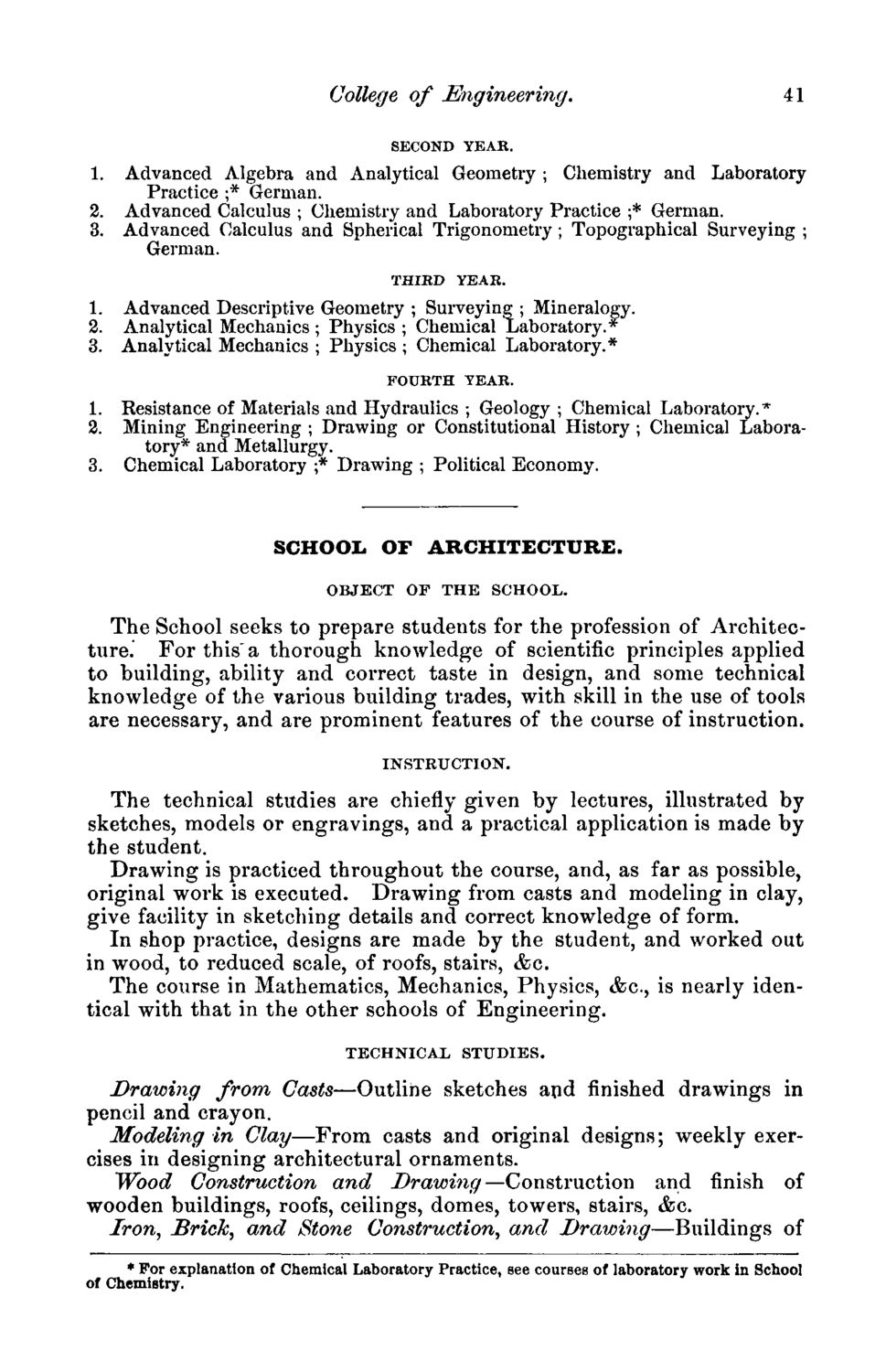 ---
EXTRACTED TEXT FROM PAGE:
College of Engineering.
SECOND YEAH.
41
1. Advanced Algebra and Analytical Geometry ; Chemistry and Laboratory Practice ;* German. 2. Advanced Calculus ; Chemistry and Laboratory Practice ;* German. 3. Advanced Calculus and Spherical Trigonometry ; Topographical Surveying ; German.
THIRD YEAR.
1. Advanced Descriptive Geometry ; Surveying ; Mineralogy. 2. Analytical Mechanics; Physics ; Chemical Laboratory.* 3. Analytical Mechanics ; Physics ; Chemical Laboratory.*
FOURTH YEAR.
1. Resistance of Materials and Hydraulics ; Geology ; Chemical Laboratory.* 2. Mining Engineering ; Drawing or Constitutional History ; Chemical Laboratory* and Metallurgy. 3. Chemical Laboratory ;* Drawing ; Political Economy.
SCHOOL OF ARCHITECTURE.
OBJECT OF THE SCHOOL.
The School seeks to prepare students for the profession of Architecture. For this" a thorough knowledge of scientific principles applied to building, ability and correct taste in design, and some technical knowledge of the various building trades, with skill in the use of tools are necessary, and are prominent features of the course of instruction.
INSTRUCTION.
The technical studies are chiefly given by lectures, illustrated by sketches, models or engravings, and a practical application is made by the student. Drawing is practiced throughout the course, and, as far as possible, original work is executed. Drawing from casts and modeling in clay, give facility in sketching details and correct knowledge of form. In shop practice, designs are made by the student, and worked out in wood, to reduced scale, of roofs, stairs, &c. The course in Mathematics, Mechanics, Physics, &c, is nearly identical with that in the other schools of Engineering.
TECHNICAL STUDIES.
Drawing from Casts—Outline sketches and finished drawings in pencil and crayon. Modeling in Clay—From casts and original designs; weekly exercises in designing architectural ornaments. Wood Construction and Drawing—Construction and finish of wooden buildings, roofs, ceilings, domes, towers, stairs, &c. Iron, Brick, and Stone Construction, and Drawing—Buildings of
• For explanation of Chemical Laboratory Practice, see courses of laboratory work in School of Chemistry.