Caption: Course Catalog - 1876-1877
This is a reduced-resolution page image for fast online browsing.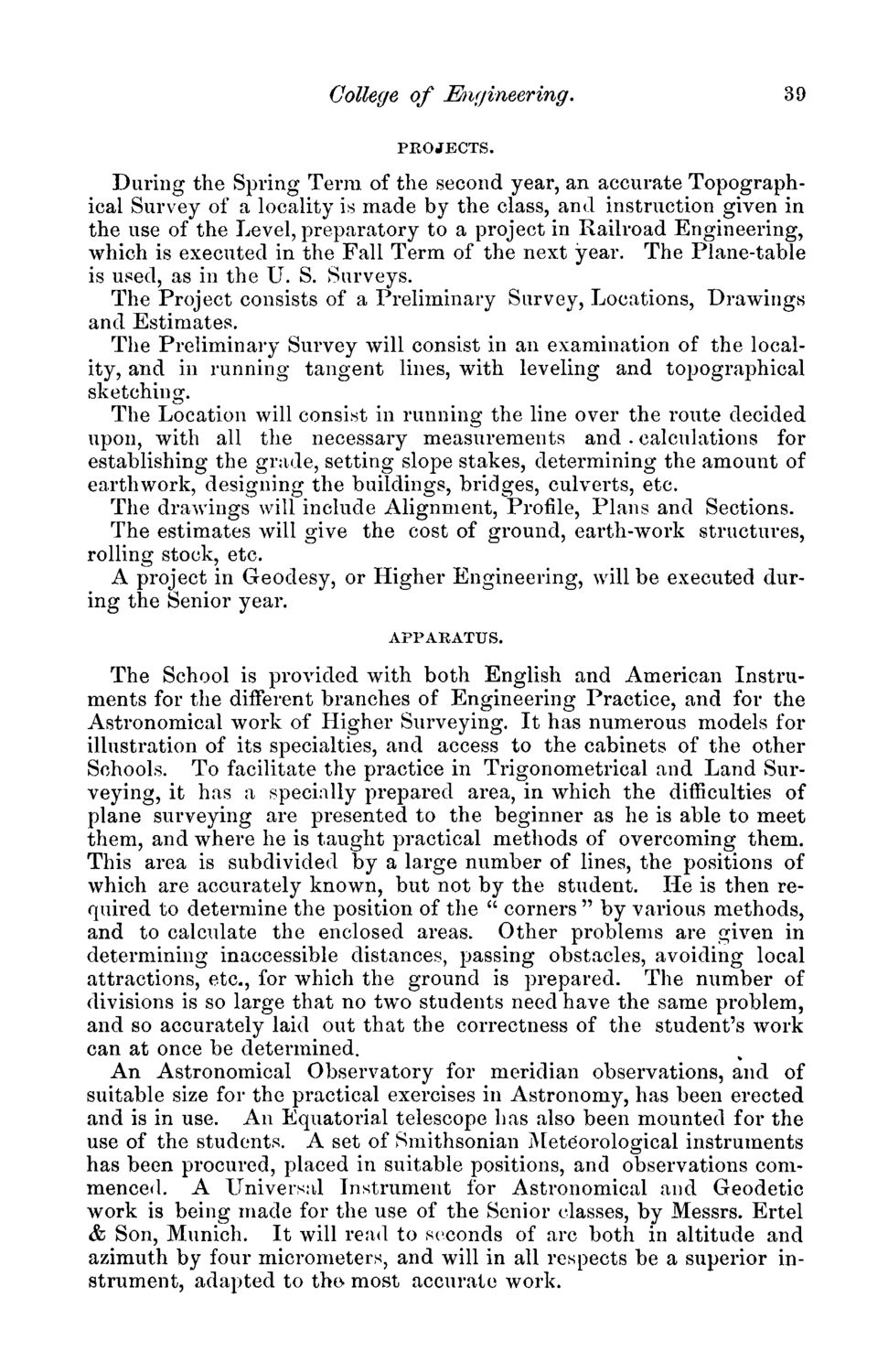 ---
EXTRACTED TEXT FROM PAGE:
College of Engineering.
PROJECTS.
39
During the Spring Terra of the second year, an accurate Topographical Survey of a locality is made by the class, and instruction given in the use of the Level, preparatory to a project in Railroad Engineering, which is executed in the Fall Term of the next year. The Plane-table is used, as in the U. S. Surveys. The Project consists of a Preliminary Survey, Locations, Drawings and Estimates. The Preliminary Survey will consist in an examination of the locality, and in running tangent lines, with leveling and topographical sketching. The Location will consist in running the line over the route decided upon, with all the necessary measurements and . calculations for establishing the grade, setting slope stakes, determining the amount of earthwork, designing the buildings, bridges, culverts, etc. The drawings will include Alignment, Profile, Plans and Sections. The estimates will give the cost of ground, earth-work structures, rolling stock, etc. A project in Geodesy, or Higher Engineering, will be executed during the Senior year.
APPARATUS.
The School is provided with both English and American Instruments for the different branches of Engineering Practice, and for the Astronomical work of Higher Surveying. It has numerous models for illustration of its specialties, and access to the cabinets of the other Schools. To facilitate the practice in Trigonometrical and Land Surveying, it has a specially prepared area, in which the difficulties of plane surveying are presented to the beginner as he is able to meet them, and where he is taught practical methods of overcoming them. This area is subdivided by a large number of lines, the positions of which are accurately known, but not by the student. He is then required to determine the position of the " corners " by various methods, and to calculate the enclosed areas. Other problems are given in determining inaccessible distances, passing obstacles, avoiding local attractions, etc., for which the ground is prepared. The number of divisions is so large that no two students need have the same problem, and so accurately laid out that the correctness of the student's work can at once be determined. An Astronomical Observatory for meridian observations, and of suitable size for the practical exercises in Astronomy, has been erected and is in use. An Equatorial telescope has also been mounted for the use of the students. A set of Smithsonian Meteorological instruments has been procured, placed in suitable positions, and observations commenced. A Universal Instrument for Astronomical and Geodetic work is being made for the use of the Senior classes, by Messrs. Ertel & Son, Munich. It will read to seconds of arc both in altitude and azimuth by four micrometers, and will in all respects be a superior instrument, adapted to the- most accurate work.