Caption: Board of Trustees Minutes - 1992
This is a reduced-resolution page image for fast online browsing.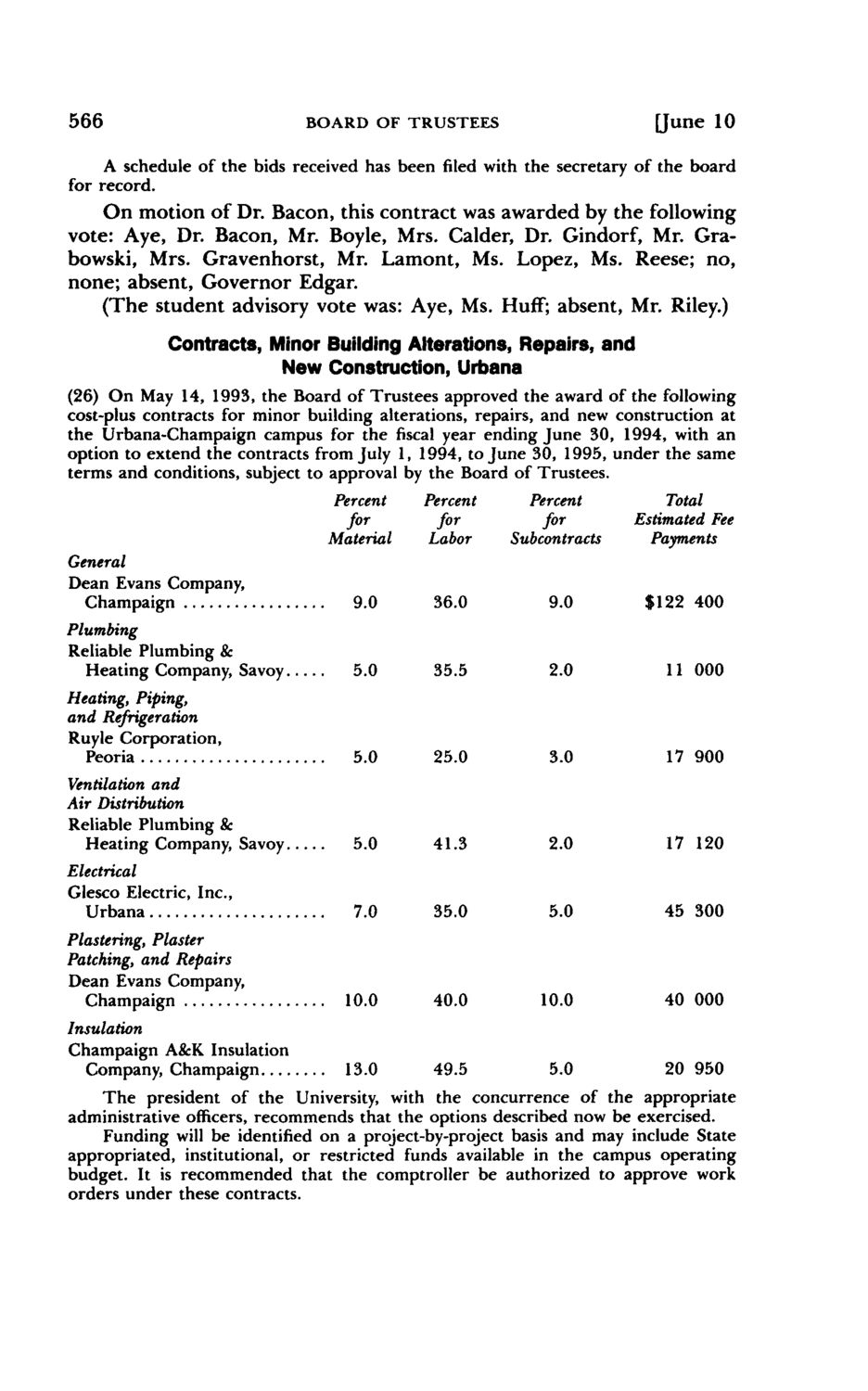 ---
EXTRACTED TEXT FROM PAGE:
566
BOARD OF TRUSTEES
[June 10
A schedule of the bids received has been filed with the secretary of the board for record.
On motion of Dr. Bacon, this contract was awarded by the following vote: Aye, Dr. Bacon, Mr. Boyle, Mrs. Calder, Dr. Gindorf, Mr. Grabowski, Mrs. Gravenhorst, Mr. Lamont, Ms. Lopez, Ms. Reese; no, none; absent, Governor Edgar. (The student advisory vote was: Aye, Ms. Huff; absent, Mr. Riley.)
Contracts, Minor Building Alterations, Repairs, and New Construction, Urbana
(26) On May 14, 1993, the Board of Trustees approved the award of the following cost-plus contracts for minor building alterations, repairs, and new construction at the Urbana-Champaign campus for the fiscal year ending June 30, 1994, with an option to extend the contracts from July 1, 1994, to June 30, 1995, under the same terms and conditions, subject to approval by the Board of Trustees. Percent for Material General Dean Evans Company, Champaign Plumbing Reliable Plumbing & Heating Company, Savoy Heating, Piping, and Refrigeration Ruyle Corporation, Peoria Ventilation and Air Distribution Reliable Plumbing & Heating Company, Savoy Electrical Glesco Electric, Inc., Urbana Plastering, Plaster Patching, and Repairs Dean Evans Company, Champaign Insulation Champaign A&K Insulation Company, Champaign Percent for Labor Percent for Subcontracts Total Estimated Fee Payments
9.0
36.0
9.0
$122 400
5.0
35.5
2.0
11 000
5.0
25.0
3.0
17 900
5.0
41.3
2.0
17 120
7.0
35.0
5.0
45 300
10.0
40.0
10.0
40 000
13.0
49.5
5.0
20 950
The president of the University, with the concurrence of the appropriate administrative officers, recommends that the options described now be exercised. Funding will be identified on a project-by-project basis and may include State appropriated, institutional, or restricted funds available in the campus operating budget. It is recommended that the comptroller be authorized to approve work orders under these contracts.