Caption: Board of Trustees Minutes - 1992
This is a reduced-resolution page image for fast online browsing.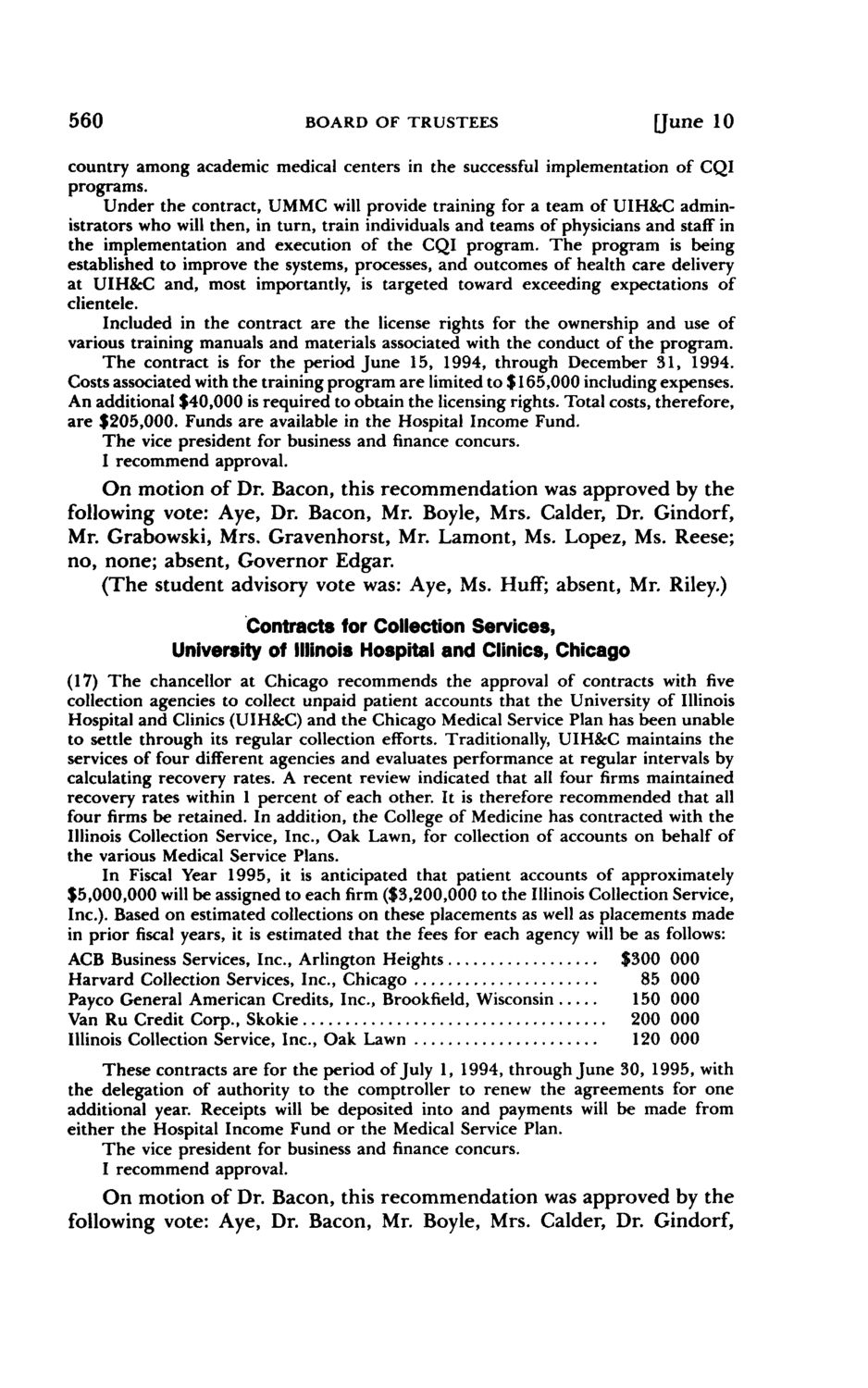 ---
EXTRACTED TEXT FROM PAGE:
560
BOARD OF TRUSTEES
[June 10
country among academic medical centers in the successful implementation of CQI programs. Under the contract, UMMC will provide training for a team of UIH&C administrators who will then, in turn, train individuals and teams of physicians and staff in the implementation and execution of the CQI program. The program is being established to improve the systems, processes, and outcomes of health care delivery at UIH&C and, most importantly, is targeted toward exceeding expectations of clientele. Included in the contract are the license rights for the ownership and use of various training manuals and materials associated with the conduct of the program. The contract is for the period June 15, 1994, through December 31, 1994. Costs associated with the training program are limited to $165,000 including expenses. An additional $40,000 is required to obtain the licensing rights. Total costs, therefore, are $205,000. Funds are available in the Hospital Income Fund. The vice president for business and finance concurs. I recommend approval.
On motion of Dr. Bacon, this recommendation was approved by the following vote: Aye, Dr. Bacon, Mr. Boyle, Mrs. Calder, Dr. Gindorf, Mr. Grabowski, Mrs. Gravenhorst, Mr. Lamont, Ms. Lopez, Ms. Reese; no, none; absent, Governor Edgar. (The student advisory vote was: Aye, Ms. Huff; absent, Mr. Riley.)
Contracts for Collection Services, University of Illinois Hospital and Clinics, Chicago
(17) The chancellor at Chicago recommends the approval of contracts with five collection agencies to collect unpaid patient accounts that the University of Illinois Hospital and Clinics (UIH&C) and the Chicago Medical Service Plan has been unable to settle through its regular collection efforts. Traditionally, UIH&C maintains the services of four different agencies and evaluates performance at regular intervals by calculating recovery rates. A recent review indicated that all four firms maintained recovery rates within 1 percent of each other. It is therefore recommended that all four firms be retained. In addition, the College of Medicine has contracted with the Illinois Collection Service, Inc., Oak Lawn, for collection of accounts on behalf of the various Medical Service Plans. In Fiscal Year 1995, it is anticipated that patient accounts of approximately $5,000,000 will be assigned to each firm ($3,200,000 to the Illinois Collection Service, Inc.). Based on estimated collections on these placements as well as placements made in prior fiscal years, it is estimated that the fees for each agency will be as follows: ACB Business Services, Inc., Arlington Heights Harvard Collection Services, Inc., Chicago Payco General American Credits, Inc., Brookfield, Wisconsin Van Ru Credit Corp., Skokie Illinois Collection Service, Inc., Oak Lawn $300 85 150 200 120 000 000 000 000 000
These contracts are for the period of July 1, 1994, through June 30, 1995, with the delegation of authority to the comptroller to renew the agreements for one additional year. Receipts will be deposited into and payments will be made from either the Hospital Income Fund or the Medical Service Plan. The vice president for business and finance concurs. I recommend approval.
On motion of Dr. Bacon, this recommendation was approved by the following vote: Aye, Dr. Bacon, Mr. Boyle, Mrs. Calder, Dr. Gindorf,