Caption: Board of Trustees Minutes - 1992
This is a reduced-resolution page image for fast online browsing.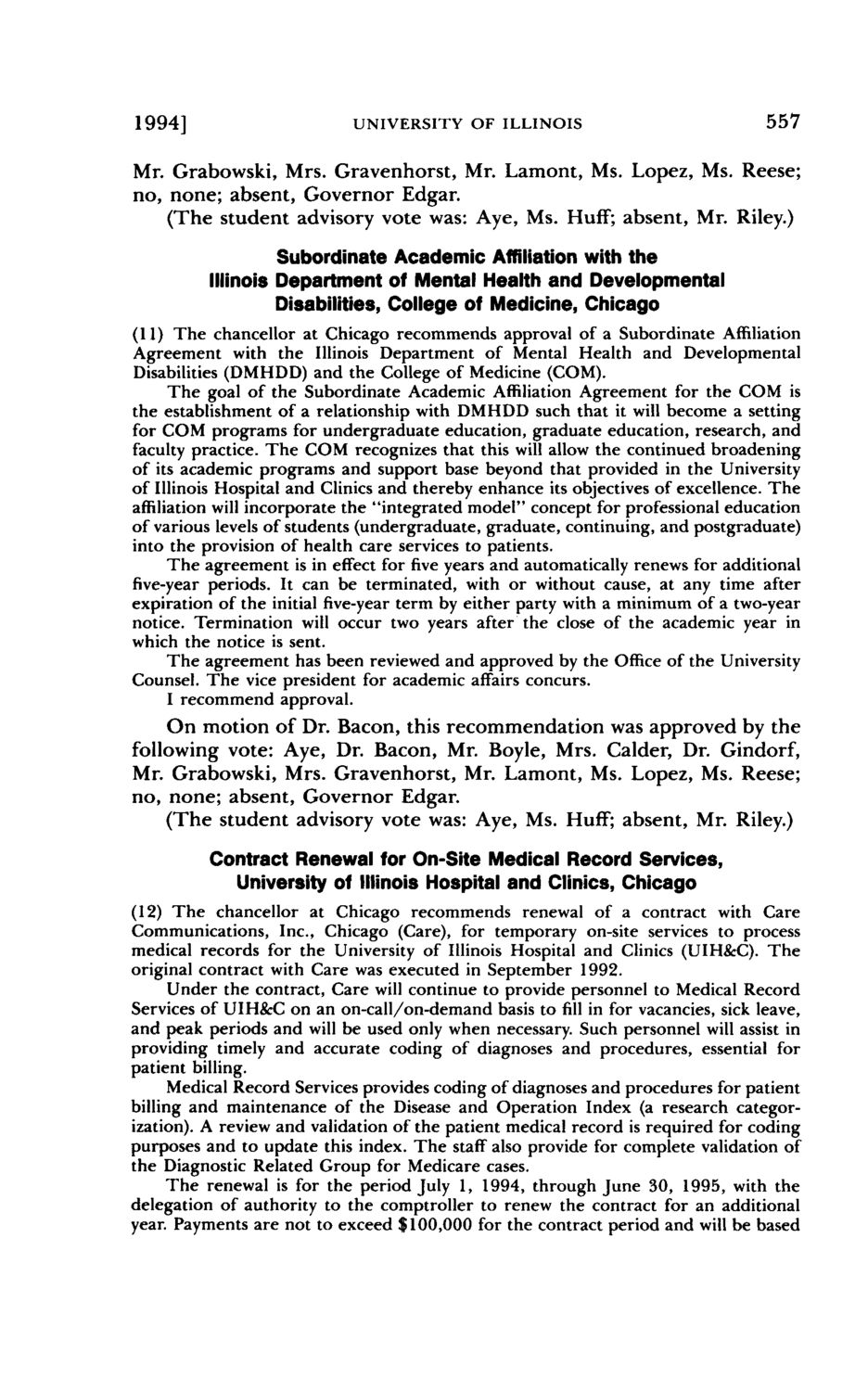 ---
EXTRACTED TEXT FROM PAGE:
1994]
UNIVERSITY OF ILLINOIS
557
Mr. Grabowski, Mrs. Gravenhorst, Mr. Lamont, Ms. Lopez, Ms. Reese; no, none; absent, Governor Edgar. (The student advisory vote was: Aye, Ms. Huff; absent, Mr. Riley.)
Subordinate Academic Affiliation with the Illinois Department of Mental Health and Developmental Disabilities, College of Medicine, Chicago
(11) The chancellor at Chicago recommends approval of a Subordinate Affiliation Agreement with the Illinois Department of Mental Health and Developmental Disabilities (DMHDD) and the College of Medicine (COM). The goal of the Subordinate Academic Affiliation Agreement for the COM is the establishment of a relationship with DMHDD such that it will become a setting for COM programs for undergraduate education, graduate education, research, and faculty practice. The COM recognizes that this will allow the continued broadening of its academic programs and support base beyond that provided in the University of Illinois Hospital and Clinics and thereby enhance its objectives of excellence. The affiliation will incorporate the "integrated model" concept for professional education of various levels of students (undergraduate, graduate, continuing, and postgraduate) into the provision of health care services to patients. The agreement is in effect for five years and automatically renews for additional five-year periods. It can be terminated, with or without cause, at any time after expiration of the initial five-year term by either party with a minimum of a two-year notice. Termination will occur two years after the close of the academic year in which the notice is sent. The agreement has been reviewed and approved by the Office of the University Counsel. The vice president for academic affairs concurs. I recommend approval.
On motion of Dr. Bacon, this recommendation was approved by the following vote: Aye, Dr. Bacon, Mr. Boyle, Mrs. Calder, Dr. Gindorf, Mr. Grabowski, Mrs. Gravenhorst, Mr. Lamont, Ms. Lopez, Ms. Reese; no, none; absent, Governor Edgar. (The student advisory vote was: Aye, Ms. Huff; absent, Mr. Riley.)
Contract Renewal for On-Site Medical Record Services, University of Illinois Hospital and Clinics, Chicago
(12) The chancellor at Chicago recommends renewal of a contract with Care Communications, Inc., Chicago (Care), for temporary on-site services to process medical records for the University of Illinois Hospital and Clinics (UIH&C). The original contract with Care was executed in September 1992. Under the contract, Care will continue to provide personnel to Medical Record Services of UIH&C on an on-call/on-demand basis to fill in for vacancies, sick leave, and peak periods and will be used only when necessary. Such personnel will assist in providing timely and accurate coding of diagnoses and procedures, essential for patient billing. Medical Record Services provides coding of diagnoses and procedures for patient billing and maintenance of the Disease and Operation Index (a research categorization). A review and validation of the patient medical record is required for coding purposes and to update this index. The staff also provide for complete validation of the Diagnostic Related Group for Medicare cases. The renewal is for the period July 1, 1994, through June 30, 1995, with the delegation of authority to the comptroller to renew the contract for an additional year. Payments are not to exceed $100,000 for the contract period and will be based