Caption: Board of Trustees Minutes - 1992
This is a reduced-resolution page image for fast online browsing.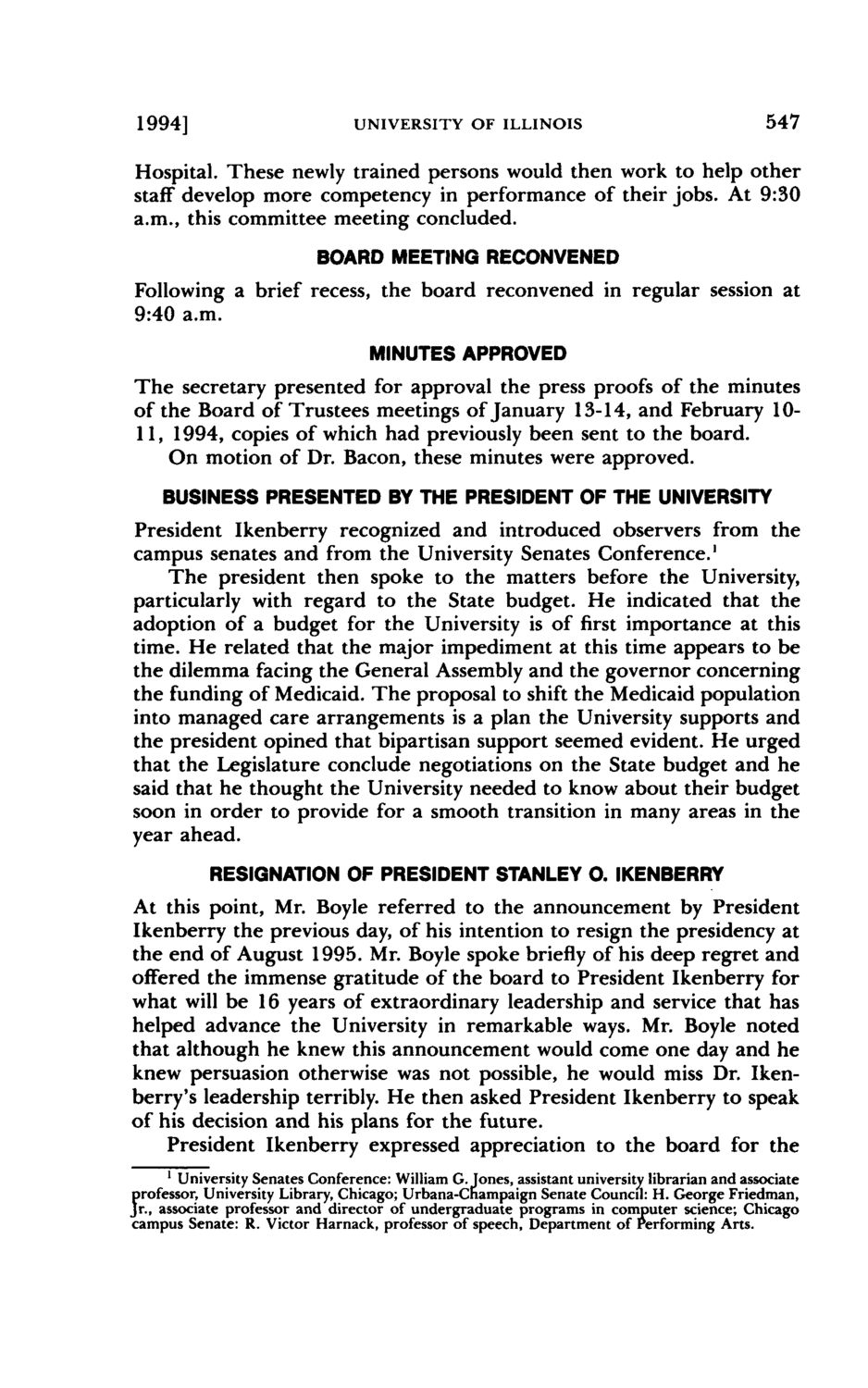 ---
EXTRACTED TEXT FROM PAGE:
1994]
UNIVERSITY OF ILLINOIS
547
Hospital. These newly trained persons would then work to help other staff develop more competency in performance of their jobs. At 9:30 a.m., this committee meeting concluded.
BOARD MEETING RECONVENED
Following a brief recess, the board reconvened in regular session at 9:40 a.m.
MINUTES APPROVED
The secretary presented for approval the press proofs of the minutes of the Board of Trustees meetings of January 13-14, and February 1011, 1994, copies of which had previously been sent to the board. On motion of Dr. Bacon, these minutes were approved.
BUSINESS PRESENTED BY THE PRESIDENT OF THE UNIVERSITY
President Ikenberry recognized and introduced observers from the campus senates and from the University Senates Conference.1 The president then spoke to the matters before the University, particularly with regard to the State budget. He indicated that the adoption of a budget for the University is of first importance at this time. He related that the major impediment at this time appears to be the dilemma facing the General Assembly and the governor concerning the funding of Medicaid. The proposal to shift the Medicaid population into managed care arrangements is a plan the University supports and the president opined that bipartisan support seemed evident. He urged that the Legislature conclude negotiations on the State budget and he said that he thought the University needed to know about their budget soon in order to provide for a smooth transition in many areas in the year ahead.
RESIGNATION OF PRESIDENT STANLEY O. IKENBERRY
At this point, Mr. Boyle referred to the announcement by President Ikenberry the previous day, of his intention to resign the presidency at the end of August 1995. Mr. Boyle spoke briefly of his deep regret and offered the immense gratitude of the board to President Ikenberry for what will be 16 years of extraordinary leadership and service that has helped advance the University in remarkable ways. Mr. Boyle noted that although he knew this announcement would come one day and he knew persuasion otherwise was not possible, he would miss Dr. Ikenberry's leadership terribly. He then asked President Ikenberry to speak of his decision and his plans for the future. President Ikenberry expressed appreciation to the board for the
1 University Senates Conference: William G. Tones, assistant university librarian and associate professor, University Library, Chicago; Urbana-Champaign Senate Council: H. George Friedman, jr., associate professor and director of undergraduate programs in computer science; Chicago campus Senate: R. Victor Harnack, professor of speech, Department of Performing Arts.