Caption: Board of Trustees Minutes - 1992
This is a reduced-resolution page image for fast online browsing.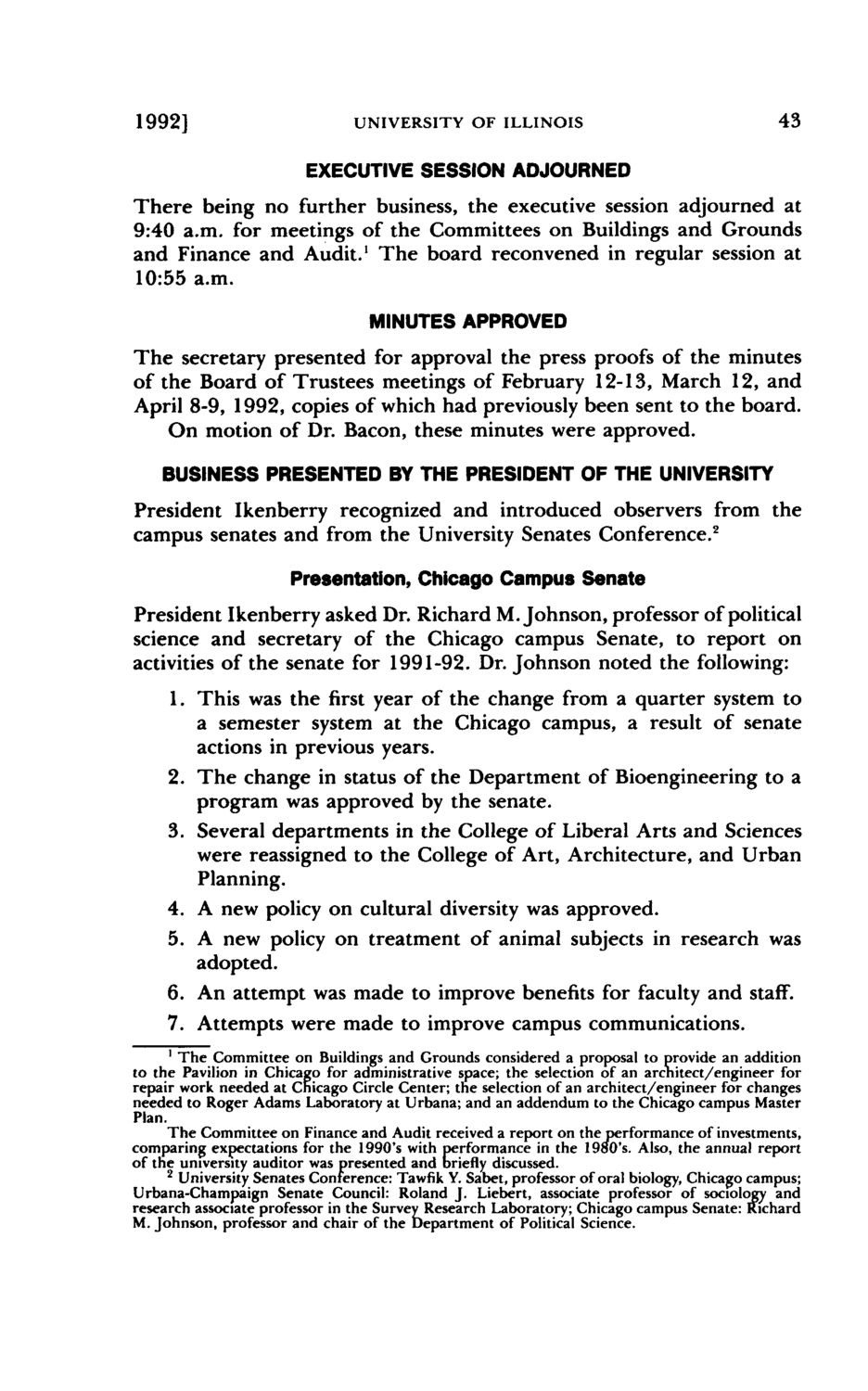 ---
EXTRACTED TEXT FROM PAGE:
1992]
UNIVERSITY OF ILLINOIS
43
EXECUTIVE SESSION ADJOURNED
There being no further business, the executive session adjourned at 9:40 a.m. for meetings of the Committees on Buildings and Grounds and Finance and Audit.1 The board reconvened in regular session at 10:55 a.m.
MINUTES APPROVED
The secretary presented for approval the press proofs of the minutes of the Board of Trustees meetings of February 12-13, March 12, and April 8-9, 1992, copies of which had previously been sent to the board. On motion of Dr. Bacon, these minutes were approved.
BUSINESS PRESENTED BY THE PRESIDENT OF THE UNIVERSITY
President Ikenberry recognized and introduced observers from the campus senates and from the University Senates Conference.2
Presentation, Chicago Campus Senate
President Ikenberry asked Dr. Richard M.Johnson, professor of political science and secretary of the Chicago campus Senate, to report on activities of the senate for 1991-92. Dr. Johnson noted the following: 1. This was the first year of the change from a quarter system to a semester system at the Chicago campus, a result of senate actions in previous years. 2. The change in status of the Department of Bioengineering to a program was approved by the senate. 3. Several departments in the College of Liberal Arts and Sciences were reassigned to the College of Art, Architecture, and Urban Planning. 4. A new policy on cultural diversity was approved. 5. A new policy on treatment of animal subjects in research was adopted. 6. An attempt was made to improve benefits for faculty and staff. 7. Attempts were made to improve campus communications.
1 The Committee on Buildings and Grounds considered a proposal to provide an addition to the Pavilion in Chicago for administrative space; the selection of an architect/engineer for repair work needed at Chicago Circle Center; the selection of an architect/engineer for changes needed to Roger Adams Laboratory at Urbana; and an addendum to the Chicago campus Master Plan. The Committee on Finance and Audit received a report on the performance of investments, comparing expectations for the 1990's with performance in the 1980's. Also, the annual report of the university auditor was presented and briefly discussed. 2 University Senates Conference: Tawfik Y. Sabet, professor of oral biology, Chicago campus; Urbana-Champaign Senate Council: Roland J. Liebert, associate professor of sociology and research associate professor in the Survey Research Laboratory; Chicago campus Senate: Richard M. Johnson, professor and chair of the Department of Political Science.