Caption: Board of Trustees Minutes - 1992
This is a reduced-resolution page image for fast online browsing.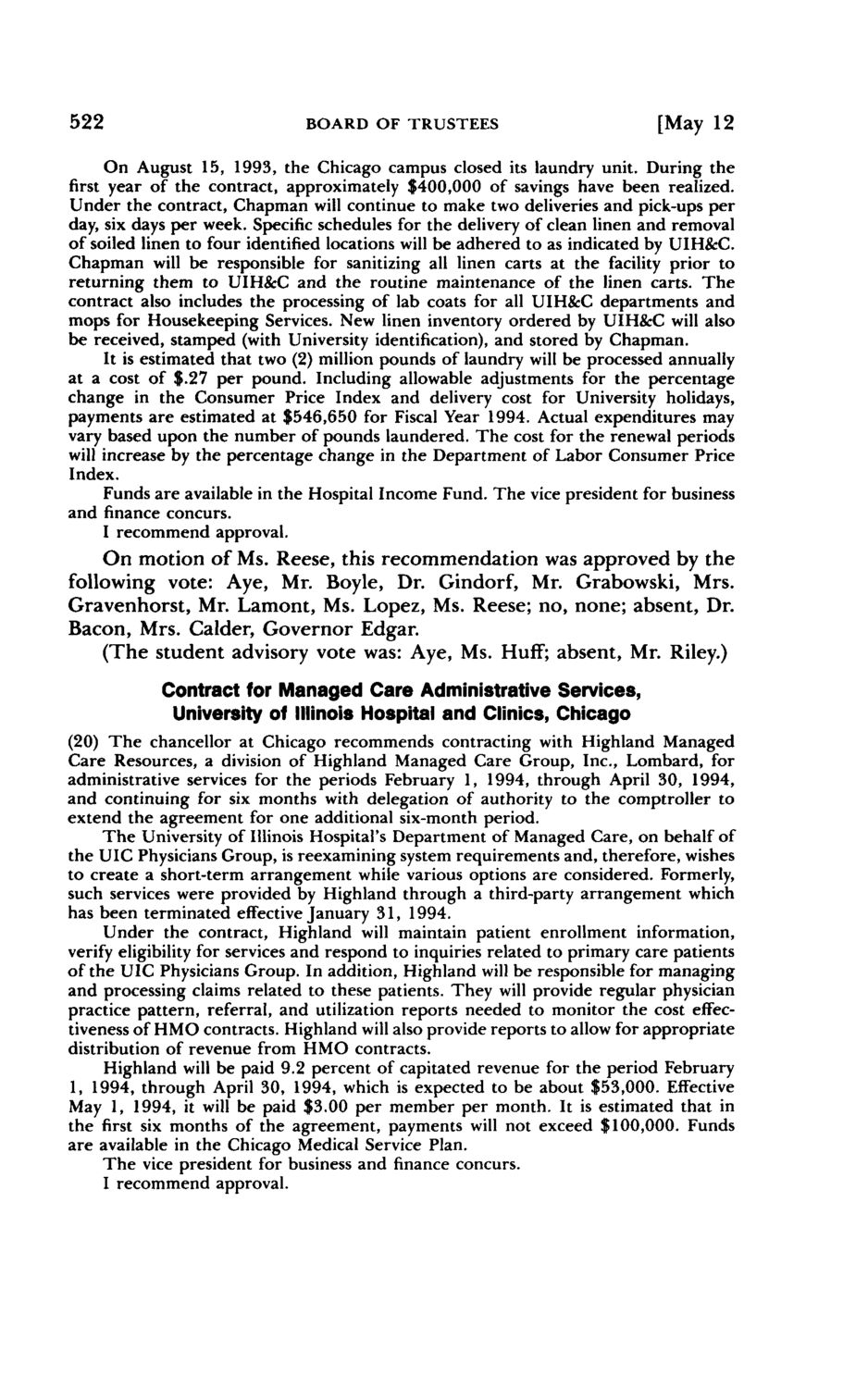 ---
EXTRACTED TEXT FROM PAGE:
522
BOARD OF TRUSTEES
[May 12
On August 15, 1993, the Chicago campus closed its laundry unit. During the first year of the contract, approximately $400,000 of savings have been realized. Under the contract, Chapman will continue to make two deliveries and pick-ups per day, six days per week. Specific schedules for the delivery of clean linen and removal of soiled linen to four identified locations will be adhered to as indicated by UIH&C. Chapman will be responsible for sanitizing all linen carts at the facility prior to returning them to UIH&C and the routine maintenance of the linen carts. The contract also includes the processing of lab coats for all UIH&C departments and mops for Housekeeping Services. New linen inventory ordered by UIH&C will also be received, stamped (with University identification), and stored by Chapman. It is estimated that two (2) million pounds of laundry will be processed annually at a cost of $.27 per pound. Including allowable adjustments for the percentage change in the Consumer Price Index and delivery cost for University holidays, payments are estimated at $546,650 for Fiscal Year 1994. Actual expenditures may vary based upon the number of pounds laundered. The cost for the renewal periods will increase by the percentage change in the Department of Labor Consumer Price Index. Funds are available in the Hospital Income Fund. The vice president for business and finance concurs. I recommend approval.
On motion of Ms. Reese, this recommendation was approved by the following vote: Aye, Mr. Boyle, Dr. Gindorf, Mr. Grabowski, Mrs. Gravenhorst, Mr. Lamont, Ms. Lopez, Ms. Reese; no, none; absent, Dr. Bacon, Mrs. Calder, Governor Edgar. (The student advisory vote was: Aye, Ms. Huff; absent, Mr. Riley.)
Contract for Managed Care Administrative Services, University of Illinois Hospital and Clinics, Chicago
(20) The chancellor at Chicago recommends contracting with Highland Managed Care Resources, a division of Highland Managed Care Group, Inc., Lombard, for administrative services for the periods February 1, 1994, through April 30, 1994, and continuing for six months with delegation of authority to the comptroller to extend the agreement for one additional six-month period. The University of Illinois Hospital's Department of Managed Care, on behalf of the UIC Physicians Group, is reexamining system requirements and, therefore, wishes to create a short-term arrangement while various options are considered. Formerly, such services were provided by Highland through a third-party arrangement which has been terminated effective January 31, 1994. Under the contract, Highland will maintain patient enrollment information, verify eligibility for services and respond to inquiries related to primary care patients of the UIC Physicians Group. In addition, Highland will be responsible for managing and processing claims related to these patients. They will provide regular physician practice pattern, referral, and utilization reports needed to monitor the cost effectiveness of HMO contracts. Highland will also provide reports to allow for appropriate distribution of revenue from HMO contracts. Highland will be paid 9.2 percent of capitated revenue for the period February 1, 1994, through April 30, 1994, which is expected to be about $53,000. Effective May 1, 1994, it will be paid $3.00 per member per month. It is estimated that in the first six months of the agreement, payments will not exceed $100,000. Funds are available in the Chicago Medical Service Plan. The vice president for business and finance concurs. I recommend approval.