Caption: Board of Trustees Minutes - 1992
This is a reduced-resolution page image for fast online browsing.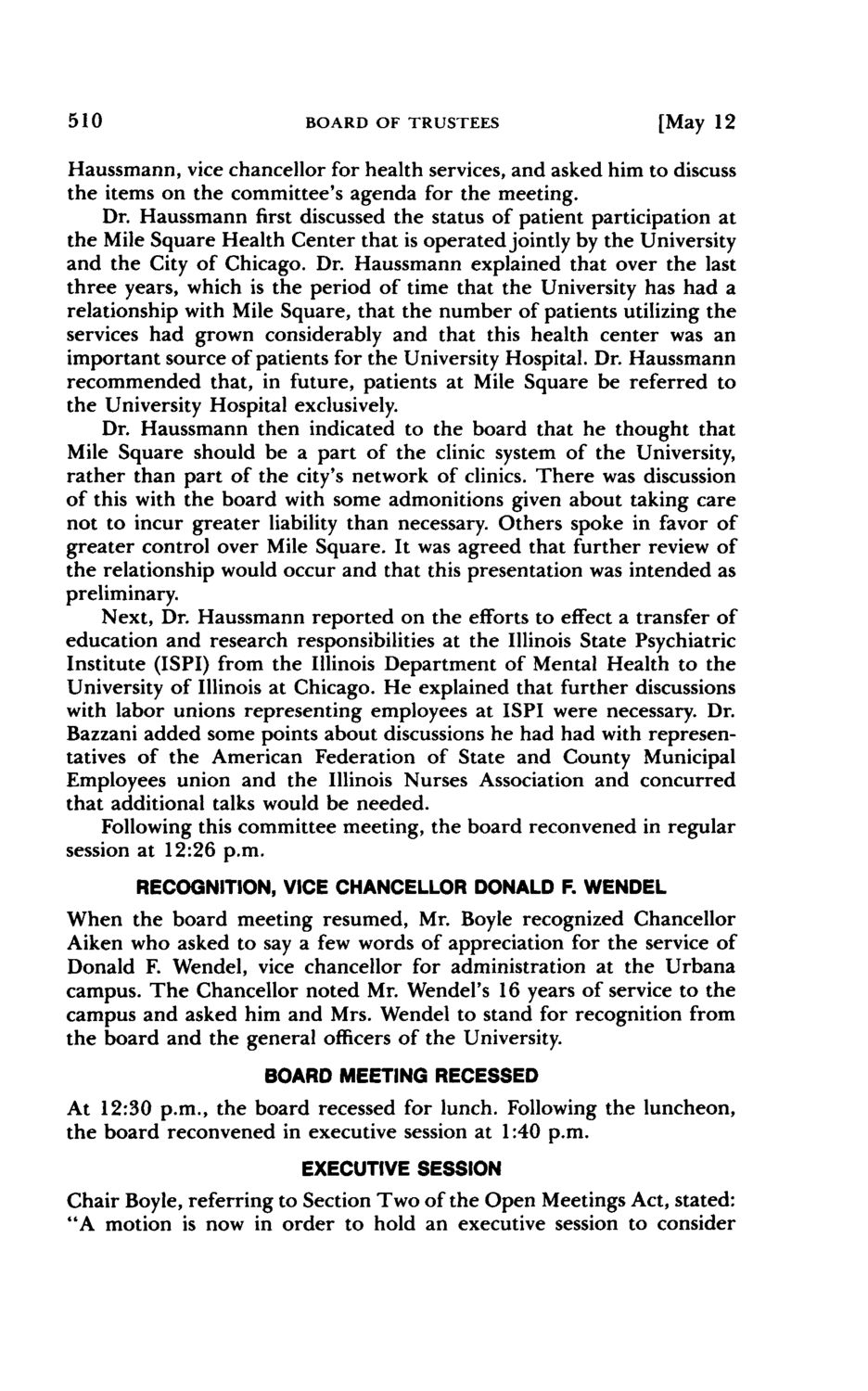 ---
EXTRACTED TEXT FROM PAGE:
510
BOARD OF TRUSTEES
[May 12
Haussmann, vice chancellor for health services, and asked him to discuss the items on the committee's agenda for the meeting. Dr. Haussmann first discussed the status of patient participation at the Mile Square Health Center that is operated jointly by the University and the City of Chicago. Dr. Haussmann explained that over the last three years, which is the period of time that the University has had a relationship with Mile Square, that the number of patients utilizing the services had grown considerably and that this health center was an important source of patients for the University Hospital. Dr. Haussmann recommended that, in future, patients at Mile Square be referred to the University Hospital exclusively. Dr. Haussmann then indicated to the board that he thought that Mile Square should be a part of the clinic system of the University, rather than part of the city's network of clinics. There was discussion of this with the board with some admonitions given about taking care not to incur greater liability than necessary. Others spoke in favor of greater control over Mile Square. It was agreed that further review of the relationship would occur and that this presentation was intended as preliminary. Next, Dr. Haussmann reported on the efforts to effect a transfer of education and research responsibilities at the Illinois State Psychiatric Institute (ISPI) from the Illinois Department of Mental Health to the University of Illinois at Chicago. He explained that further discussions with labor unions representing employees at ISPI were necessary. Dr. Bazzani added some points about discussions he had had with representatives of the American Federation of State and County Municipal Employees union and the Illinois Nurses Association and concurred that additional talks would be needed. Following this committee meeting, the board reconvened in regular session at 12:26 p.m.
RECOGNITION, VICE CHANCELLOR DONALD F. WENDEL
When the board meeting resumed, Mr. Boyle recognized Chancellor Aiken who asked to say a few words of appreciation for the service of Donald F. Wendel, vice chancellor for administration at the Urbana campus. The Chancellor noted Mr. Wendel's 16 years of service to the campus and asked him and Mrs. Wendel to stand for recognition from the board and the general officers of the University.
BOARD MEETING RECESSED
At 12:30 p.m., the board recessed for lunch. Following the luncheon, the board reconvened in executive session at 1:40 p.m.
EXECUTIVE SESSION
Chair Boyle, referring to Section Two of the Open Meetings Act, stated: "A motion is now in order to hold an executive session to consider