Caption: Board of Trustees Minutes - 1992
This is a reduced-resolution page image for fast online browsing.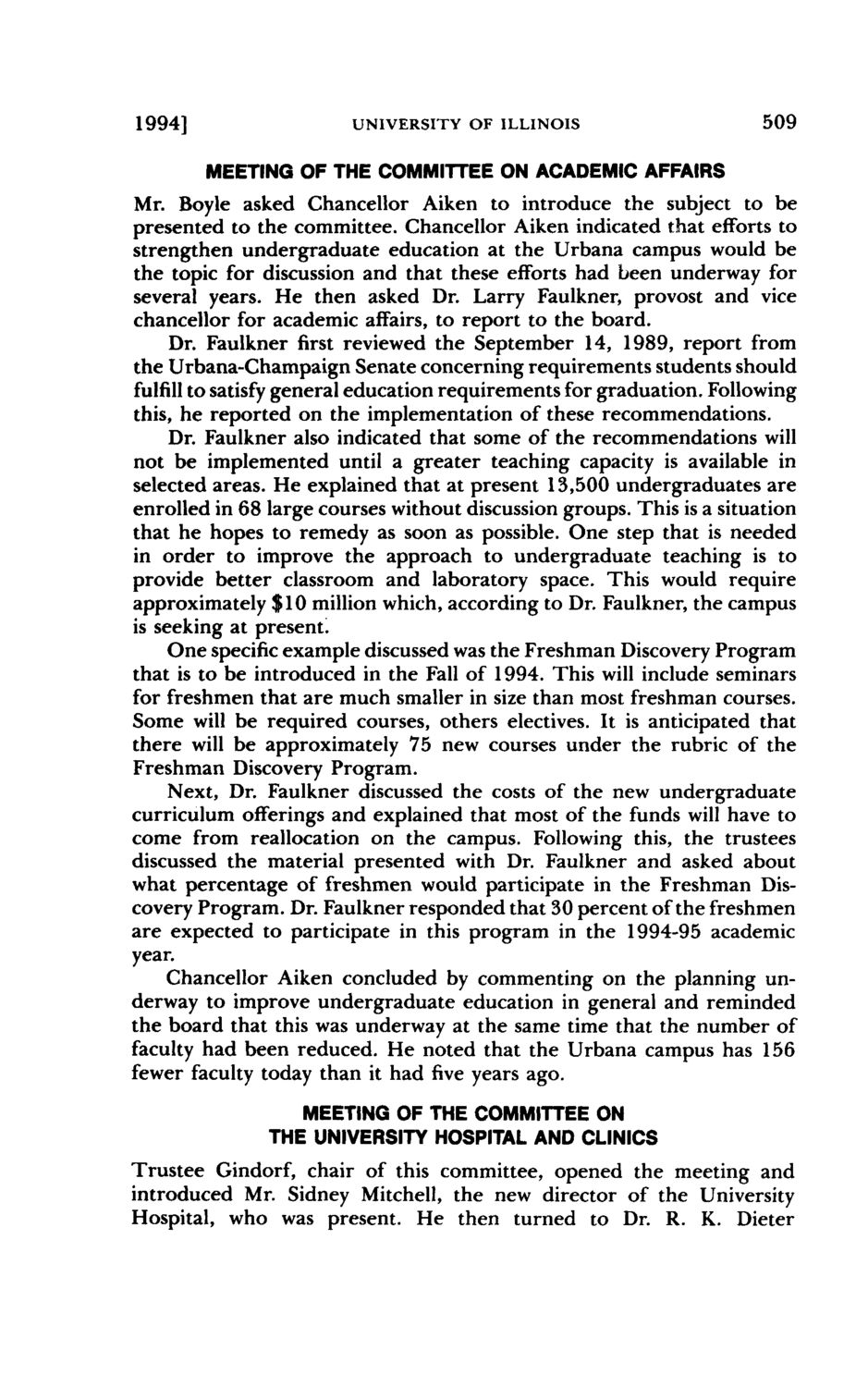 ---
EXTRACTED TEXT FROM PAGE:
1994]
UNIVERSITY OF ILLINOIS
509
MEETING OF THE COMMITTEE ON ACADEMIC AFFAIRS
Mr. Boyle asked Chancellor Aiken to introduce the subject to be presented to the committee. Chancellor Aiken indicated that efforts to strengthen undergraduate education at the Urbana campus would be the topic for discussion and that these efforts had been underway for several years. He then asked Dr. Larry Faulkner, provost and vice chancellor for academic affairs, to report to the board. Dr. Faulkner first reviewed the September 14, 1989, report from the Urbana-Champaign Senate concerning requirements students should fulfill to satisfy general education requirements for graduation. Following this, he reported on the implementation of these recommendations. Dr. Faulkner also indicated that some of the recommendations will not be implemented until a greater teaching capacity is available in selected areas. He explained that at present 13,500 undergraduates are enrolled in 68 large courses without discussion groups. This is a situation that he hopes to remedy as soon as possible. One step that is needed in order to improve the approach to undergraduate teaching is to provide better classroom and laboratory space. This would require approximately $10 million which, according to Dr. Faulkner, the campus is seeking at present. One specific example discussed was the Freshman Discovery Program that is to be introduced in the Fall of 1994. This will include seminars for freshmen that are much smaller in size than most freshman courses. Some will be required courses, others electives. It is anticipated that there will be approximately 75 new courses under the rubric of the Freshman Discovery Program. Next, Dr. Faulkner discussed the costs of the new undergraduate curriculum offerings and explained that most of the funds will have to come from reallocation on the campus. Following this, the trustees discussed the material presented with Dr. Faulkner and asked about what percentage of freshmen would participate in the Freshman Discovery Program. Dr. Faulkner responded that 30 percent of the freshmen are expected to participate in this program in the 1994-95 academic year. Chancellor Aiken concluded by commenting on the planning underway to improve undergraduate education in general and reminded the board that this was underway at the same time that the number of faculty had been reduced. He noted that the Urbana campus has 156 fewer faculty today than it had five years ago.
MEETING OF THE COMMITTEE ON THE UNIVERSITY HOSPITAL AND CLINICS
Trustee Gindorf, chair of this committee, opened the meeting and introduced Mr. Sidney Mitchell, the new director of the University Hospital, who was present. He then turned to Dr. R. K. Dieter