Caption: Board of Trustees Minutes - 1992
This is a reduced-resolution page image for fast online browsing.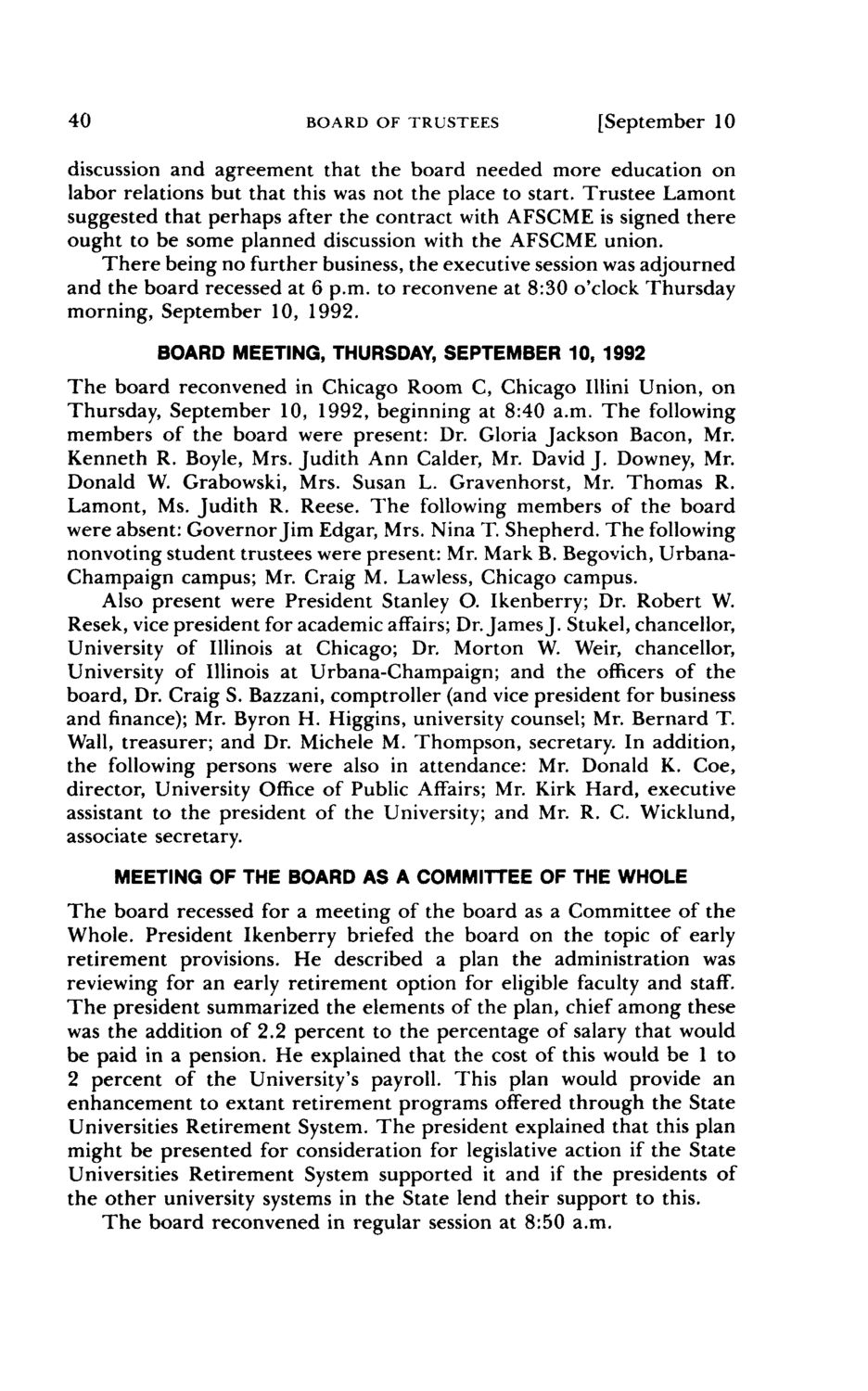 ---
EXTRACTED TEXT FROM PAGE:
40
BOARD OF TRUSTEES
[September 10
discussion and agreement that the board needed more education on labor relations but that this was not the place to start. Trustee Lamont suggested that perhaps after the contract with AFSCME is signed there ought to be some planned discussion with the AFSCME union. There being no further business, the executive session was adjourned and the board recessed at 6 p.m. to reconvene at 8:30 o'clock Thursday morning, September 10, 1992.
BOARD MEETING, THURSDAY, SEPTEMBER 10, 1992
The board reconvened in Chicago Room C, Chicago Illini Union, on Thursday, September 10, 1992, beginning at 8:40 a.m. The following members of the board were present: Dr. Gloria Jackson Bacon, Mr. Kenneth R. Boyle, Mrs. Judith Ann Calder, Mr. David J. Downey, Mr. Donald W. Grabowski, Mrs. Susan L. Gravenhorst, Mr. Thomas R. Lamont, Ms. Judith R. Reese. The following members of the board were absent: Governor Jim Edgar, Mrs. Nina T Shepherd. The following nonvoting student trustees were present: Mr. Mark B. Begovich, UrbanaChampaign campus; Mr. Craig M. Lawless, Chicago campus. Also present were President Stanley O. Ikenberry; Dr. Robert W. Resek, vice president for academic affairs; Dr. James J. Stukel, chancellor, University of Illinois at Chicago; Dr. Morton W. Weir, chancellor, University of Illinois at Urbana-Champaign; and the officers of the board, Dr. Craig S. Bazzani, comptroller (and vice president for business and finance); Mr. Byron H. Higgins, university counsel; Mr. Bernard T. Wall, treasurer; and Dr. Michele M. Thompson, secretary. In addition, the following persons were also in attendance: Mr. Donald K. Coe, director, University Office of Public Affairs; Mr. Kirk Hard, executive assistant to the president of the University; and Mr. R. C. Wicklund, associate secretary.
MEETING OF THE BOARD AS A COMMITTEE OF THE WHOLE
The board recessed for a meeting of the board as a Committee of the Whole. President Ikenberry briefed the board on the topic of early retirement provisions. He described a plan the administration was reviewing for an early retirement option for eligible faculty and staff. The president summarized the elements of the plan, chief among these was the addition of 2.2 percent to the percentage of salary that would be paid in a pension. He explained that the cost of this would be 1 to 2 percent of the University's payroll. This plan would provide an enhancement to extant retirement programs offered through the State Universities Retirement System. The president explained that this plan might be presented for consideration for legislative action if the State Universities Retirement System supported it and if the presidents of the other university systems in the State lend their support to this. The board reconvened in regular session at 8:50 a.m.