Caption: Board of Trustees Minutes - 1992
This is a reduced-resolution page image for fast online browsing.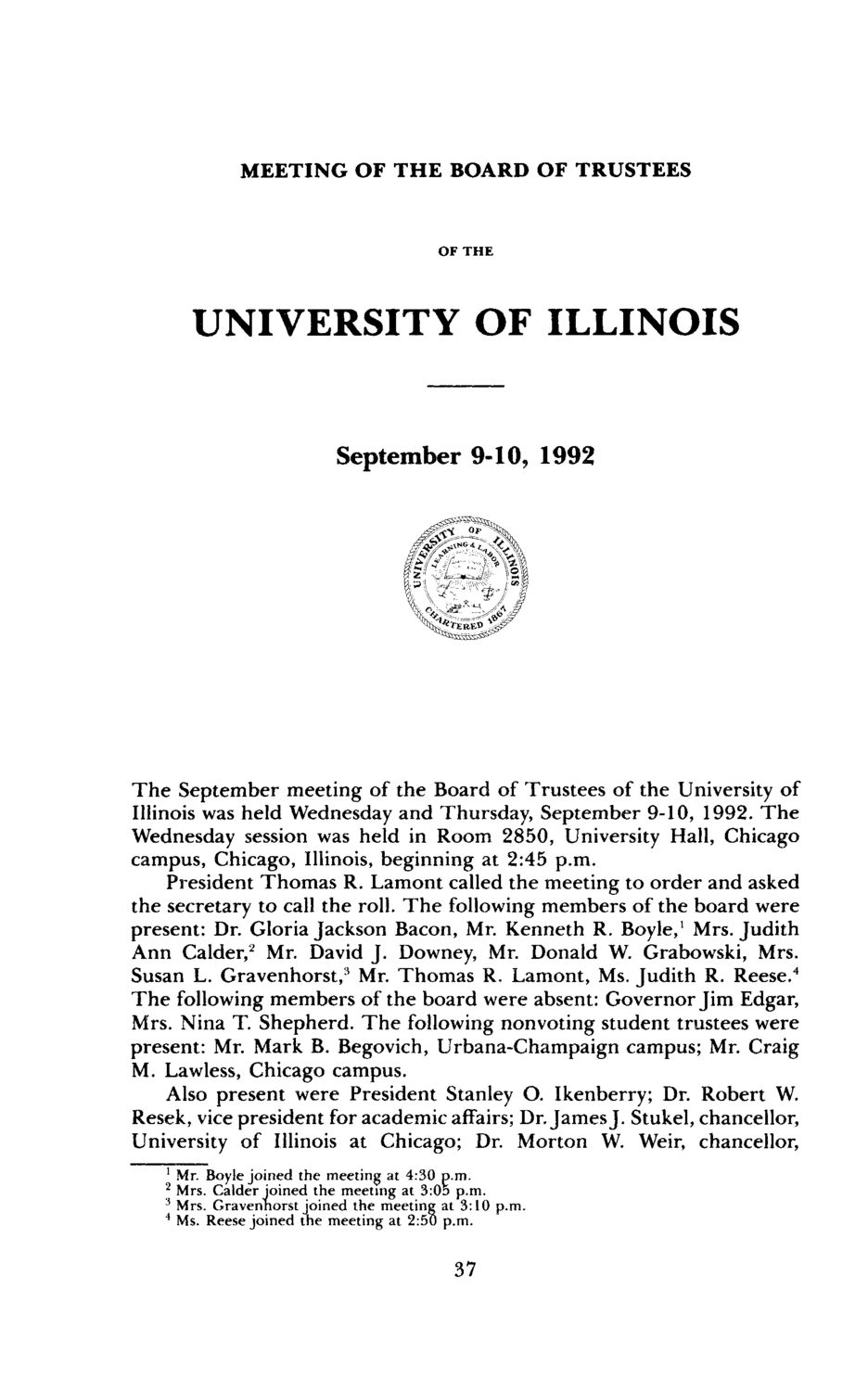 ---
EXTRACTED TEXT FROM PAGE:
MEETING OF THE BOARD OF TRUSTEES
OF THE
UNIVERSITY OF ILLINOIS
September 9-10, 1992
The September meeting of the Board of Trustees of the University of Illinois was held Wednesday and Thursday, September 9-10, 1992. The Wednesday session was held in Room 2850, University Hall, Chicago campus, Chicago, Illinois, beginning at 2:45 p.m. President Thomas R. Lamont called the meeting to order and asked the secretary to call the roll. The following members of the board were present: Dr. Gloria Jackson Bacon, Mr. Kenneth R. Boyle,1 Mrs. Judith Ann Calder,2 Mr. David J. Downey, Mr. Donald W. Grabowski, Mrs. Susan L. Gravenhorst, 3 Mr. Thomas R. Lamont, Ms. Judith R. Reese.4 The following members of the board were absent: Governor Jim Edgar, Mrs. Nina T. Shepherd. The following nonvoting student trustees were present: Mr. Mark B. Begovich, Urbana-Champaign campus; Mr. Craig M. Lawless, Chicago campus. Also present were President Stanley O. Ikenberry; Dr. Robert W. Resek, vice president for academic affairs; Dr. James J. Stukel, chancellor, University of Illinois at Chicago; Dr. Morton W. Weir, chancellor,
1 2 3 4
Mr. Boyle joined the meeting at 4:30 p.m. Mrs. Calder joined the meeting at 3:05 p.m. Mrs. Gravennorst joined the meeting at 3:10 p.m. Ms. Reese joined the meeting at 2:50 p.m.
37