Caption: Board of Trustees Minutes - 1992
This is a reduced-resolution page image for fast online browsing.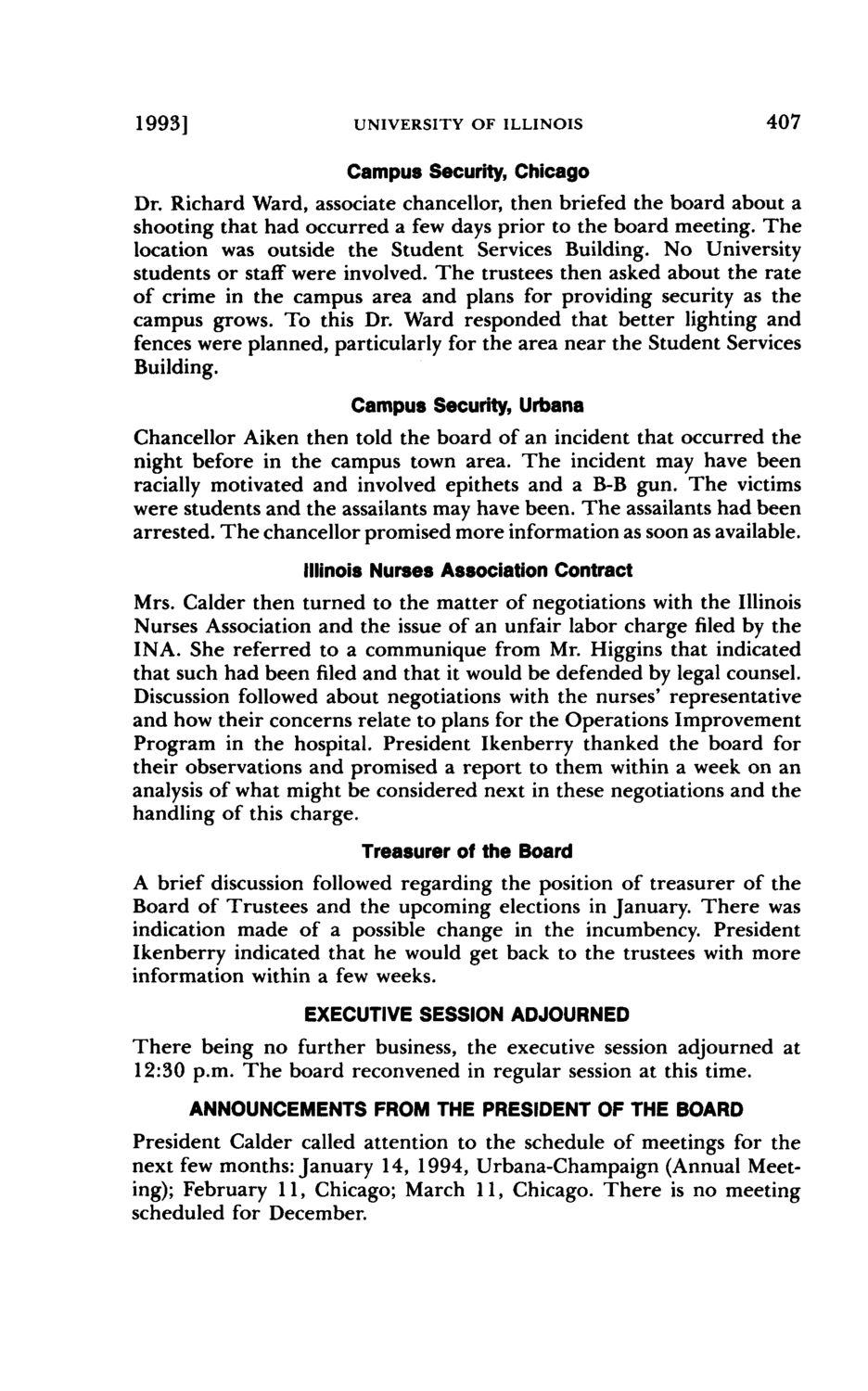 ---
EXTRACTED TEXT FROM PAGE:
1993]
UNIVERSITY OF ILLINOIS
407
Campus Security, Chicago
Dr. Richard Ward, associate chancellor, then briefed the board about a shooting that had occurred a few days prior to the board meeting. The location was outside the Student Services Building. No University students or staff were involved. The trustees then asked about the rate of crime in the campus area and plans for providing security as the campus grows. To this Dr. Ward responded that better lighting and fences were planned, particularly for the area near the Student Services Building.
Campus Security, Urbana
Chancellor Aiken then told the board of an incident that occurred the night before in the campus town area. The incident may have been racially motivated and involved epithets and a B-B gun. The victims were students and the assailants may have been. The assailants had been arrested. The chancellor promised more information as soon as available.
Illinois Nurses Association Contract
Mrs. Calder then turned to the matter of negotiations with the Illinois Nurses Association and the issue of an unfair labor charge filed by the IN A. She referred to a communique from Mr. Higgins that indicated that such had been filed and that it would be defended by legal counsel. Discussion followed about negotiations with the nurses' representative and how their concerns relate to plans for the Operations Improvement Program in the hospital. President Ikenberry thanked the board for their observations and promised a report to them within a week on an analysis of what might be considered next in these negotiations and the handling of this charge.
Treasurer of the Board
A brief discussion followed regarding the position of treasurer of the Board of Trustees and the upcoming elections in January. There was indication made of a possible change in the incumbency. President Ikenberry indicated that he would get back to the trustees with more information within a few weeks.
EXECUTIVE SESSION ADJOURNED
There being no further business, the executive session adjourned at 12:30 p.m. The board reconvened in regular session at this time.
ANNOUNCEMENTS FROM THE PRESIDENT OF THE BOARD
President Calder called attention to the schedule of meetings for the next few months: January 14, 1994, Urbana-Champaign (Annual Meeting); February 11, Chicago; March 11, Chicago. There is no meeting scheduled for December.