Caption: Board of Trustees Minutes - 1992
This is a reduced-resolution page image for fast online browsing.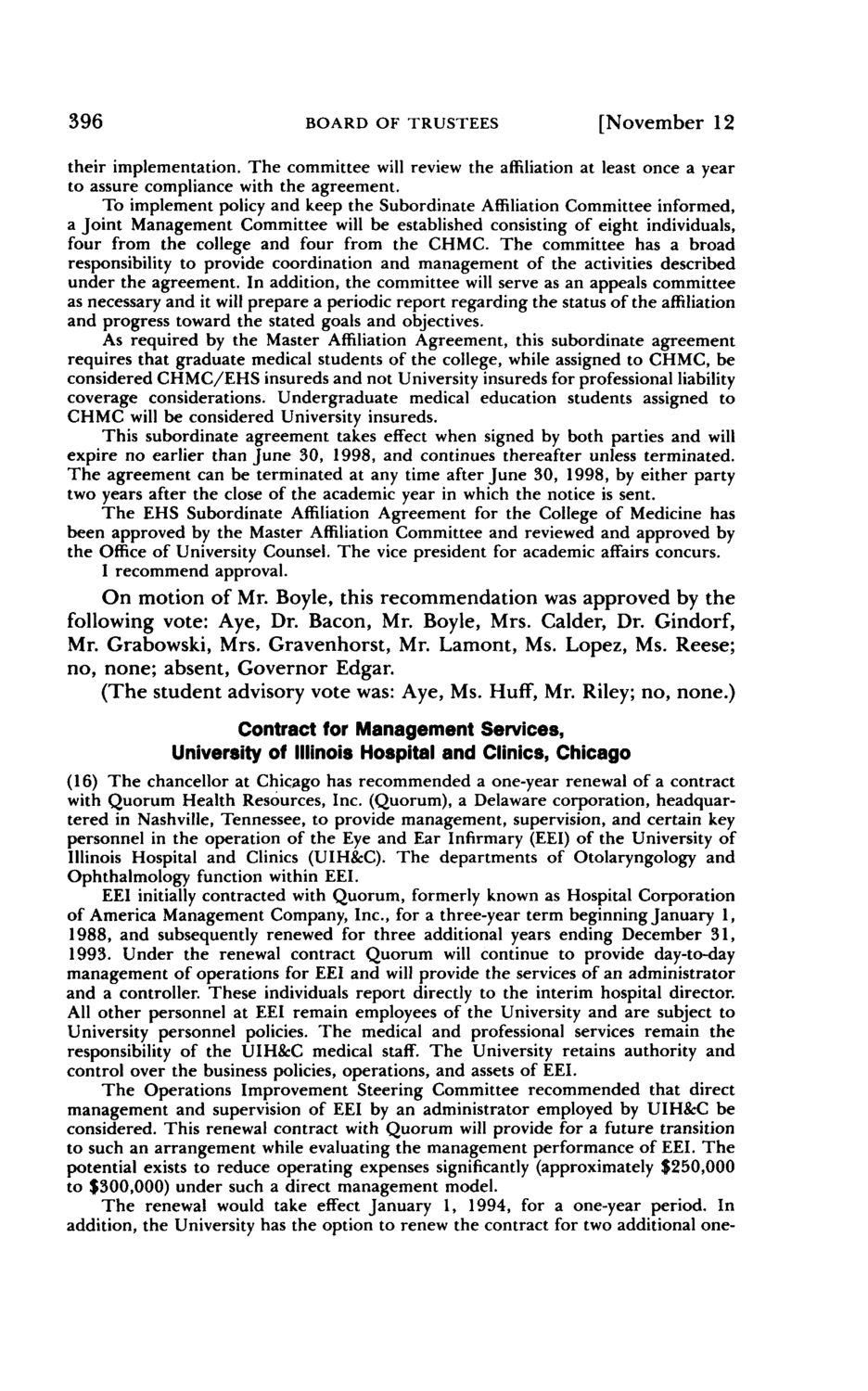 ---
EXTRACTED TEXT FROM PAGE:
396
BOARD OF TRUSTEES
[November 12
their implementation. The committee will review the affiliation at least once a year to assure compliance with the agreement. To implement policy and keep the Subordinate Affiliation Committee informed, a Joint Management Committee will be established consisting of eight individuals, four from the college and four from the CHMC. The committee has a broad responsibility to provide coordination and management of the activities described under the agreement. In addition, the committee will serve as an appeals committee as necessary and it will prepare a periodic report regarding the status of the affiliation and progress toward the stated goals and objectives. As required by the Master Affiliation Agreement, this subordinate agreement requires that graduate medical students of the college, while assigned to CHMC, be considered CHMC/EHS insureds and not University insureds for professional liability coverage considerations. Undergraduate medical education students assigned to CHMC will be considered University insureds. This subordinate agreement takes effect when signed by both parties and will expire no earlier than June 30, 1998, and continues thereafter unless terminated. The agreement can be terminated at any time after June 30, 1998, by either party two years after the close of the academic year in which the notice is sent. The EHS Subordinate Affiliation Agreement for the College of Medicine has been approved by the Master Affiliation Committee and reviewed and approved by the Office of University Counsel. The vice president for academic affairs concurs. I recommend approval.
On motion of Mr. Boyle, this recommendation was approved by the following vote: Aye, Dr. Bacon, Mr. Boyle, Mrs. Calder, Dr. Gindorf, Mr. Grabowski, Mrs. Gravenhorst, Mr. Lamont, Ms. Lopez, Ms. Reese; no, none; absent, Governor Edgar. (The student advisory vote was: Aye, Ms. Huff, Mr. Riley; no, none.)
Contract for Management Services, University of Illinois Hospital and Clinics, Chicago
(16) The chancellor at Chicago has recommended a one-year renewal of a contract with Quorum Health Resources, Inc. (Quorum), a Delaware corporation, headquartered in Nashville, Tennessee, to provide management, supervision, and certain key personnel in the operation of the Eye and Ear Infirmary (EEI) of the University of Illinois Hospital and Clinics (UIH&C). The departments of Otolaryngology and Ophthalmology function within EEI. EEI initially contracted with Quorum, formerly known as Hospital Corporation of America Management Company, Inc., for a three-year term beginning January 1, 1988, and subsequently renewed for three additional years ending December 31, 1993. Under the renewal contract Quorum will continue to provide day-to-day management of operations for EEI and will provide the services of an administrator and a controller. These individuals report directly to the interim hospital director. All other personnel at EEI remain employees of the University and are subject to University personnel policies. The medical and professional services remain the responsibility of the UIH&C medical staff. The University retains authority and control over the business policies, operations, and assets of EEI. The Operations Improvement Steering Committee recommended that direct management and supervision of EEI by an administrator employed by UIH&C be considered. This renewal contract with Quorum will provide for a future transition to such an arrangement while evaluating the management performance of EEI. The potential exists to reduce operating expenses significantly (approximately $250,000 to $300,000) under such a direct management model. The renewal would take effect January 1, 1994, for a one-year period. In addition, the University has the option to renew the contract for two additional one-