Caption: Board of Trustees Minutes - 1992
This is a reduced-resolution page image for fast online browsing.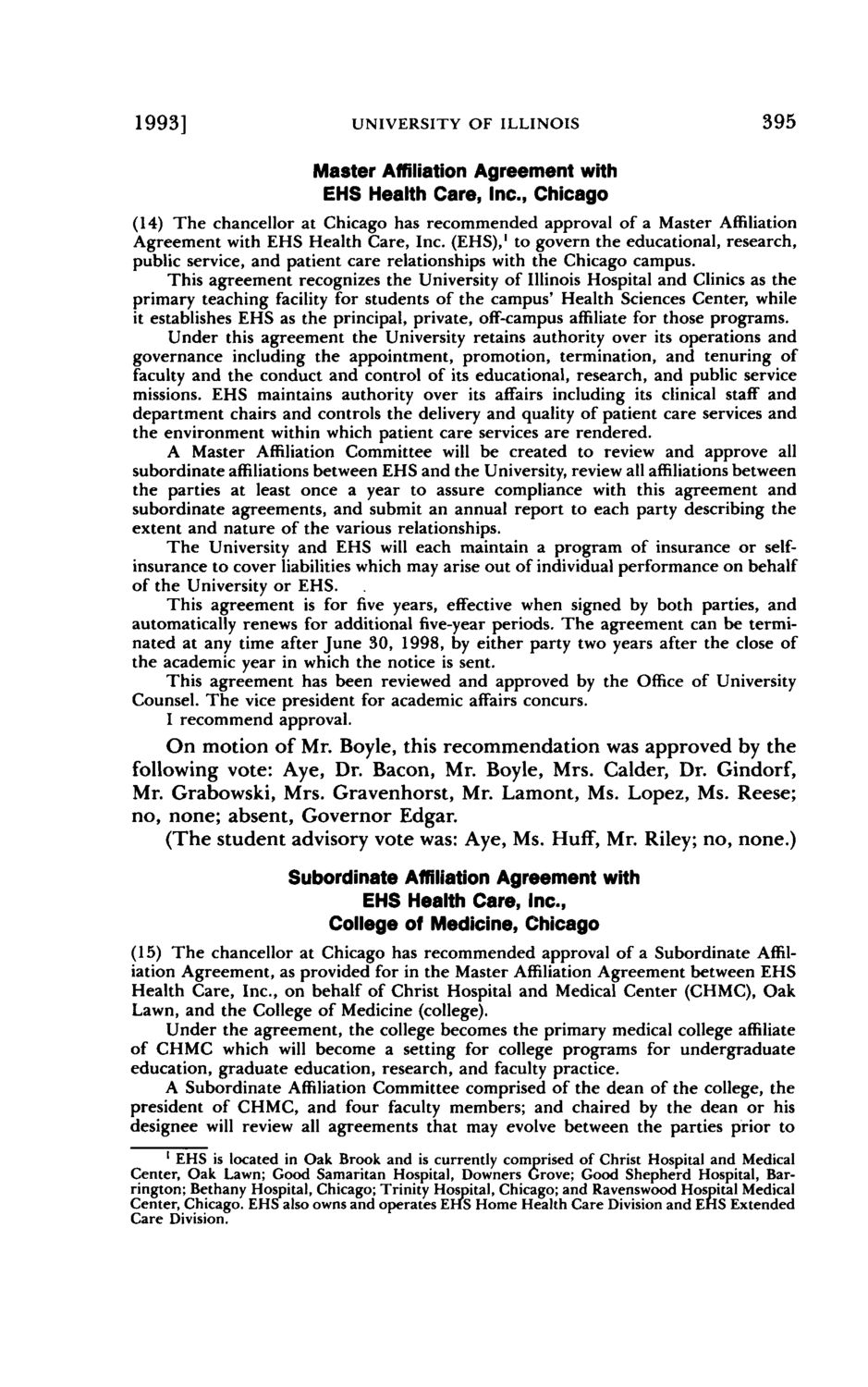 ---
EXTRACTED TEXT FROM PAGE:
1993]
UNIVERSITY OF ILLINOIS
395
Master Affiliation Agreement with EHS Health Care, Inc., Chicago
(14) The chancellor at Chicago has recommended approval of a Master Affiliation Agreement with EHS Health Care, Inc. (EHS),1 to govern the educational, research, public service, and patient care relationships with the Chicago campus. This agreement recognizes the University of Illinois Hospital and Clinics as the primary teaching facility for students of the campus' Health Sciences Center, while it establishes EHS as the principal, private, off-campus affiliate for those programs. Under this agreement the University retains authority over its operations and governance including the appointment, promotion, termination, and tenuring of faculty and the conduct and control of its educational, research, and public service missions. EHS maintains authority over its affairs including its clinical staff and department chairs and controls the delivery and quality of patient care services and the environment within which patient care services are rendered. A Master Affiliation Committee will be created to review and approve all subordinate affiliations between EHS and the University, review all affiliations between the parties at least once a year to assure compliance with this agreement and subordinate agreements, and submit an annual report to each party describing the extent and nature of the various relationships. The University and EHS will each maintain a program of insurance or selfinsurance to cover liabilities which may arise out of individual performance on behalf of the University or EHS. This agreement is for five years, effective when signed by both parties, and automatically renews for additional five-year periods. The agreement can be terminated at any time after June 30, 1998, by either party two years after the close of the academic year in which the notice is sent. This agreement has been reviewed and approved by the Office of University Counsel. The vice president for academic affairs concurs. I recommend approval.
On motion of Mr. Boyle, this recommendation was approved by the following vote: Aye, Dr. Bacon, Mr. Boyle, Mrs. Calder, Dr. Gindorf, Mr. Grabowski, Mrs. Gravenhorst, Mr. Lamont, Ms. Lopez, Ms. Reese; no, none; absent, Governor Edgar. (The student advisory vote was: Aye, Ms. Huff, Mr. Riley; no, none.)
Subordinate Affiliation Agreement with EHS Health Care, Inc., College of Medicine, Chicago
(15) The chancellor at Chicago has recommended approval of a Subordinate Affiliation Agreement, as provided for in the Master Affiliation Agreement between EHS Health Care, Inc., on behalf of Christ Hospital and Medical Center (CHMC), Oak Lawn, and the College of Medicine (college). Under the agreement, the college becomes the primary medical college affiliate of CHMC which will become a setting for college programs for undergraduate education, graduate education, research, and faculty practice. A Subordinate Affiliation Committee comprised of the dean of the college, the president of CHMC, and four faculty members; and chaired by the dean or his designee will review all agreements that may evolve between the parties prior to
1 EHS is located in Oak Brook and is currently comprised of Christ Hospital and Medical Center, Oak Lawn; Good Samaritan Hospital, Downers Grove; Good Shepherd Hospital, Barrington; Bethany Hospital, Chicago; Trinity Hospital, Chicago; and Ravenswood Hospital Medical Center, Chicago. EHS also owns and operates EHS Home Health Care Division and EHS Extended Care Division.