Caption: Board of Trustees Minutes - 1992
This is a reduced-resolution page image for fast online browsing.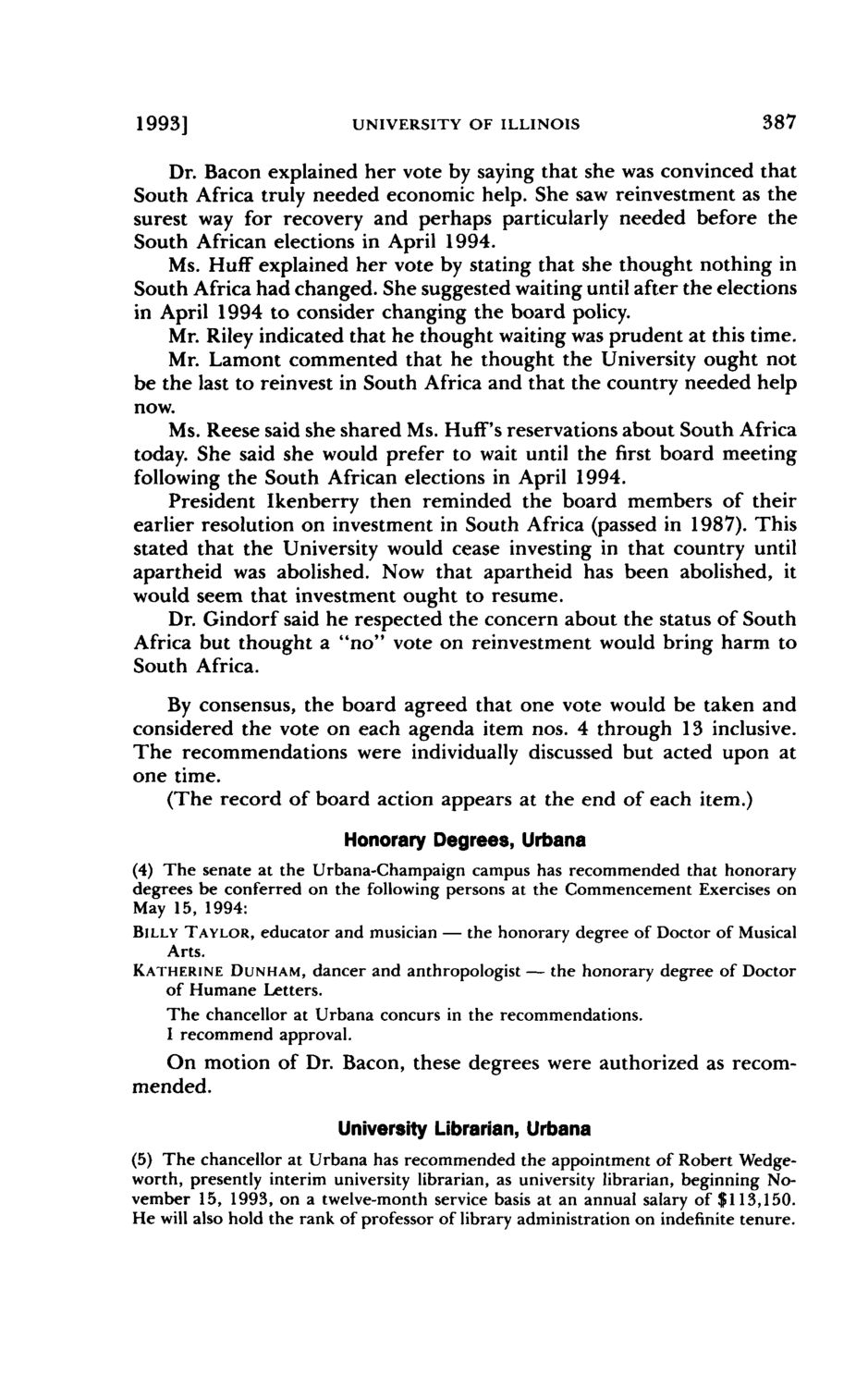 ---
EXTRACTED TEXT FROM PAGE:
1993]
U N I V E R S I T Y OF ILLINOIS
387
Dr. Bacon explained her vote by saying that she was convinced that South Africa truly needed economic help. She saw reinvestment as the surest way for recovery and perhaps particularly needed before the South African elections in April 1994. Ms. Huff explained her vote by stating that she thought nothing in South Africa had changed. She suggested waiting until after the elections in April 1994 to consider changing the board policy. Mr. Riley indicated that he thought waiting was prudent at this time. Mr. Lamont commented that he thought the University ought not be the last to reinvest in South Africa and that the country needed help now. Ms. Reese said she shared Ms. Huff's reservations about South Africa today. She said she would prefer to wait until the first board meeting following the South African elections in April 1994. President Ikenberry then reminded the board members of their earlier resolution on investment in South Africa (passed in 1987). This stated that the University would cease investing in that country until apartheid was abolished. Now that apartheid has been abolished, it would seem that investment ought to resume. Dr. Gindorf said he respected the concern about the status of South Africa but thought a "no" vote on reinvestment would bring harm to South Africa. By consensus, the board agreed that one vote would be taken and considered the vote on each agenda item nos. 4 through 13 inclusive. The recommendations were individually discussed but acted upon at one time. (The record of board action appears at the end of each item.)
Honorary Degrees, Urbana
(4) The senate at the Urbana-Champaign campus has recommended that honorary degrees be conferred on the following persons at the Commencement Exercises on May 15, 1994: BILLY TAYLOR, educator and musician — the honorary degree of Doctor of Musical Arts. KATHERINE DUNHAM, dancer and anthropologist — the honorary degree of Doctor of Humane Letters. The chancellor at Urbana concurs in the recommendations. I recommend approval.
On motion of Dr. Bacon, these degrees were authorized as recommended.
University Librarian, Urbana
(5) The chancellor at Urbana has recommended the appointment of Robert Wedgeworth, presently interim university librarian, as university librarian, beginning November 15, 1993, on a twelve-month service basis at an annual salary of $113,150. He will also hold the rank of professor of library administration on indefinite tenure.