Caption: Board of Trustees Minutes - 1992
This is a reduced-resolution page image for fast online browsing.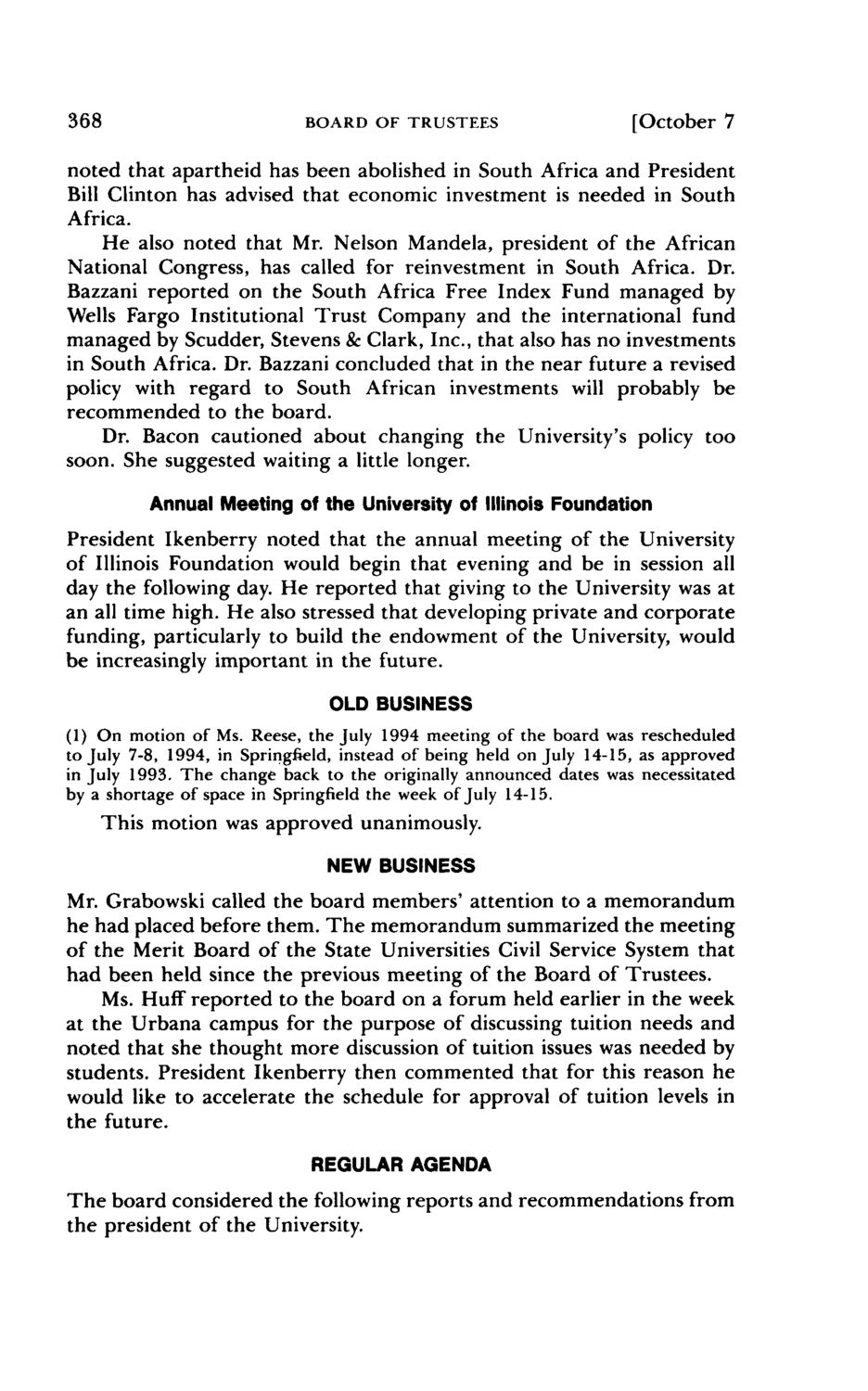 ---
EXTRACTED TEXT FROM PAGE:
368
BOARD OF TRUSTEES
[October 7
noted that apartheid has been abolished in South Africa and President Bill Clinton has advised that economic investment is needed in South Africa. He also noted that Mr. Nelson Mandela, president of the African National Congress, has called for reinvestment in South Africa. Dr. Bazzani reported on the South Africa Free Index Fund managed by Wells Fargo Institutional Trust Company and the international fund managed by Scudder, Stevens & Clark, Inc., that also has no investments in South Africa. Dr. Bazzani concluded that in the near future a revised policy with regard to South African investments will probably be recommended to the board. Dr. Bacon cautioned about changing the University's policy too soon. She suggested waiting a little longer.
Annual Meeting of the University of Illinois Foundation
President Ikenberry noted that the annual meeting of the University of Illinois Foundation would begin that evening and be in session all day the following day. He reported that giving to the University was at an all time high. He also stressed that developing private and corporate funding, particularly to build the endowment of the University, would be increasingly important in the future.
OLD BUSINESS
(1) On motion of Ms. Reese, the July 1994 meeting of the board was rescheduled to July 7-8, 1994, in Springfield, instead of being held on July 14-15, as approved in July 1993. The change back to the originally announced dates was necessitated by a shortage of space in Springfield the week of July 14-15.
This motion was approved unanimously.
NEW BUSINESS
Mr. Grabowski called the board members' attention to a memorandum he had placed before them. The memorandum summarized the meeting of the Merit Board of the State Universities Civil Service System that had been held since the previous meeting of the Board of Trustees. Ms. Huff reported to the board on a forum held earlier in the week at the Urbana campus for the purpose of discussing tuition needs and noted that she thought more discussion of tuition issues was needed by students. President Ikenberry then commented that for this reason he would like to accelerate the schedule for approval of tuition levels in the future.
REGULAR AGENDA
The board considered the following reports and recommendations from the president of the University.