Caption: Board of Trustees Minutes - 1992
This is a reduced-resolution page image for fast online browsing.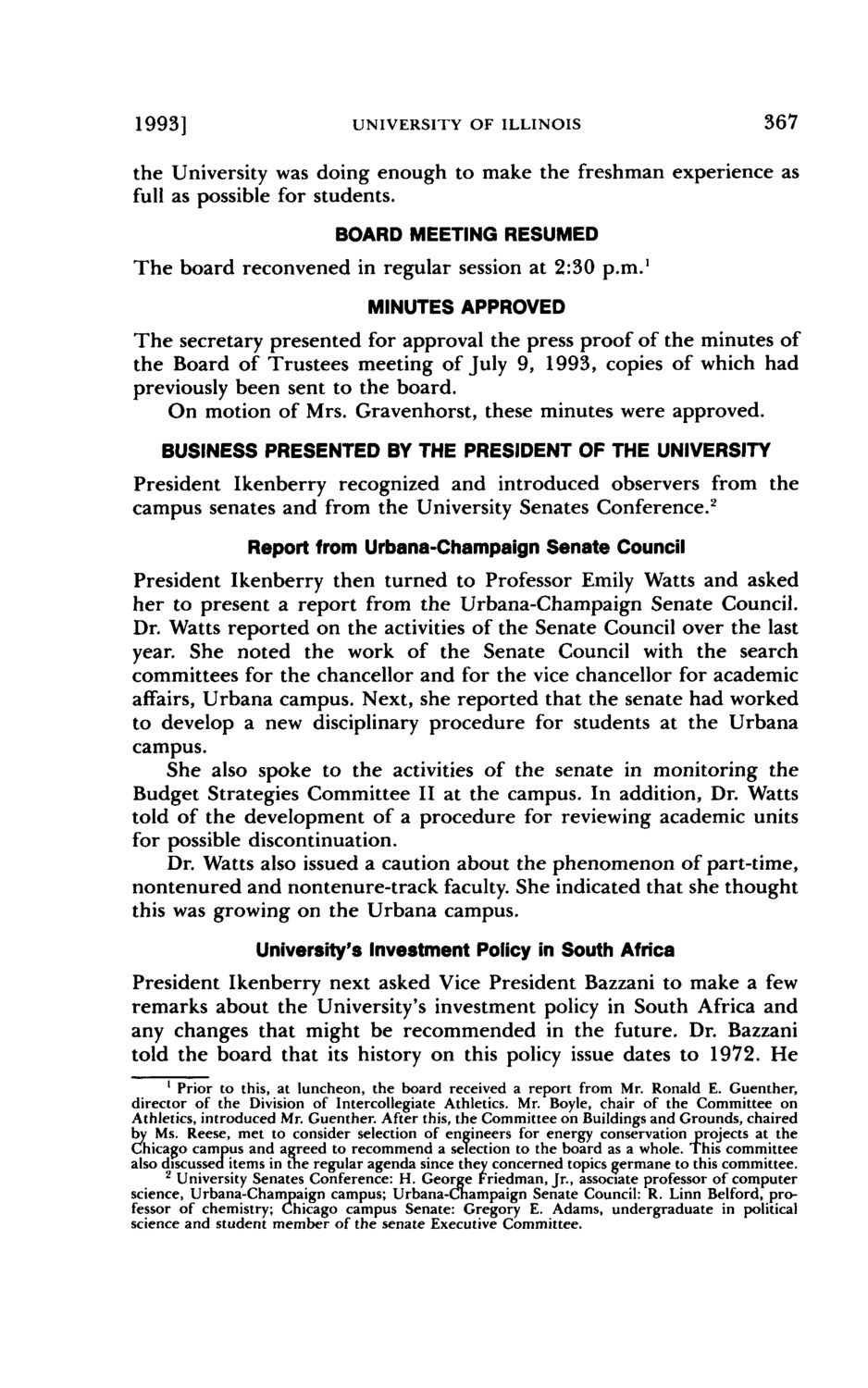 ---
EXTRACTED TEXT FROM PAGE:
1993]
UNIVERSITY OF ILLINOIS
367
the University was doing enough to make the freshman experience as full as possible for students.
BOARD MEETING RESUMED
The board reconvened in regular session at 2:30 p.m.1
MINUTES APPROVED
The secretary presented for approval the press proof of the minutes of the Board of Trustees meeting of July 9, 1993, copies of which had previously been sent to the board. On motion of Mrs. Gravenhorst, these minutes were approved.
BUSINESS PRESENTED BY THE PRESIDENT OF THE UNIVERSITY
President Ikenberry recognized and introduced observers from the campus senates and from the University Senates Conference.2
Report from Urbana-Champaign Senate Council
President Ikenberry then turned to Professor Emily Watts and asked her to present a report from the Urbana-Champaign Senate Council. Dr. Watts reported on the activities of the Senate Council over the last year. She noted the work of the Senate Council with the search committees for the chancellor and for the vice chancellor for academic affairs, Urbana campus. Next, she reported that the senate had worked to develop a new disciplinary procedure for students at the Urbana campus. She also spoke to the activities of the senate in monitoring the Budget Strategies Committee II at the campus. In addition, Dr. Watts told of the development of a procedure for reviewing academic units for possible discontinuation. Dr. Watts also issued a caution about the phenomenon of part-time, nontenured and nontenure-track faculty. She indicated that she thought this was growing on the Urbana campus.
University's Investment Policy in South Africa
President Ikenberry next asked Vice President Bazzani to make a few remarks about the University's investment policy in South Africa and any changes that might be recommended in the future. Dr. Bazzani told the board that its history on this policy issue dates to 1972. He
1 Prior to this, at luncheon, the board received a report from Mr. Ronald E. Guenther, director of the Division of Intercollegiate Athletics. Mr. Boyle, chair of the Committee on Athletics, introduced Mr. Guenther. After this, the Committee on Buildings and Grounds, chaired by Ms. Reese, met to consider selection of engineers for energy conservation projects at the Chicago campus and agreed to recommend a selection to the board as a whole. This committee also discussed items in the regular agenda since they concerned topics germane to this committee. 2 University Senates Conference: H. George Friedman, Jr., associate professor of computer science, Urbana-Champaign campus; Urbana-Champaign Senate Council: R. Linn Belford, professor of chemistry; Chicago campus Senate: Gregory E. Adams, undergraduate in political science and student member of the senate Executive Committee.