Caption: Board of Trustees Minutes - 1992
This is a reduced-resolution page image for fast online browsing.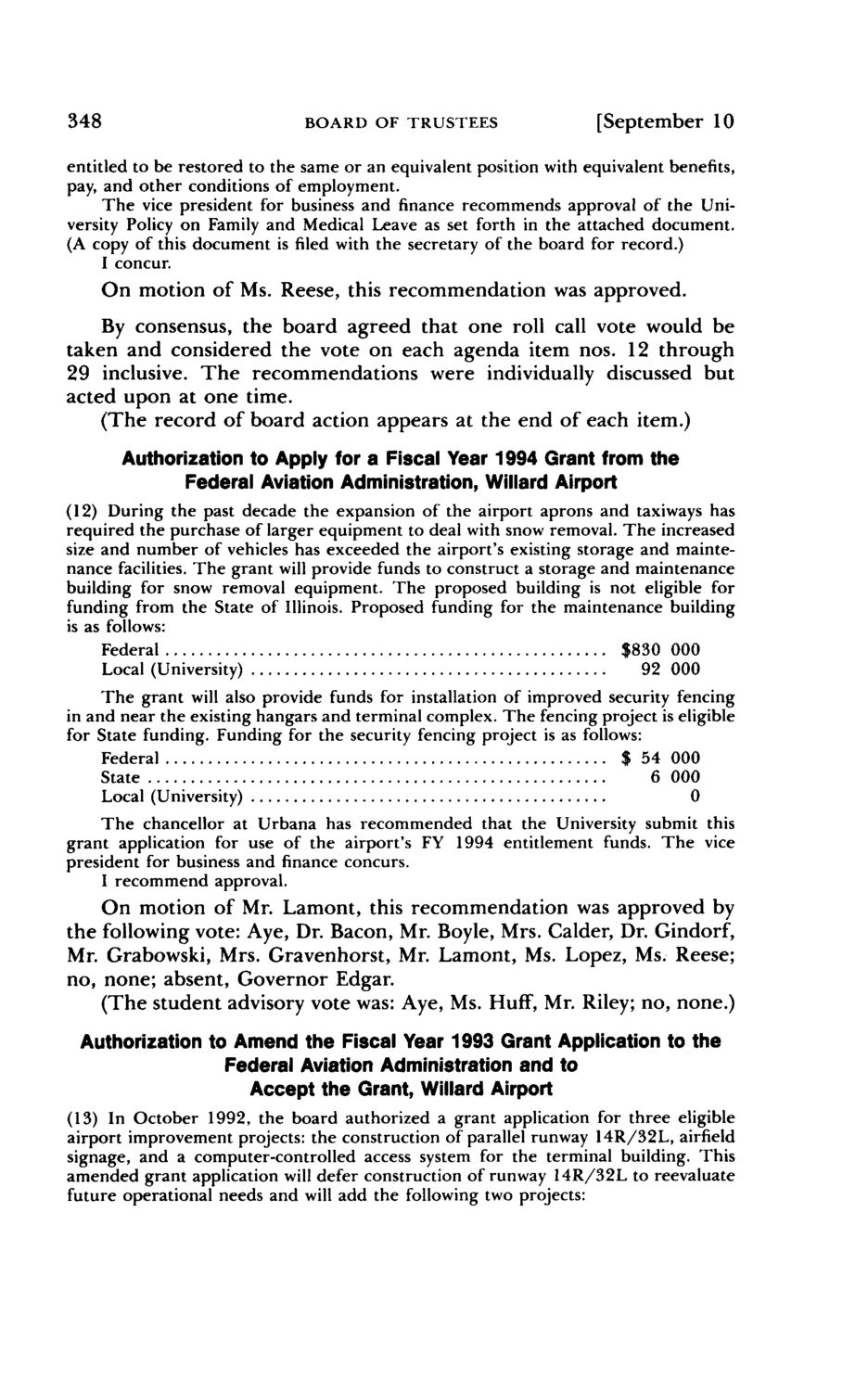 ---
EXTRACTED TEXT FROM PAGE:
348
BOARD OF TRUSTEES
[September 10
entitled to be restored to the same or an equivalent position with equivalent benefits, pay, and other conditions of employment. The vice president for business and finance recommends approval of the University Policy on Family and Medical Leave as set forth in the attached document. (A copy of this document is filed with the secretary of the board for record.) I concur.
On motion of Ms. Reese, this recommendation was approved. By consensus, the board agreed that one roll call vote would be taken and considered the vote on each agenda item nos. 12 through 29 inclusive. The recommendations were individually discussed but acted upon at one time. (The record of board action appears at the end of each item.)
Authorization to Apply for a Fiscal Year 1994 Grant from the Federal Aviation Administration, Willard Airport
(12) During the past decade the expansion of the airport aprons and taxiways has required the purchase of larger equipment to deal with snow removal. The increased size and number of vehicles has exceeded the airport's existing storage and maintenance facilities. The grant will provide funds to construct a storage and maintenance building for snow removal equipment. The proposed building is not eligible for funding from the State of Illinois. Proposed funding for the maintenance building is as follows: Federal $830 000 Local (University) 92 000 The grant will also provide funds for installation of improved security fencing in and near the existing hangars and terminal complex. The fencing project is eligible for State funding. Funding for the security fencing project is as follows: Federal $ 54 000 State 6 000 Local (University) 0 The chancellor at Urbana has recommended that the University submit this grant application for use of the airport's FY 1994 entitlement funds. The vice president for business and finance concurs. I recommend approval.
On motion of Mr. Lamont, this recommendation was approved by the following vote: Aye, Dr. Bacon, Mr. Boyle, Mrs. Calder, Dr. Gindorf, Mr. Grabowski, Mrs. Gravenhorst, Mr. Lamont, Ms. Lopez, Ms. Reese; no, none; absent, Governor Edgar. (The student advisory vote was: Aye, Ms. Huff, Mr. Riley; no, none.)
Authorization to Amend the Fiscal Year 1993 Grant Application to the Federal Aviation Administration and to Accept the Grant, Willard Airport
(13) In October 1992, the board authorized a grant application for three eligible airport improvement projects: the construction of parallel runway 14R/32L, airfield signage, and a computer-controlled access system for the terminal building. This amended grant application will defer construction of runway 14R/32L to reevaluate future operational needs and will add the following two projects: