Caption: Board of Trustees Minutes - 1992
This is a reduced-resolution page image for fast online browsing.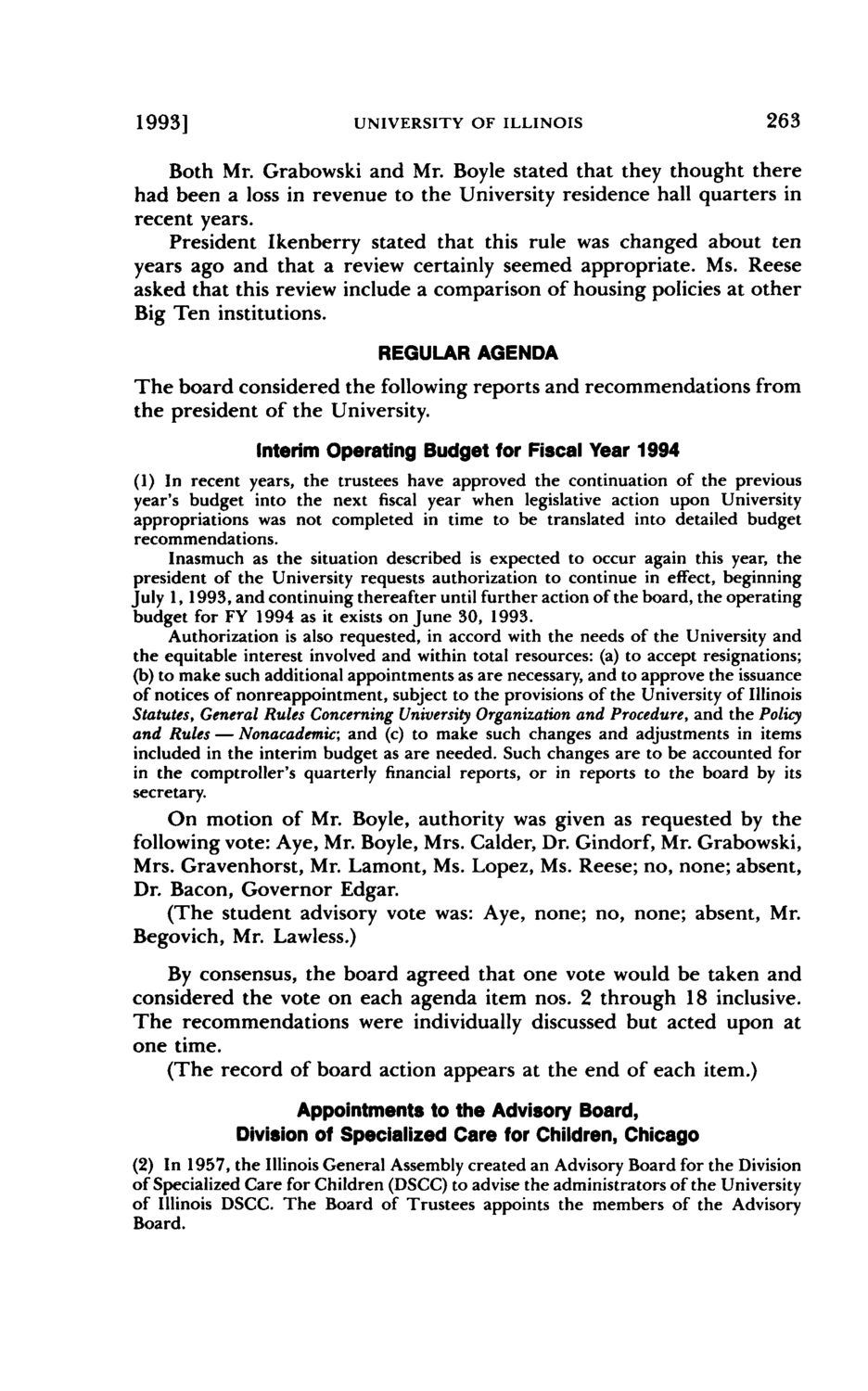 ---
EXTRACTED TEXT FROM PAGE:
1993]
UNIVERSITY OF ILLINOIS
263
Both Mr. Grabowski and Mr. Boyle stated that they thought there had been a loss in revenue to the University residence hall quarters in recent years. President Ikenberry stated that this rule was changed about ten years ago and that a review certainly seemed appropriate. Ms. Reese asked that this review include a comparison of housing policies at other Big Ten institutions.
REGULAR AGENDA
The board considered the following reports and recommendations from the president of the University.
Interim Operating Budget for Fiscal Year 1994
(1) In recent years, the trustees have approved the continuation of the previous year's budget into the next fiscal year when legislative action upon University appropriations was not completed in time to be translated into detailed budget recommendations. Inasmuch as the situation described is expected to occur again this year, the president of the University requests authorization to continue in effect, beginning July 1, 1993, and continuing thereafter until further action of the board, the operating budget for FY 1994 as it exists on June 30, 1993. Authorization is also requested, in accord with the needs of the University and the equitable interest involved and within total resources: (a) to accept resignations; (b) to make such additional appointments as are necessary, and to approve the issuance of notices of nonreappointment, subject to the provisions of the University of Illinois Statutes, General Rules Concerning University Organization and Procedure, and the Policy and Rules — Nonacademic; and (c) to make such changes and adjustments in items included in the interim budget as are needed. Such changes are to be accounted for in the comptroller's quarterly financial reports, or in reports to the board by its secretary.
On motion of Mr. Boyle, authority was given as requested by the following vote: Aye, Mr. Boyle, Mrs. Calder, Dr. Gindorf, Mr. Grabowski, Mrs. Gravenhorst, Mr. Lamont, Ms. Lopez, Ms. Reese; no, none; absent, Dr. Bacon, Governor Edgar. (The student advisory vote was: Aye, none; no, none; absent, Mr. Begovich, Mr. Lawless.) By consensus, the board agreed that one vote would be taken and considered the vote on each agenda item nos. 2 through 18 inclusive. The recommendations were individually discussed but acted upon at one time. (The record of board action appears at the end of each item.)
Appointments to the Advisory Board, Division of Specialized Care for Children, Chicago
(2) In 1957, the Illinois General Assembly created an Advisory Board for the Division of Specialized Care for Children (DSCC) to advise the administrators of the University of Illinois DSCC. The Board of Trustees appoints the members of the Advisory Board.