Caption: Board of Trustees Minutes - 1992
This is a reduced-resolution page image for fast online browsing.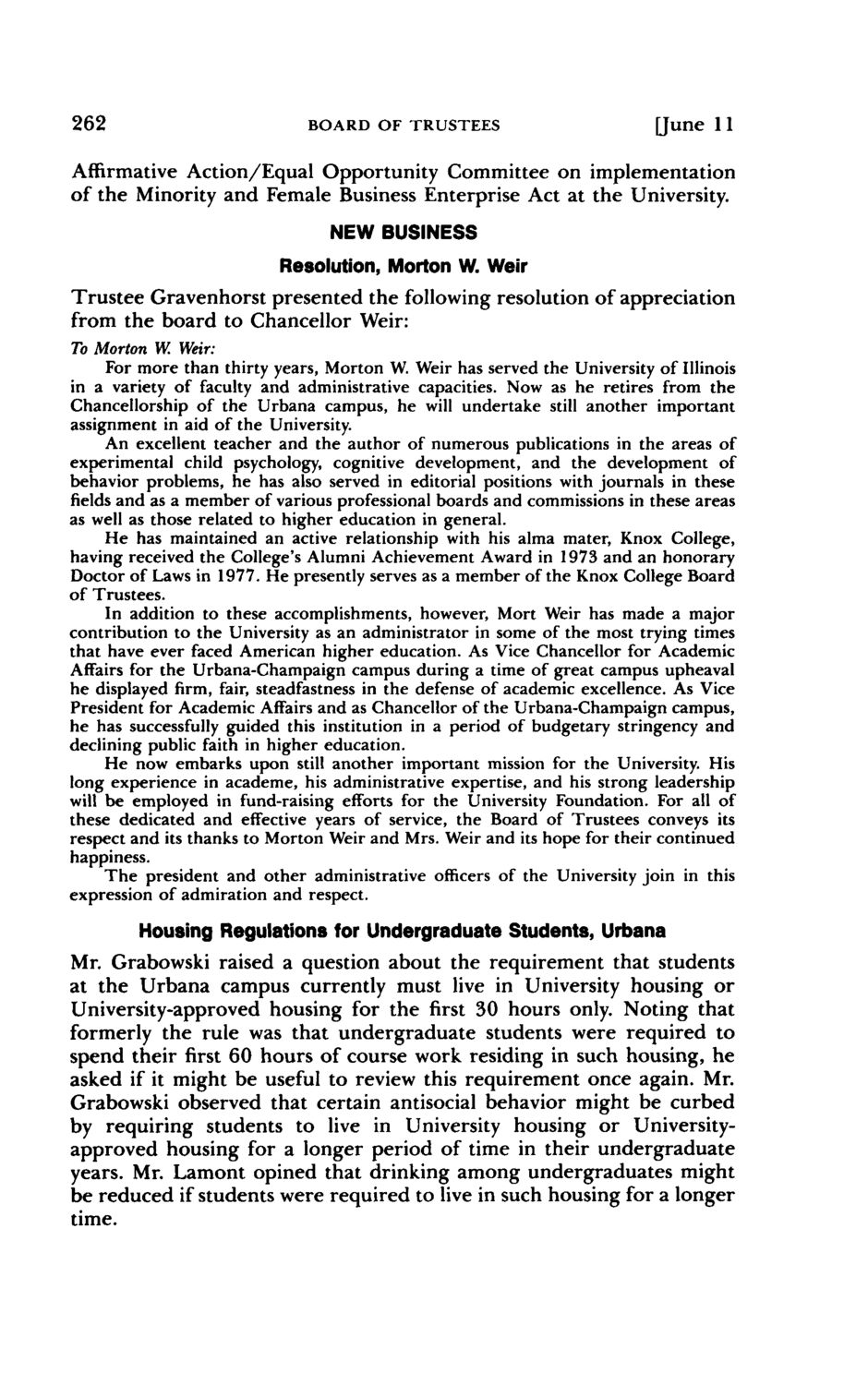 ---
EXTRACTED TEXT FROM PAGE:
262
BOARD OF TRUSTEES
[June 11
Affirmative Action/Equal Opportunity Committee on implementation of the Minority and Female Business Enterprise Act at the University.
NEW BUSINESS Resolution, Morton W. Weir
Trustee Gravenhorst presented the following resolution of appreciation from the board to Chancellor Weir:
To Morton W. Weir: For more than thirty years, Morton W. Weir has served the University of Illinois in a variety of faculty and administrative capacities. Now as he retires from the Chancellorship of the Urbana campus, he will undertake still another important assignment in aid of the University. An excellent teacher and the author of numerous publications in the areas of experimental child psychology, cognitive development, and the development of behavior problems, he has also served in editorial positions with journals in these fields and as a member of various professional boards and commissions in these areas as well as those related to higher education in general. He has maintained an active relationship with his alma mater, Knox College, having received the College's Alumni Achievement Award in 1973 and an honorary Doctor of Laws in 1977. He presently serves as a member of the Knox College Board of Trustees. In addition to these accomplishments, however, Mort Weir has made a major contribution to the University as an administrator in some of the most trying times that have ever faced American higher education. As Vice Chancellor for Academic Affairs for the Urbana-Champaign campus during a time of great campus upheaval he displayed firm, fair, steadfastness in the defense of academic excellence. As Vice President for Academic Affairs and as Chancellor of the Urbana-Champaign campus, he has successfully guided this institution in a period of budgetary stringency and declining public faith in higher education. He now embarks upon still another important mission for the University. His long experience in academe, his administrative expertise, and his strong leadership will be employed in fund-raising efforts for the University Foundation. For all of these dedicated and effective years of service, the Board of Trustees conveys its respect and its thanks to Morton Weir and Mrs. Weir and its hope for their continued happiness. The president and other administrative officers of the University join in this expression of admiration and respect.
Housing Regulations for Undergraduate Students, Urbana
Mr. Grabowski raised a question about the requirement that students at the Urbana campus currently must live in University housing or University-approved housing for the first 30 hours only. Noting that formerly the rule was that undergraduate students were required to spend their first 60 hours of course work residing in such housing, he asked if it might be useful to review this requirement once again. Mr. Grabowski observed that certain antisocial behavior might be curbed by requiring students to live in University housing or Universityapproved housing for a longer period of time in their undergraduate years. Mr. Lamont opined that drinking among undergraduates might be reduced if students were required to live in such housing for a longer time.