Caption: Board of Trustees Minutes - 1992
This is a reduced-resolution page image for fast online browsing.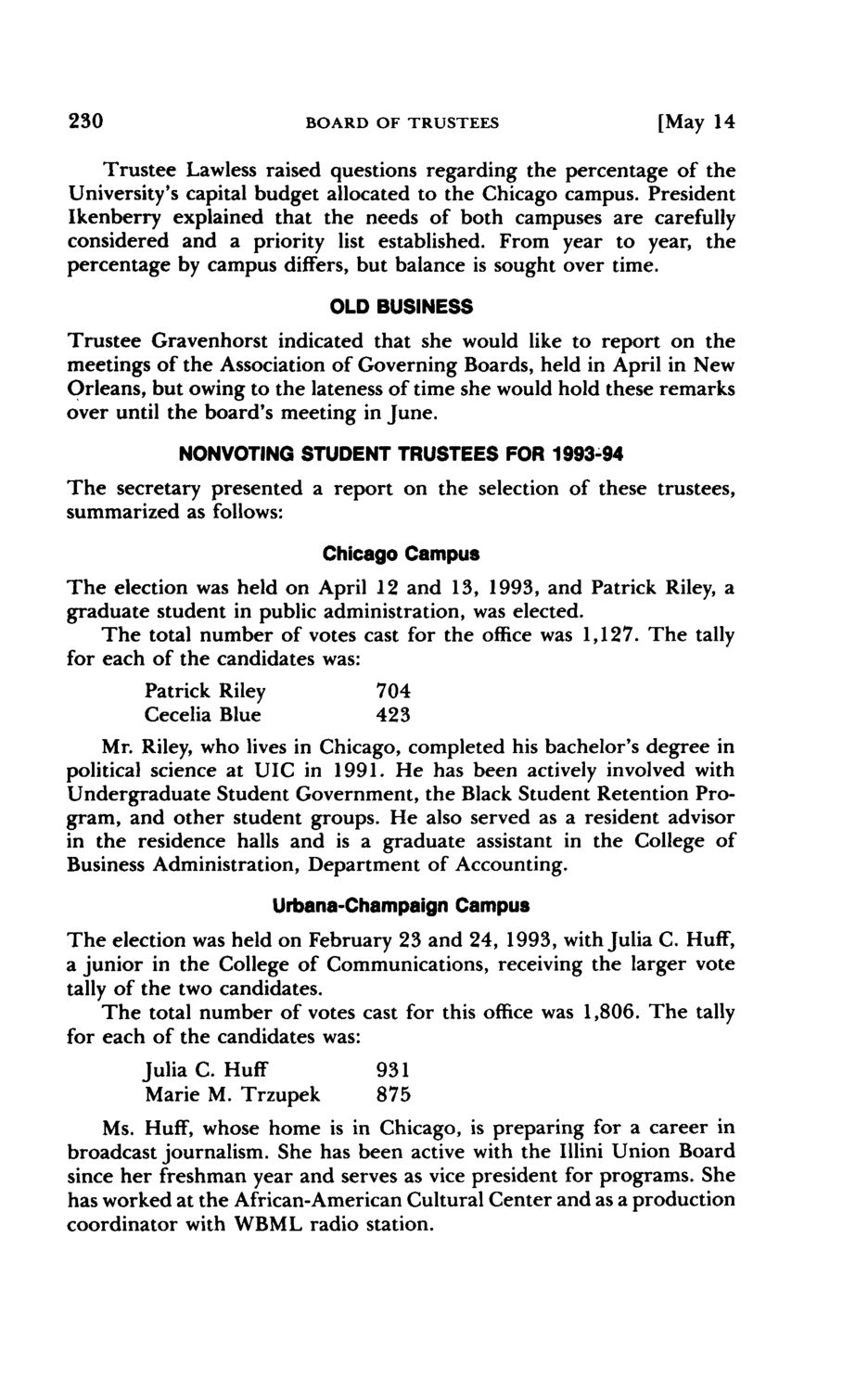 ---
EXTRACTED TEXT FROM PAGE:
230
BOARD OF TRUSTEES
[May 14
Trustee Lawless raised questions regarding the percentage of the University's capital budget allocated to the Chicago campus. President Ikenberry explained that the needs of both campuses are carefully considered and a priority list established. From year to year, the percentage by campus differs, but balance is sought over time.
OLD BUSINESS
Trustee Gravenhorst indicated that she would like to report on the meetings of the Association of Governing Boards, held in April in New Orleans, but owing to the lateness of time she would hold these remarks over until the board's meeting in June.
NONVOTING STUDENT TRUSTEES FOR 1993-94
The secretary presented a report on the selection of these trustees, summarized as follows:
Chicago Campus
The election was held on April 12 and 13, 1993, and Patrick Riley, a graduate student in public administration, was elected. The total number of votes cast for the office was 1,127. The tally for each of the candidates was: Patrick Riley 704 Cecelia Blue 423 Mr. Riley, who lives in Chicago, completed his bachelor's degree in political science at UIC in 1991. He has been actively involved with Undergraduate Student Government, the Black Student Retention Program, and other student groups. He also served as a resident advisor in the residence halls and is a graduate assistant in the College of Business Administration, Department of Accounting.
Urbana-Champaign Campus
The election was held on February 23 and 24, 1993, with Julia C. Huff, a junior in the College of Communications, receiving the larger vote tally of the two candidates. The total number of votes cast for this office was 1,806. The tally for each of the candidates was: Julia C. Huff Marie M. Trzupek 931 875
Ms. Huff, whose home is in Chicago, is preparing for a career in broadcast journalism. She has been active with the Illini Union Board since her freshman year and serves as vice president for programs. She has worked at the African-American Cultural Center and as a production coordinator with WBML radio station.