Caption: Board of Trustees Minutes - 1992
This is a reduced-resolution page image for fast online browsing.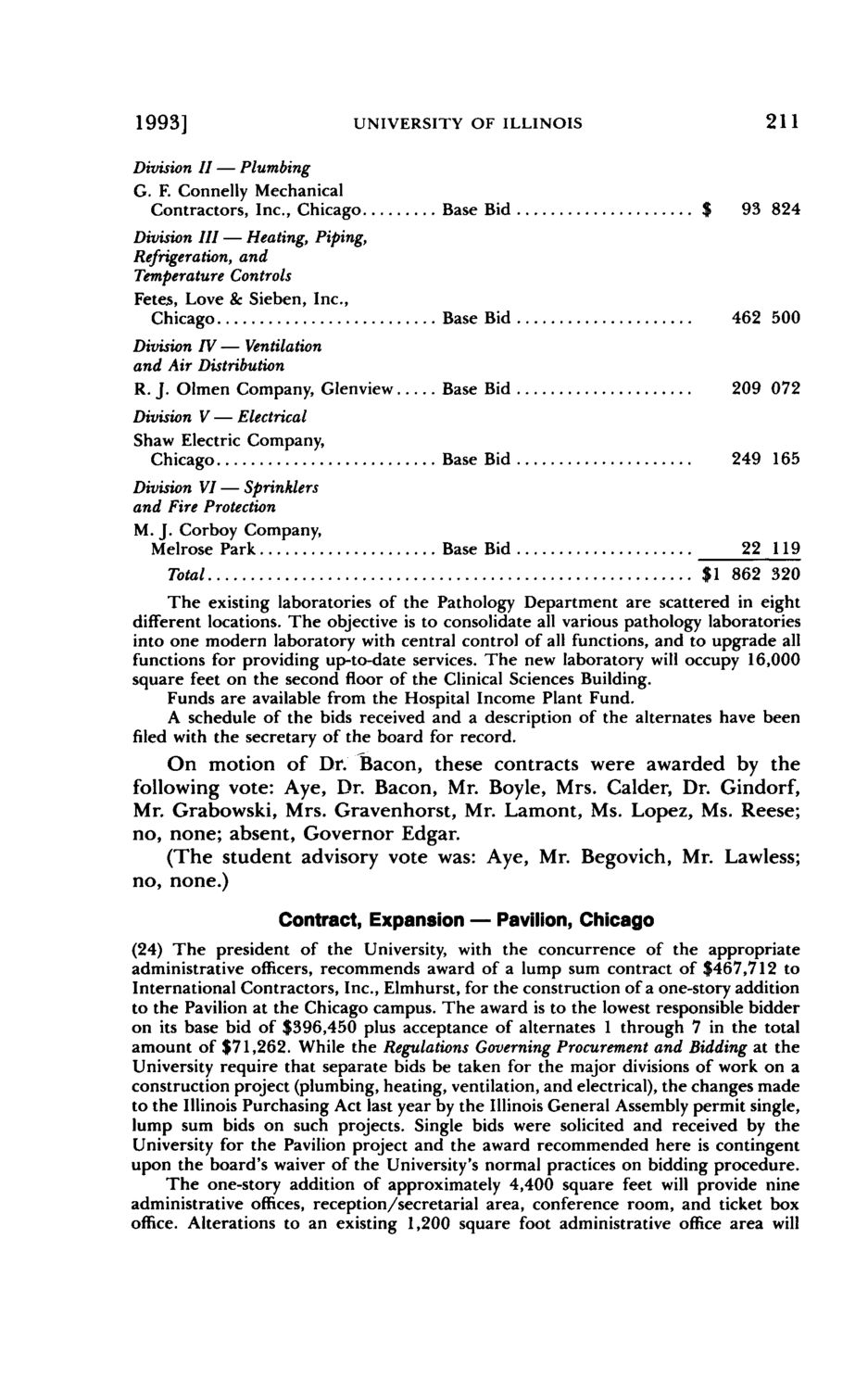 ---
EXTRACTED TEXT FROM PAGE:
1993]
UNIVERSITY OF ILLINOIS
211
Division II — Plumbing G. F. Connelly Mechanical Contractors, Inc., Chicago Division III — Heating, Piping, Refrigeration, and Temperature Controls Fetes, Love 8c Sieben, Inc., Chicago Division IV — Ventilation and Air Distribution R. J. Olmen Company, Glenview Division V — Electrical Shaw Electric Company, Chicago Division VI — Sprinklers and Fire Protection M. J. Corboy Company, Melrose Park Total
Base Bid
$
93 824
Base Bid .
462 500
Base Bid
209 072
Base Bid
249 165
Base Bid
22 119 $1 862 320
The existing laboratories of the Pathology Department are scattered in eight different locations. The objective is to consolidate all various pathology laboratories into one modern laboratory with central control of all functions, and to upgrade all functions for providing up-to-date services. The new laboratory will occupy 16,000 square feet on the second floor of the Clinical Sciences Building. Funds are available from the Hospital Income Plant Fund. A schedule of the bids received and a description of the alternates have been filed with the secretary of the board for record.
On motion of Dr. Bacon, these contracts were awarded by the following vote: Aye, Dr. Bacon, Mr. Boyle, Mrs. Calder, Dr. Gindorf, Mr. Grabowski, Mrs. Gravenhorst, Mr. Lamont, Ms. Lopez, Ms. Reese; no, none; absent, Governor Edgar. (The student advisory vote was: Aye, Mr. Begovich, Mr. Lawless; no, none.)
Contract, Expansion — Pavilion, Chicago
(24) The president of the University, with the concurrence of the appropriate administrative officers, recommends award of a lump sum contract of $467,712 to International Contractors, Inc., Elmhurst, for the construction of a one-story addition to the Pavilion at the Chicago campus. The award is to the lowest responsible bidder on its base bid of $396,450 plus acceptance of alternates 1 through 7 in the total amount of $71,262. While the Regulations Governing Procurement and Bidding at the University require that separate bids be taken for the major divisions of work on a construction project (plumbing, heating, ventilation, and electrical), the changes made to the Illinois Purchasing Act last year by the Illinois General Assembly permit single, lump sum bids on such projects. Single bids were solicited and received by the University for the Pavilion project and the award recommended here is contingent upon the board's waiver of the University's normal practices on bidding procedure. The one-story addition of approximately 4,400 square feet will provide nine administrative offices, reception/secretarial area, conference room, and ticket box office. Alterations to an existing 1,200 square foot administrative office area will