Caption: Board of Trustees Minutes - 1992
This is a reduced-resolution page image for fast online browsing.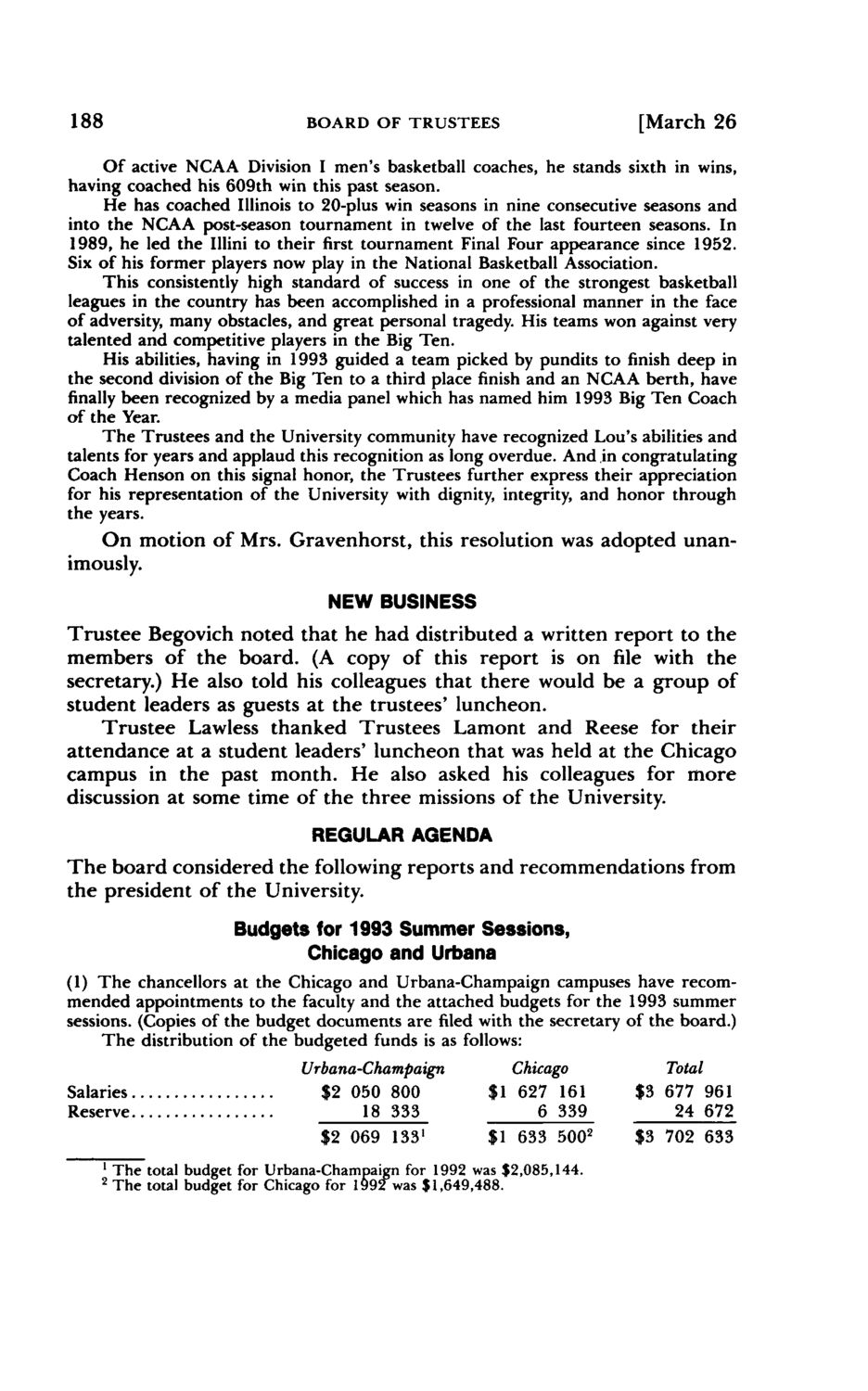 ---
EXTRACTED TEXT FROM PAGE:
188
B O A R D OF T R U S T E E S
[March 26
Of active NCAA Division I men's basketball coaches, he stands sixth in wins, having coached his 609th win this past season. He has coached Illinois to 20-plus win seasons in nine consecutive seasons and into the NCAA post-season tournament in twelve of the last fourteen seasons. In 1989, he led the Illini to their first tournament Final Four appearance since 1952. Six of his former players now play in the National Basketball Association. This consistently high standard of success in one of the strongest basketball leagues in the country has been accomplished in a professional manner in the face of adversity, many obstacles, and great personal tragedy. His teams won against very talented and competitive players in the Big Ten. His abilities, having in 1993 guided a team picked by pundits to finish deep in the second division of the Big Ten to a third place finish and an NCAA berth, have finally been recognized by a media panel which has named him 1993 Big Ten Coach of the Year. The Trustees and the University community have recognized Lou's abilities and talents for years and applaud this recognition as long overdue. And in congratulating Coach Henson on this signal honor, the Trustees further express their appreciation for his representation of the University with dignity, integrity, and honor through the years.
On motion of Mrs. Gravenhorst, this resolution was adopted unanimously.
NEW BUSINESS
Trustee Begovich noted that he had distributed a written report to the members of the board. (A copy of this report is on file with the secretary.) He also told his colleagues that there would be a group of student leaders as guests at the trustees' luncheon. Trustee Lawless thanked Trustees Lamont and Reese for their attendance at a student leaders' luncheon that was held at the Chicago campus in the past month. He also asked his colleagues for more discussion at some time of the three missions of the University.
REGULAR AGENDA
The board considered the following reports and recommendations from the president of the University.
Budgets for 1993 Summer Sessions, Chicago and Urbana
(1) The chancellors at the Chicago and Urbana-Champaign campuses have recommended appointments to the faculty and the attached budgets for the 1993 summer sessions. (Copies of the budget documents are filed with the secretary of the board.) The distribution of the budgeted funds is as follows: Salaries Reserve
1 2
Urbana-Champaign $2 050 800 18 333 $2 069 133 1
Chicago $1 627 161 6 339 $1 633 500 2
Total $3 677 961 24 672 $3 702 633
The total budget for Urbana-Champaign for 1992 was $2,085,144. The total budget for Chicago for 1992 was $1,649,488.