Caption: Board of Trustees Minutes - 1992
This is a reduced-resolution page image for fast online browsing.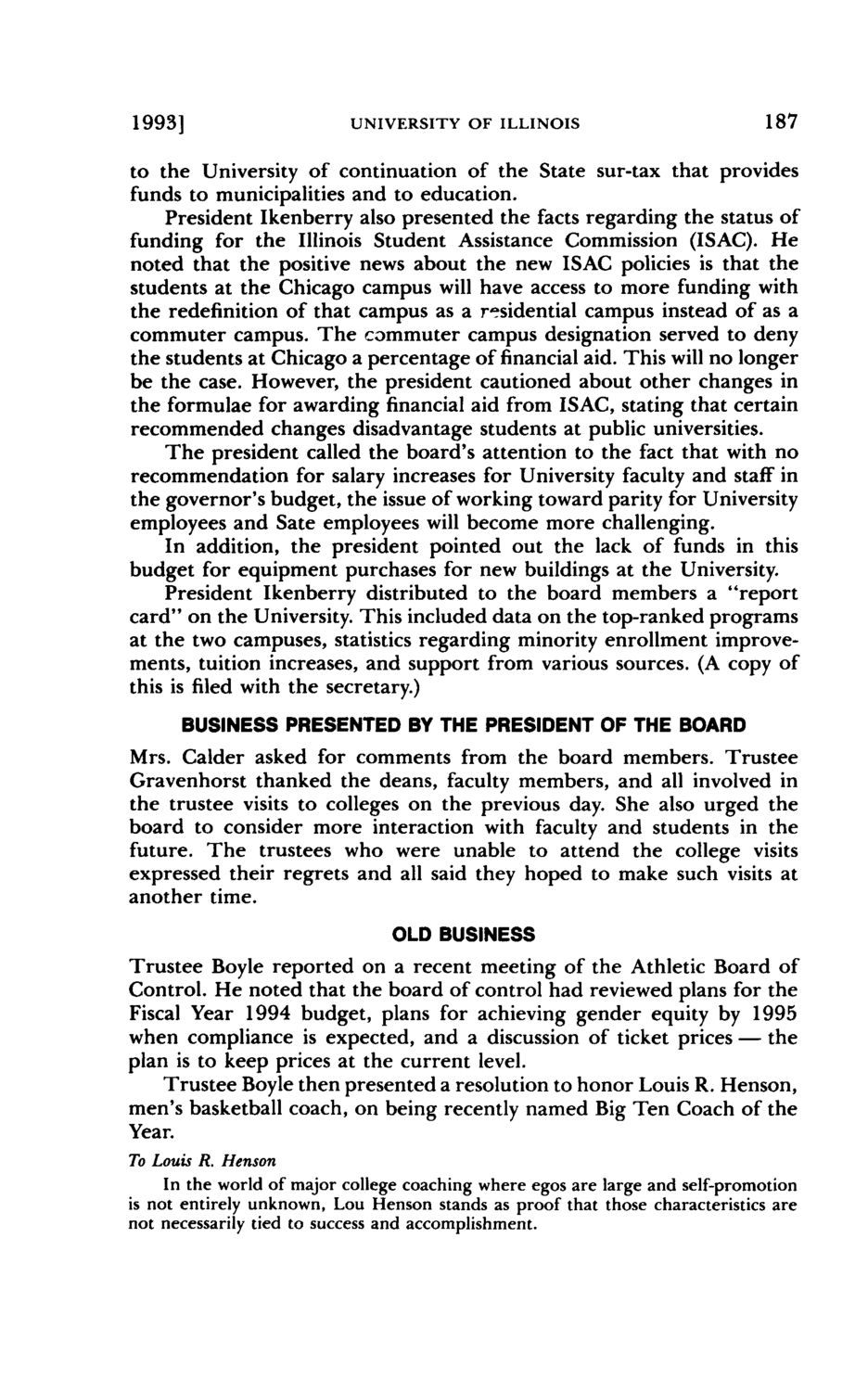 ---
EXTRACTED TEXT FROM PAGE:
1993]
UNIVERSITY OF ILLINOIS
187
to the University of continuation of the State sur-tax that provides funds to municipalities and to education. President Ikenberry also presented the facts regarding the status of funding for the Illinois Student Assistance Commission (ISAC). He noted that the positive news about the new ISAC policies is that the students at the Chicago campus will have access to more funding with the redefinition of that campus as a residential campus instead of as a commuter campus. The commuter campus designation served to deny the students at Chicago a percentage of financial aid. This will no longer be the case. However, the president cautioned about other changes in the formulae for awarding financial aid from ISAC, stating that certain recommended changes disadvantage students at public universities. The president called the board's attention to the fact that with no recommendation for salary increases for University faculty and staff in the governor's budget, the issue of working toward parity for University employees and Sate employees will become more challenging. In addition, the president pointed out the lack of funds in this budget for equipment purchases for new buildings at the University. President Ikenberry distributed to the board members a "report card" on the University. This included data on the top-ranked programs at the two campuses, statistics regarding minority enrollment improvements, tuition increases, and support from various sources. (A copy of this is filed with the secretary.)
BUSINESS PRESENTED BY THE PRESIDENT OF THE BOARD
Mrs. Calder asked for comments from the board members. Trustee Gravenhorst thanked the deans, faculty members, and all involved in the trustee visits to colleges on the previous day. She also urged the board to consider more interaction with faculty and students in the future. The trustees who were unable to attend the college visits expressed their regrets and all said they hoped to make such visits at another time.
OLD BUSINESS
Trustee Boyle reported on a recent meeting of the Athletic Board of Control. He noted that the board of control had reviewed plans for the Fiscal Year 1994 budget, plans for achieving gender equity by 1995 when compliance is expected, and a discussion of ticket prices — the plan is to keep prices at the current level. Trustee Boyle then presented a resolution to honor Louis R. Henson, men's basketball coach, on being recently named Big Ten Coach of the Year.
To Louis R. Henson In the world of major college coaching where egos are large and self-promotion is not entirely unknown, Lou Henson stands as proof that those characteristics are not necessarily tied to success and accomplishment.