Caption: Board of Trustees Minutes - 1992
This is a reduced-resolution page image for fast online browsing.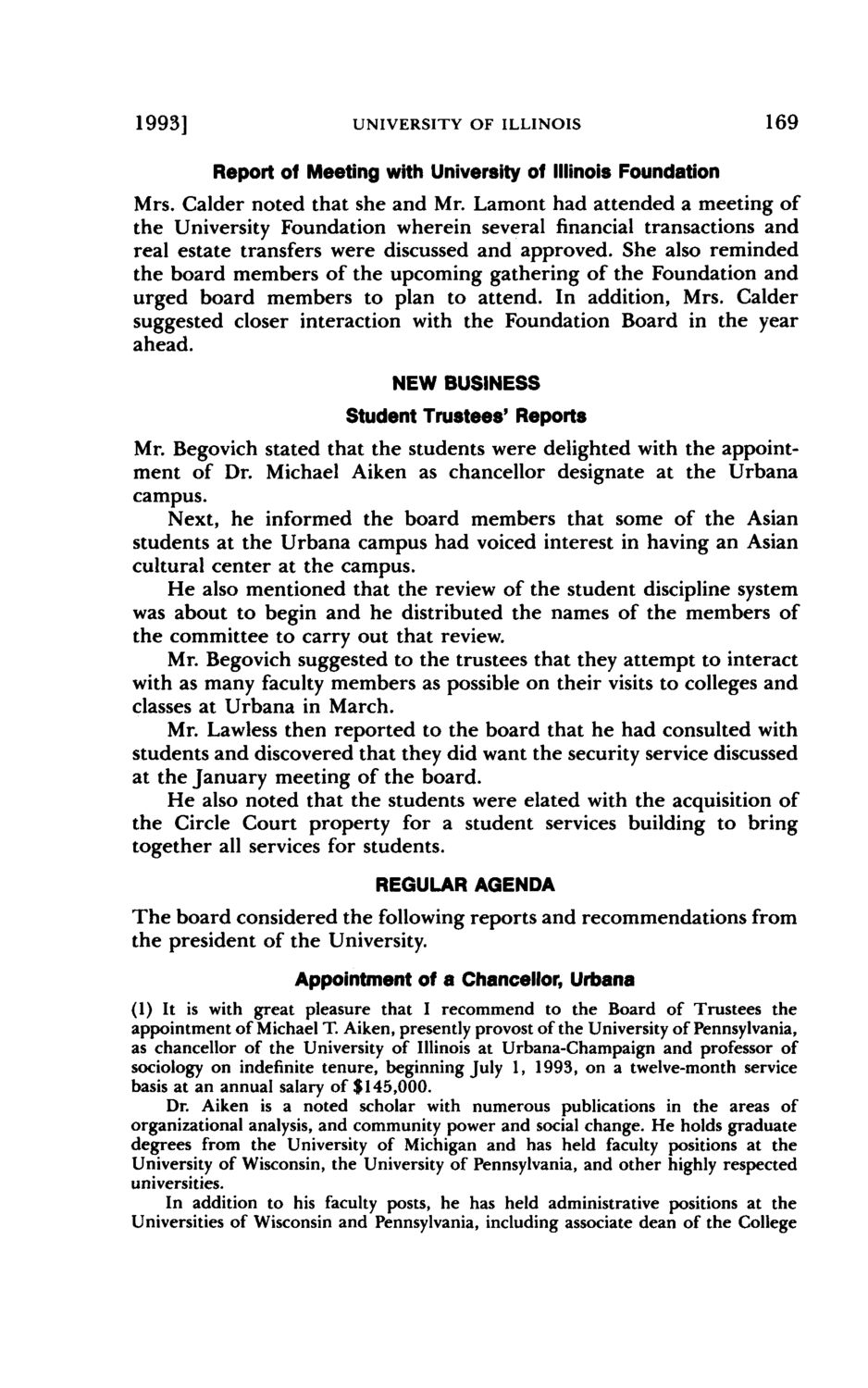 ---
EXTRACTED TEXT FROM PAGE:
1993]
UNIVERSITY OF ILLINOIS
169
Report of Meeting with University of Illinois Foundation
Mrs. Calder noted that she and Mr. Lamont had attended a meeting of the University Foundation wherein several financial transactions and real estate transfers were discussed and approved. She also reminded the board members of the upcoming gathering of the Foundation and urged board members to plan to attend. In addition, Mrs. Calder suggested closer interaction with the Foundation Board in the year ahead.
NEW BUSINESS Student Trustees' Reports
Mr. Begovich stated that the students were delighted with the appointment of Dr. Michael Aiken as chancellor designate at the Urbana campus. Next, he informed the board members that some of the Asian students at the Urbana campus had voiced interest in having an Asian cultural center at the campus. He also mentioned that the review of the student discipline system was about to begin and he distributed the names of the members of the committee to carry out that review. Mr. Begovich suggested to the trustees that they attempt to interact with as many faculty members as possible on their visits to colleges and classes at Urbana in March. Mr. Lawless then reported to the board that he had consulted with students and discovered that they did want the security service discussed at the January meeting of the board. He also noted that the students were elated with the acquisition of the Circle Court property for a student services building to bring together all services for students.
REGULAR AGENDA
The board considered the following reports and recommendations from the president of the University.
Appointment of a Chancellor, Urbana (1) It is with great pleasure that I recommend to the Board of Trustees the appointment of Michael T. Aiken, presently provost of the University of Pennsylvania, as chancellor of the University of Illinois at Urbana-Champaign and professor of sociology on indefinite tenure, beginning July 1, 1993, on a twelve-month service basis at an annual salary of $145,000. Dr. Aiken is a noted scholar with numerous publications in the areas of organizational analysis, and community power and social change. He holds graduate degrees from the University of Michigan and has held faculty positions at the University of Wisconsin, the University of Pennsylvania, and other highly respected universities. In addition to his faculty posts, he has held administrative positions at the Universities of Wisconsin and Pennsylvania, including associate dean of the College