Caption: Board of Trustees Minutes - 1896
This is a reduced-resolution page image for fast online browsing.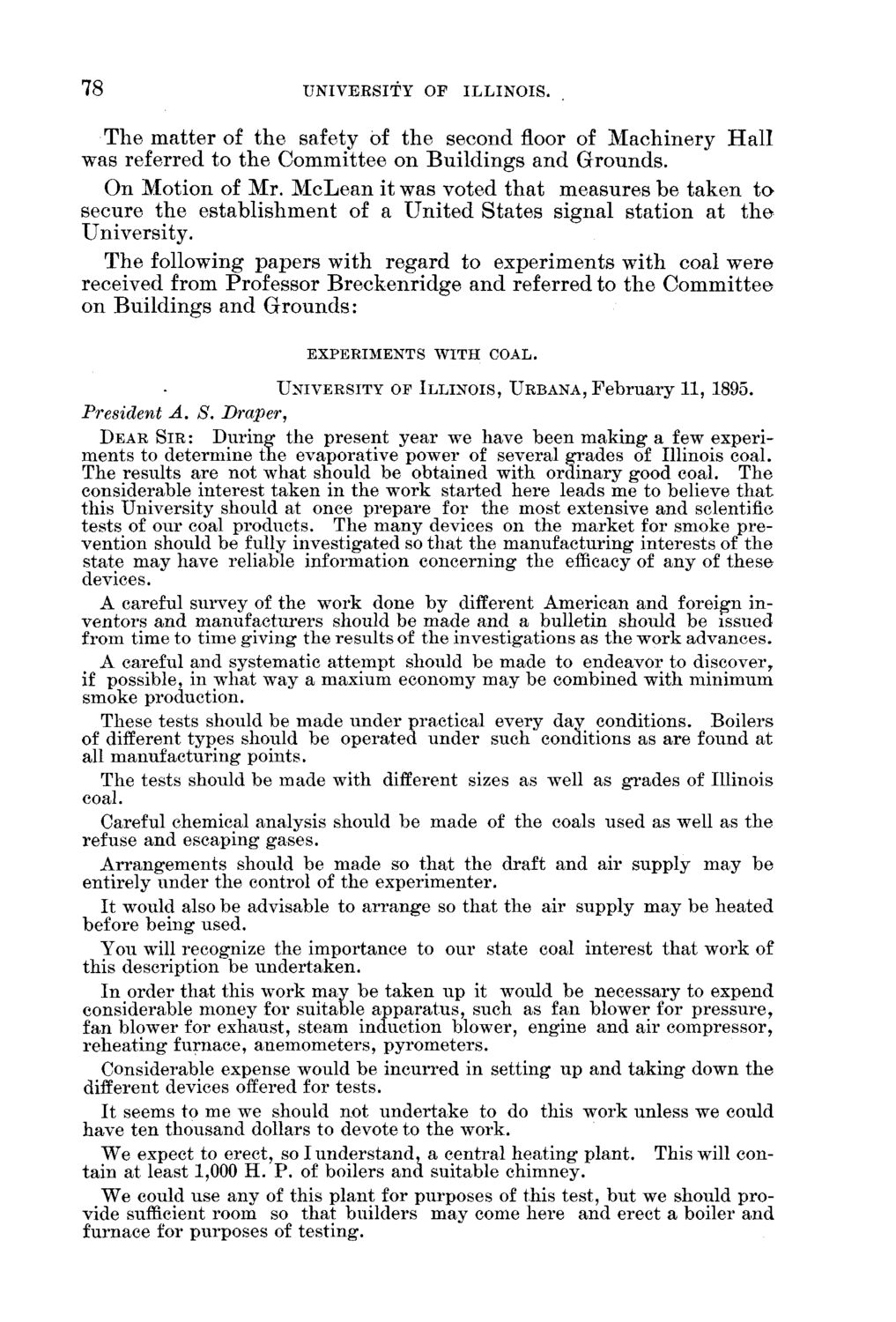 ---
EXTRACTED TEXT FROM PAGE:
78
UNIVERSITY OF
ILLINOIS.
T h e m a t t e r of t h e safety of t h e second floor of M a c h i n e r y H a l l was referred to t h e C o m m i t t e e on B u i l d i n g s a n d G r o u n d s . O n M o t i o n of Mr. M c L e a n it was voted t h a t m e a s u r e s be t a k e n t o secure t h e e s t a b l i s h m e n t of a U n i t e d S t a t e s signal s t a t i o n at t h e University. T h e following p a p e r s w i t h r e g a r d to e x p e r i m e n t s w i t h coal w e r e received from Professor B r e c k e n r i d g e a n d referred to t h e C o m m i t t e e on B u i l d i n g s a n d G r o u n d s :
EXPERIMENTS WITH COAL. UNIVERSITY OF ILLINOIS, U R B ANA, February 11, 1895.
President A. S. Draper, DEAR SIR : During the present year we have been making a few experiments to determine the evaporative power of several grades of Illinois coal. The results are not what should be obtained with ordinary good coal. The considerable interest taken in the work started here leads me to believe that this University should at once prepare for the most extensive and scientific tests of our coal products. The many devices on the market for smoke prevention should be fully investigated so that the manufacturing interests of the state may have reliable information concerning the efficacy of any of these devices. A careful survey of the work done by different American and foreign inventors and manufacturers should be made and a bulletin should be issued from time to time giving the results of the investigations as the work advances. A careful and systematic attempt should be made to endeavor to discover r if possible, in what way a maxium economy may be combined with minimum smoke production. These tests should be made under practical every day conditions. Boilers of different types should be operated under such conditions as are found at all manufacturing points. The tests should be made with different sizes as well as grades of Illinois coal. Careful chemical analysis should be made of the coals used as well as the refuse and escaping gases. Arrangements should be made so that the draft and air supply may be entirely under the control of the experimenter. It would also be advisable to arrange so that the air supply may be heated before being used. You will recognize the importance to our state coal interest that work of this description be undertaken. In order that this work may be taken up it would be necessary to expend considerable money for suitable apparatus, such as fan blower for pressure, fan blower for exhaust, steam induction blower, engine and air compressor, reheating furnace, anemometers, pyrometers. Considerable expense would be incurred in setting up and taking down the different devices offered for tests. It seems to me we should not undertake to do this work unless we could have ten thousand dollars to devote to the work. We expect to erect, so I understand, a central heating plant. This will contain at least 1,000 H. P. of boilers and suitable chimney. We could use any of this plant for purposes of this test, but we should provide sufficient room so that builders may come here and erect a boiler and furnace for purposes of testing.