Caption: Board of Trustees Minutes - 1896
This is a reduced-resolution page image for fast online browsing.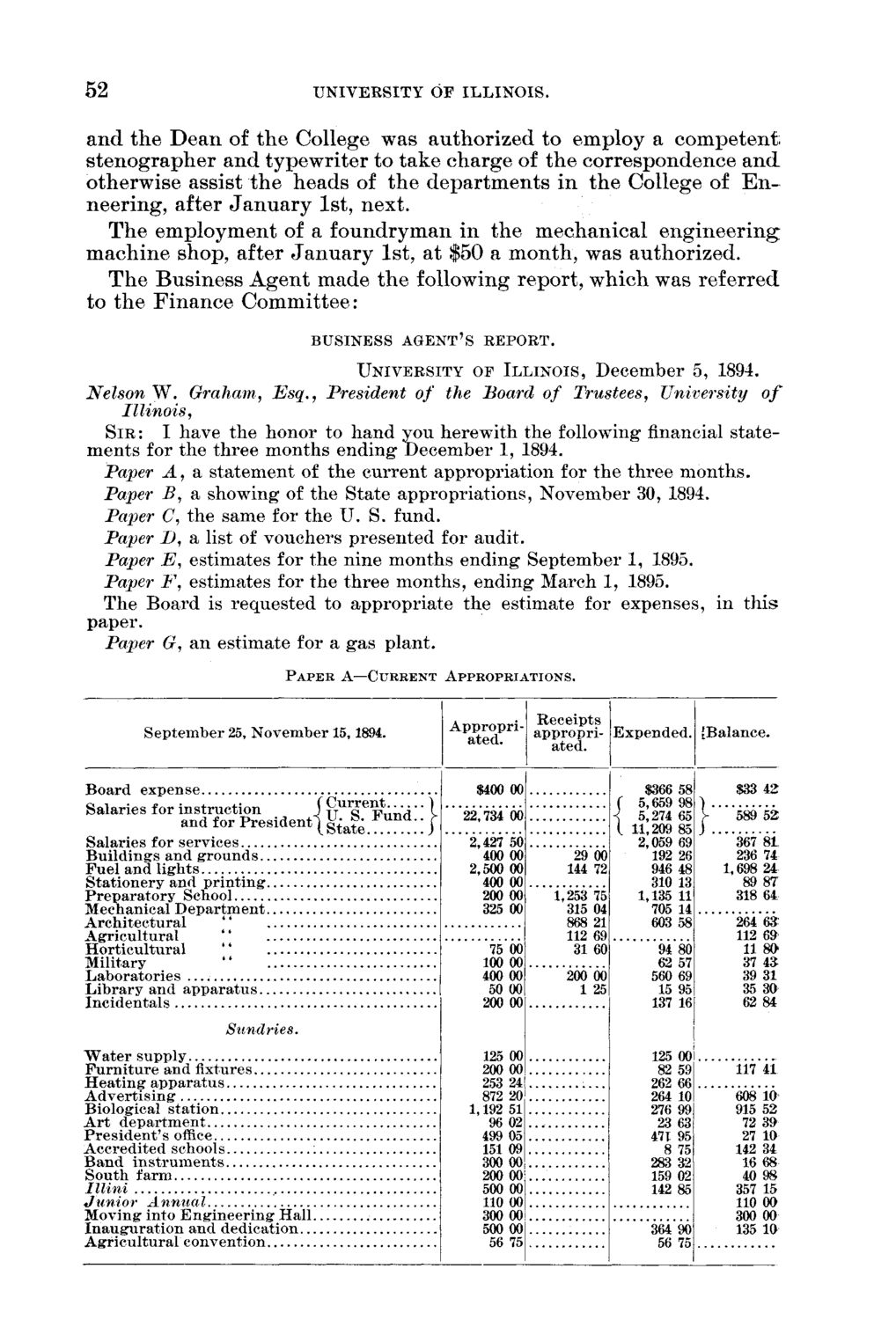 ---
EXTRACTED TEXT FROM PAGE:
52
UNIVERSITY OF ILLINOIS.
and the Dean of the College was authorized to employ a competent stenographer and typewriter to take charge of the correspondence and otherwise assist the heads of the departments in the College of Enneering, after January 1st, next. The employment of a foundryman in the mechanical engineering machine shop, after January 1st, at $50 a month, was authorized. The Business Agent made the following report, which was referred to the Finance Committee:
BUSINESS AGENT'S REPORT.
UNIVERSITY OF ILLINOIS, December 5, 1894.
Nelson W. Graham, Esq., President of the Board of Trustees, University of Illinois, S I R : I have the honor to hand you herewith the following financial statements for the three months ending" December 1, 1894. Paper A, a statement of the current appropriation for the three months. Paper B, a showing of the State appropriations, November 30, 1894. Paper C, the same for the U. S. fund. Paper I), a list of vouchers presented for audit. Paper E, estimates for the nine months ending September 1, 1895. Paper F, estimates for the three months, ending March 1, 1895. The Board is requested to appropriate the estimate for expenses, in this paper. Paper G, an estimate for a gas plant.
P A P E R A—CURRENT APPROPRIATIONS.
September 25, November 15,1894.
Am>ror>ri- Receipts AP P a te°dPrl K - r - Expended, [Balance.
$400 00 22,734 00 2,427 50, 400 00 2,500 00 400 00 200 00 325 00 75 00 100 00 400 00 50 00 200 001 29 00| 144 72 1,253 75! 315 04 868 21 112 691 31 60 200 00 $366 58 5,659 98 5,274 65 11,209 85 2,059 69 192 26 946 48 310 13 1,135 11 705 14 603 581 94 62 560 15 137 80 57 69 951 161 $33 42 '58952 367 236 1,698 89 318 264 112 11 37 39 35 62 81 74 24 8T 64 63 69 80* 45 31 30 84
Board expense Salaries for instruction J TT U1 Q e ^£i^i" and for P r e s i d e n t J ^ a ^ * u n a Salaries for services Buildings and grounds F u e l and lights Stationery and p r i n t i n g P r e p a r a t o r y School Mechanical D e p a r t m e n t Architectural *' Agricultural " Horticultural " Military *' Laboratories L i b r a r y and a p p a r a t u s Incidentals Sundries. W a t e r supply F u r n i t u r e and fixtures Heating apparatus Advertising Biological station Art department P r e s i d e n t ' s office Accredited schools Band instruments , South farm Illini Junior Annual Moving into E n g i n e e r i n g Hall. I n a u g u r a t i o n and dedication... Agricultural convention
1 251
125 00 200 00 253 24 872 20 1,192 51 96 02 499 05 151 091 300 00 200 00 500 00 110 00 300 00! 500 00 56 75
125 00 82 59 262 66 264 10I 276 99 23 63 471 95 8 75 283 32 159 02 142 85 364 90| 56 75
117 41 608 915 72 27 142 16 40 357 110 300 135 10 52 39 10 34 68 98 15 00 00 10