Caption: Board of Trustees Minutes - 1896
This is a reduced-resolution page image for fast online browsing.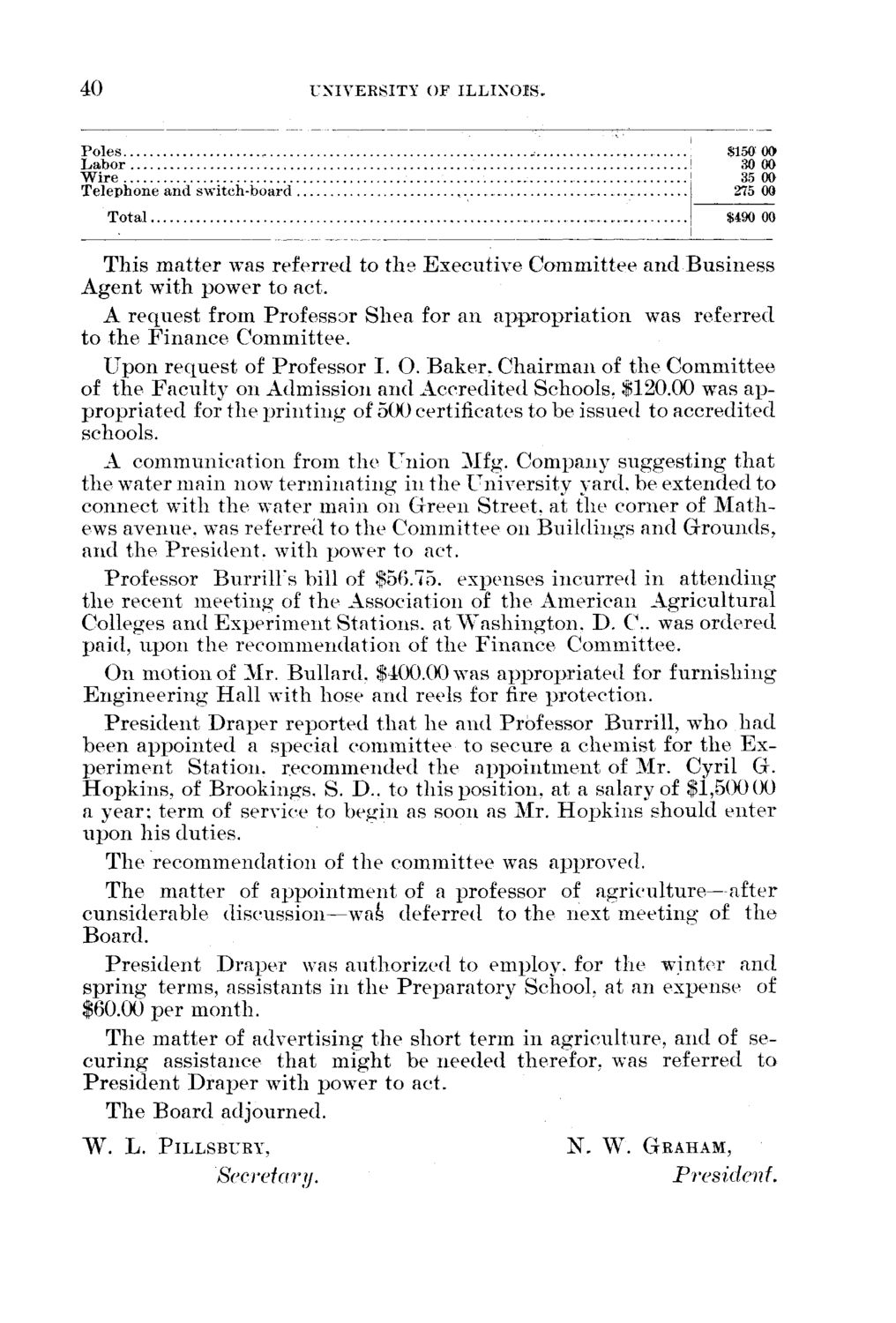 ---
EXTRACTED TEXT FROM PAGE:
40
Poles Labor Wire Telephone and switch-board Total
UNIVERSITY OF ILLINOIS:
.• • . , -.....,.
! \ !
$150 00 30 00 35 00 275 00 $490 00
This matter w7as referred to the Executive Committee and Business Agent with power to act. A request from Professor Shea for an appropriation was referred to the Finance Committee. Upon request of Professor I. O. Baker. Chairman of the Committee of the Faculty on Admission and Accredited Schools, $120.00 was appropriated for the printing of 500 certificates to be issued to accredited schools. A communication from the Union Mfg. Company suggesting that the water main now terminating in the University yard, be extended to connect with the water main on Green Street, at the corner of Mathews avenue, was referred to the Committee on Buildings and Grounds, and the President, with power to act. Professor BurrilFs bill of $56.75. expenses incurred in attending the recent meeting of the Association of the American Agricultural Colleges and Experiment Stations, at Washington, D. C . was ordered paid, upon the recommendation of the Finance Committee. On motion of Mr. Bullard, $400.00 was appropriated for furnishing Engineering Hall with hose and reels for fire protection. President Draper reported that he and Professor Burrill, who had been appointed a special committee to secure a chemist for the Experiment Station, recommended the appointment of Mr. Cyril G. Hopkins, of Brookings, S. D.. to this position, at a salary of $1,50000 a year; term of service to begin as soon as Mr. Hopkins should enter upon his duties. The recommendation of the committee was approved. The matter of appointment of a professor of agriculture—after cunsiderable discussion—was deferred to the next meeting of the Board. President Draper was authorized to employ, for the winter and spring terms, assistants in the Preparatory School, at an expense of $60.00 per month. The matter of advertising the short term in agriculture, and of securing assistance that might be needed therefor, was referred to President Draper with power to act. The Board adjourned.
"W. L. PILLSBUEY, N. W. GRAHAM,
'Secretary.
President.