Caption: Board of Trustees Minutes - 1896
This is a reduced-resolution page image for fast online browsing.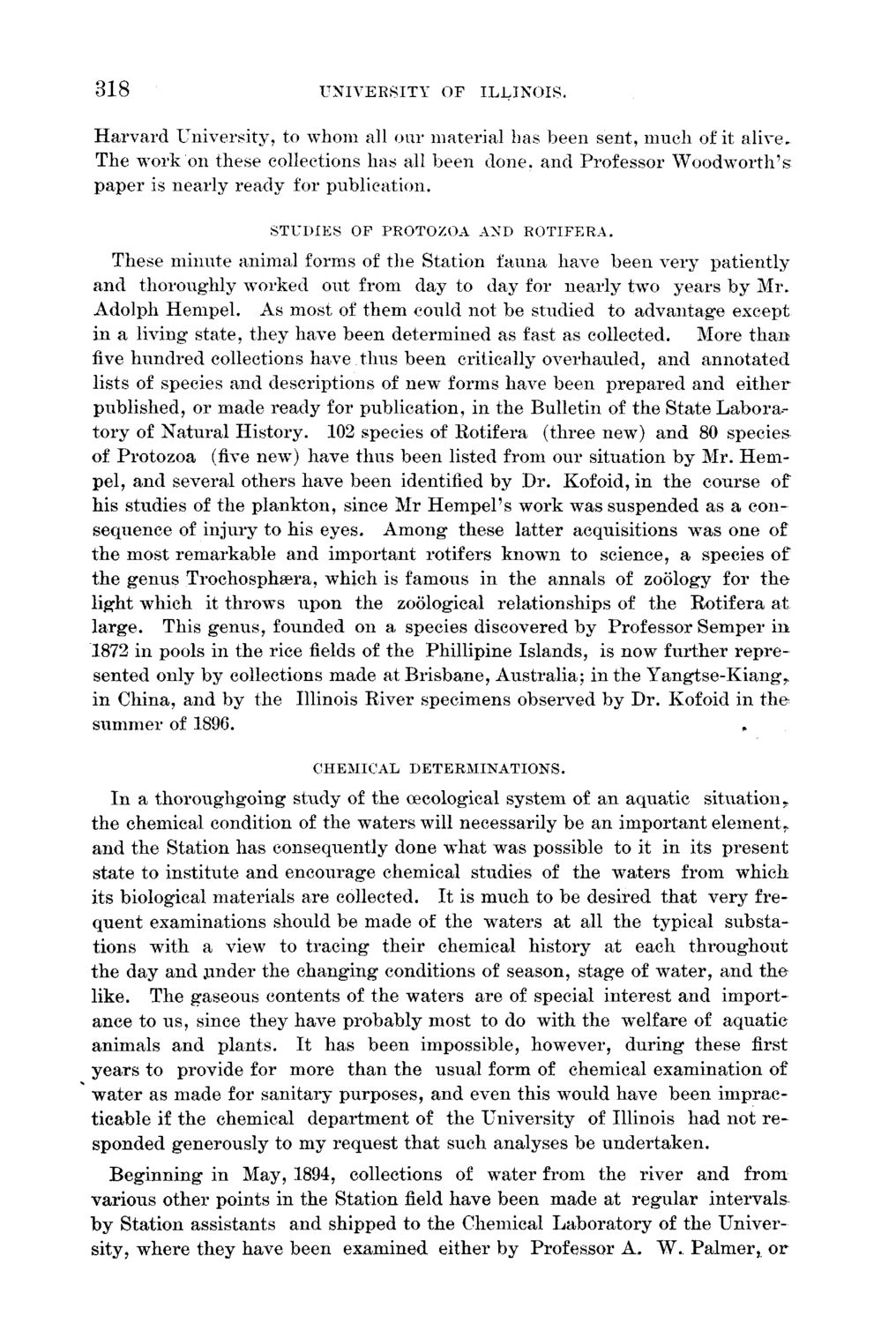 ---
EXTRACTED TEXT FROM PAGE:
318
U N I V E R S I T Y OF
ILLINOIS.
Harvard University, to whom all our material has been sent, much of it alive. The work on these collections has all been done, and Professor Woodworth's paper is nearly ready for publication.
STUDIES OF PROTOZOA AND ROTIFERA.
These minute animal forms of the Station fauna have been very patiently and thoroughly worked out from day to day for nearly two years by Mr. Adolph Hempel. As most of them could not be studied to advantage except in a living state, they have been determined as fast as collected. More than five hundred collections have thus been critically overhauled, and annotated lists of species and descriptions of new forms have been prepared and either published, or made ready for publication, in the Bulletin of the State Laboratory of Natural History. 102 species of Rotifera (three new) and 80 species of Protozoa (H\Te new) have thus been listed from our situation by Mr. Hempel, and several others have been identified by Dr. Kofoid, in the course of his studies of the plankton, since Mr Hempel's work was suspended as a consequence of injury to his eyes. Among these latter acquisitions was one of the most remarkable and important rotifers known to science, a species of the genus Trochosphsera, which is famous in the annals of zoology for the light which it throws upon the zoological relationships of the Rotifera at large. This genus, founded on a species discovered by Professor Semper in 1872 in pools in the rice fields of the Phillipine Islands, is now further represented only by collections made at Brisbane, Australia; in the Yangtse-Kiang r in China, and by the Illinois River specimens observed by Dr. Kofoid in the summer of 1896.
CHEMICAL DETERMINATIONS.
In a thoroughgoing study of the cecologieal system of an aquatic situation r the chemical condition of the waters will necessarily be an important elementT and the Station has consequently done what was possible to it in its present state to institute and encourage chemical studies of the waters from which its biological materials are collected. It is much to be desired that very frequent examinations should be made of the waters at all the typical substations with a view to tracing their chemical history at each throughout the day and under the changing conditions of season, stage of water, and the like. The gaseous contents of the waters are of special interest and importance to us, since they have probably most to do with the welfare of aquatic animals and plants. It has been impossible, however, during these first years to provide for more than the usual form of chemical examination of water as made for sanitary purposes, and even this would have been impracticable if the chemical department of the University of Illinois had not responded generously to my request that such analyses be undertaken. Beginning in May, 1894, collections of water from the river and from various other points in the Station field have been made at regular intervals by Station assistants and shipped to the Chemical Laboratory of the University, where they have been examined either by Professor A. W . Palmer, or