Caption: Board of Trustees Minutes - 1896
This is a reduced-resolution page image for fast online browsing.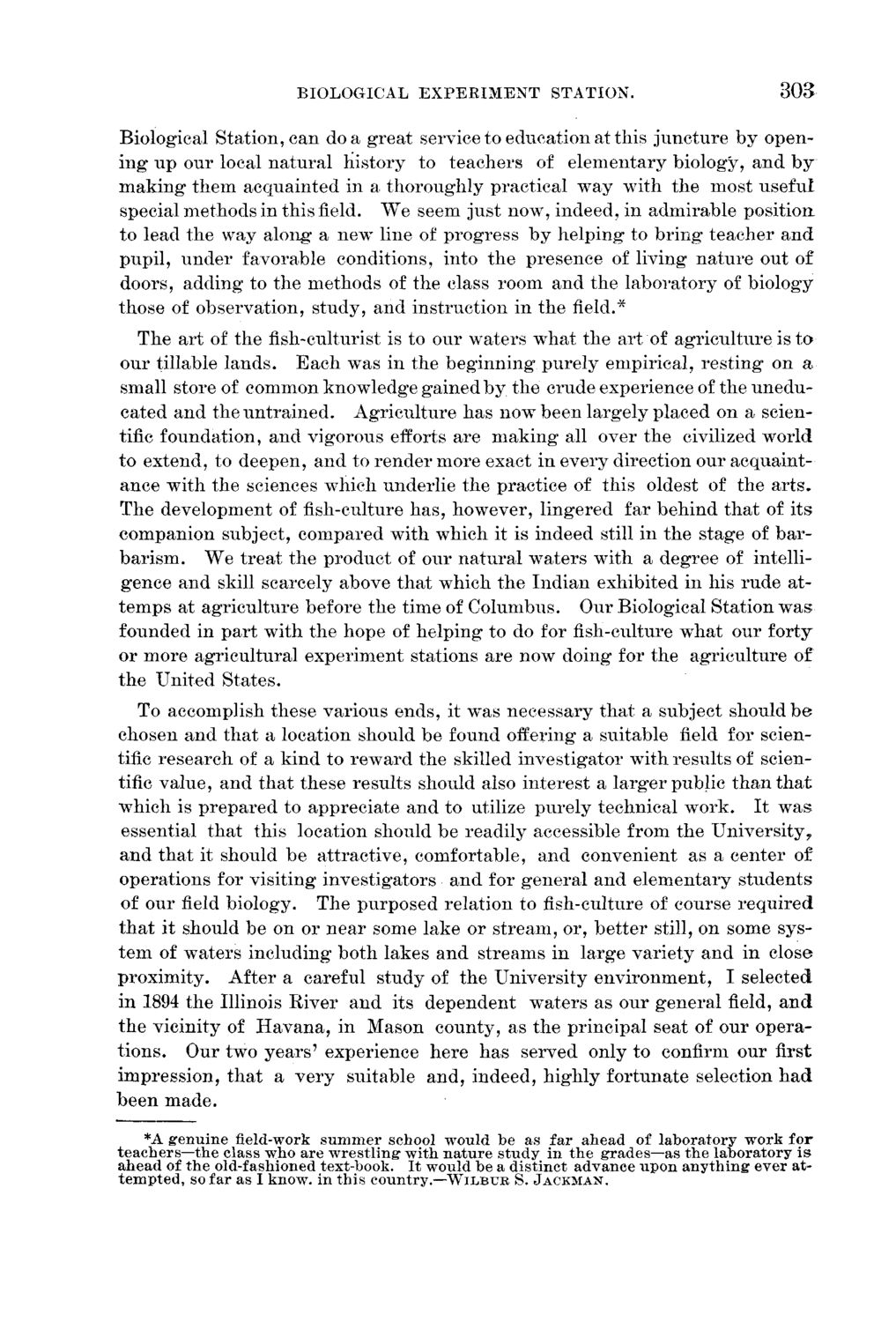 ---
EXTRACTED TEXT FROM PAGE:
BIOLOGICAL EXPERIMENT
STATION.
303
Biological Station, can do a great service to education at this juncture by opening up our local natural history to teachers of elementary biology, and by making them acquainted in a thoroughly practical way with the most useful special methods in this field. We seem just now, indeed, in admirable position: to lead the way along a new line of progress by helping to bring teacher and pupil, under favorable conditions, into the presence of living nature out of doors, adding to the methods of the class room and the laboratory of biology those of observation, study, and instruction in the field.* The art of the fish-culturist is to our waters what the art of agriculture is to our tillable lands. Each was in the beginning purely empirical, resting on a small store of common knowledge gained by the crude experience of the uneducated and the untrained. Agriculture has now been largely placed on a scientific foundation, and vigorous efforts are making all over the civilized world to extend, to deepen, and to render more exact in every direction our acquaintance with the sciences which underlie the practice of this oldest of the arts. The development of fish-culture has, however, lingered far behind that of its companion subject, compared with which it is indeed still in the stage of barbarism. We treat the product of our natural waters with a degree of intelligence and skill scarcely above that which the Indian exhibited in his rude attemps at agriculture before the time of Columbus. Our Biological Station was founded in part with the hope of helping to do for fish-culture what our forty or more agricultural experiment stations are now doing for the agriculture of the United States. To accomplish these various ends, it was necessary that a subject should be chosen and that a location should be found offering a suitable field for scientific research of a kind to reward the skilled investigator with results of scientific value, and that these results should also interest a larger public than that which is prepared to appreciate and to utilize purely technical work. It was essential that this location should be readily accessible from the University? and that it should be attractive, comfortable, and convenient as a center of operations for visiting investigators and for general and elementary students of our field biology. The purposed relation to fish-culture of course required that it should be on or near some lake or stream, or, better still, on some system of waters including both lakes and streams in large variety and in close proximity. After a careful study of the University environment, I selected in 1894 the Illinois River and its dependent waters as our general field, and the vicinity of Havana, in Mason county, as the principal seat of our operations. Our two years' experience here has served only to confirm our first impression, that a very suitable and, indeed, highly fortunate selection had been made.
*A genuine field-work summer school would be as far ahead of laboratory work for teachers—the class who are wrestling with nature study in the grades—as the laboratory is ahead of the old-fashioned text-book. It would be a distinct advance upon anything ever attempted, so far as I know, in this country.—WILBUR S. JACKMAN.