Caption: Board of Trustees Minutes - 1896
This is a reduced-resolution page image for fast online browsing.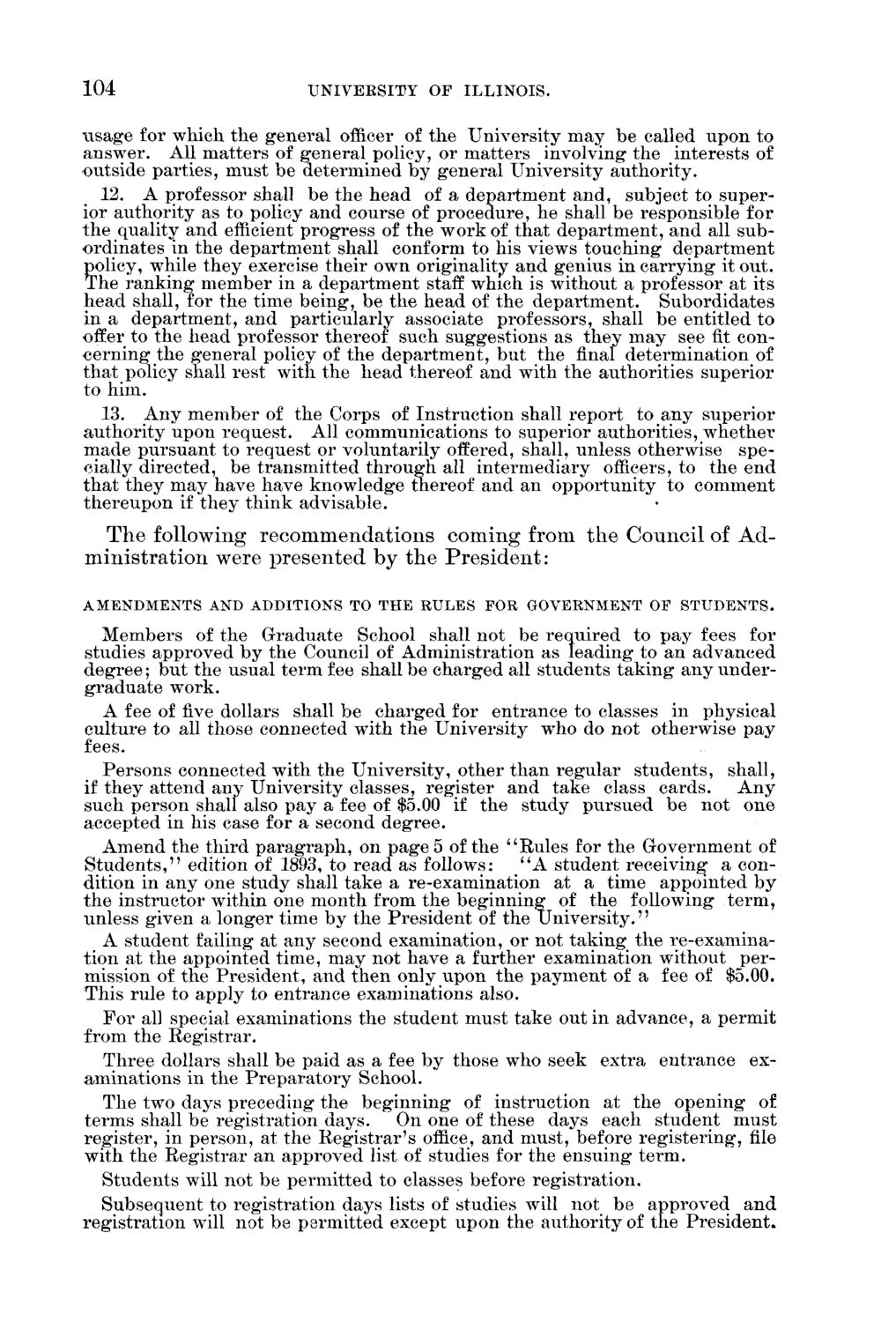 ---
EXTRACTED TEXT FROM PAGE:
104
U N I V E R S I T Y OF
ILLINOIS.
usage for which the general officer of the University may be called upon to answer. All matters of general policy, or matters involving the interests of outside parties, must be determined by general University authority. 12. A professor shall be the head of a department and, subject to superior authority as to policy and course of procedure, he shall be responsible for the quality and efficient progress of the work of that department, and all subordinates in the department shall conform to his views touching department policy, while they exercise their own originality and genius in carrying it out. The ranking member in a department staff which is without a professor at its head shall, for the time being, be the head of the department. Subordidates in a department, and particularly associate professors, shall be entitled to offer to the head professor thereof such suggestions as they may see tit concerning the general policy of the department, but the final determination of that policy shall rest with the head thereof and with the authorities superior to him. 13. Any member of the Corps of Instruction shall report to any superior authority upon request. All communications to superior authorities, whether made pursuant to request or voluntarily offered, shall, unless otherwise specially directed, be transmitted through all intermediary officers, to the end that they may have have knowledge thereof and an opportunity to comment thereupon if they think advisable. T h e following r e c o m m e n d a t i o n s c o m i n g from t h e Council of A d m i n i s t r a t i o n were p r e s e n t e d by t h e P r e s i d e n t :
AMENDMENTS AND ADDITIONS TO THE RULES FOR GOVERNMENT OF STUDENTS.
Members of the Graduate School shall not be required to pay fees for studies approved by the Council of Administration as leading to an advanced degree; but the usual term fee shall be charged all students taking any undergraduate work. A fee of five dollars shall be charged for entrance to classes in physical culture to all those connected with the University who do not otherwise pay fees. Persons connected with the University, other than regular students, shall, if they attend any University classes, register and take class cards. Any such person shall also pay a fee of $5.00 if the study pursued be not one accepted in his case for a second degree. Amend the third paragraph, on page 5 of the "Rules for the Government of Students," edition of 1893, to read as follows: " A student receiving a condition in any one study shall take a re-examination at a time appointed by the instructor within one month from the beginning of the following term, unless given a longer time by the President of the University.'' A student failing at any second examination, or not taking the re-examination at the appointed time, may not have a further examination without permission of the President, and then only upon the payment of a fee of $5.00. This rule to apply to entrance examinations also. For all special examinations the student must take out in advance, a permit from the Registrar. Three dollars shall be paid as a fee by those who seek extra entrance examinations in the Preparatory School. The two days preceding the beginning of instruction at the opening of terms shall be registration days. On one of these days each student must register, in person, at the Registrar's office, and must, before registering, file with the Registrar an approved list of studies for the ensuing term. Students will not be permitted to classes before registration. Subsequent to registration days lists of studies will not be approved and registration will not be permitted except upon the authority of the President.