Caption: Board of Trustees Minutes - 1874
This is a reduced-resolution page image for fast online browsing.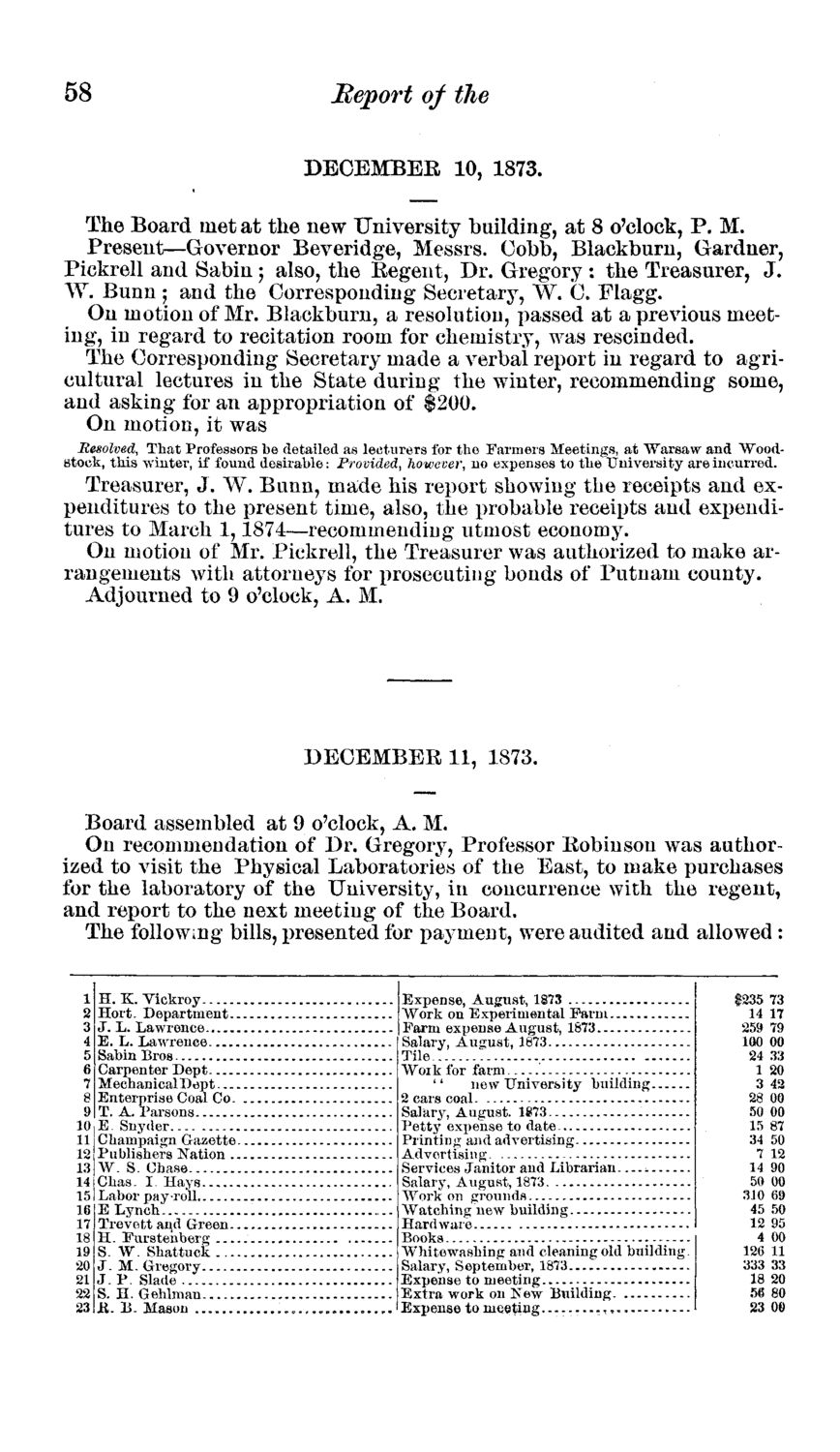 ---
EXTRACTED TEXT FROM PAGE:
58
Report of the
DECEMBER 10, 1873.
The Board met at the new University building, at 8 o'clock, P. M. Present—Governor Beveridge, Messrs. Cobb, Blackburn, Gardner, Pickrell and Sabin; also, the Regent, Dr. Gregory : the Treasurer, J. W. Bunn ; and the Corresponding Secretary, W. C. Flagg. On motion of Mr. Blackburn, a resolution, passed at a previous meeting, in regard to recitation room for chemistry, was rescinded. The Corresponding Secretary made a verbal report in regard to agricultural lectures in the State during the winter, recommending some, and asking for an appropriation of $200. On motion, it was
Resolved, That Professors be detailed as lecturers for the Farmers Meetings, at Warsaw and Woodstock, this winter, if found desirable: Provided, however, no expenses to the University are incurred.
Treasurer, J. W. Bunn, made his report showing the receipts and expenditures to the present time, also, the probable receipts and expenditures to March 1,1874—recommending utmost economy. On motion of Mr. Pickrell, the Treasurer was authorized to make arrangements with attorneys for prosecuting bonds of Putnam county. Adjourned to 9 o'clock, A. M.
DECEMBER 11, 1873. Board assembled at 9 o'clock, A. M. On recommendation of Dr. Gregory, Professor Eobinsou was authorized to visit the Physical Laboratories of the East, to make purchases for the laboratory of the University, in concurrence with the regent, and report to the next meeting of the Board. The following bills, presented for payment, were audited and allowed :
H. K. Vickroy Hort. Department.. <J. L. Lawrence E. L. Lawrence Sabin Bros Carpenter Dept Mechanical Dept Enterprise Coal Co. T. A. Parsons E. Snyder Champaign Gazette Publishers Nation .. W. S. Chase Chas. I. Hays Labor pay roll E Lynch Trevett aiul Green.. H . Furstenberg S. W. Shattuck . . . J . M. Gregory J . P . Slade S. H. Gehlman ft. B. Mason , Expense, August, 1873 Work on Experimental Farm Farm expense August, 1873 Salary, August, 1873 Tile Work4 for farm ' new University building 2 cars coal Salary, August. 1873 Petty expense to date Printing and advertising Advertising Services Janitor and Librarian Salary, August, 1873 Work on grounds Watching new building Hardware Books Whitewashing and cleaning old building Salary, September, 1873 Expense to meeting Extra work on New Building Expense to meeting ....,,,
1235 73 14 17 259 79 100 00 24 33 1 20 3 42 28 00 50 00 15 87 34 50 7 12 14 90 50 00 310 69 45 50 12 95 4 00 126 11 333 33 18 20 56 80 23 00