Caption: Board of Trustees Minutes - 1874
This is a reduced-resolution page image for fast online browsing.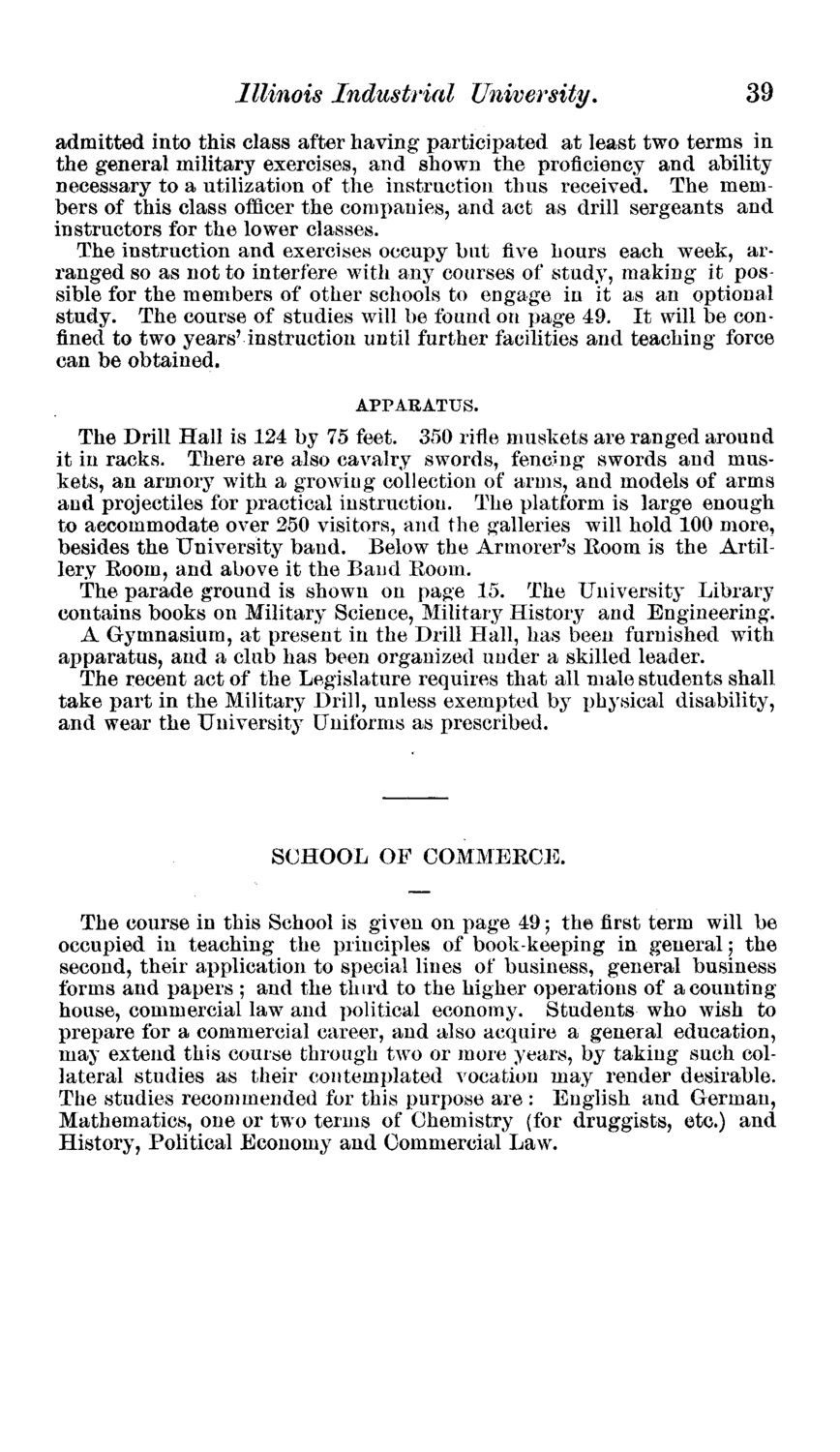 ---
EXTRACTED TEXT FROM PAGE:
Illinois Industrial
University.
39
admitted into this class after having participated at least two terms in the general military exercises, and shown the proficiency and ability necessary to a utilization of the instruction thus received. The members of this class officer the companies, and act as drill sergeants and instructors for the lower classes. The instruction and exercises occupy but five hours each week, arranged so as not to interfere with any courses of study, making it possible for the members of other schools to engage in it as an optional study. The course of studies will be found on page 49. It will be confined to two years' instruction until further facilities and teaching force can be obtained.
APPARATUS.
The Drill Hall is 124 by 75 feet. 350 rifle muskets are ranged around it in racks. There are also cavalry swords, fencing swords and muskets, an armory with a growing collection of arms, and models of arms and projectiles for practical instruction. The platform is large enough to accommodate over 250 visitors, and the galleries will hold 100 more, besides the University band. Below the Armorer's Room is the Artillery Room, and above it the Band Room. The parade ground is shown on page 15. The University Library contains books on Military Science, Military History and Engineering. A Gymnasium, at present in the Drill Hall, has been furnished with apparatus, and a club has been organized under a skilled leader. The recent act of the Legislature requires that all male students shall take part in the Military Drill, unless exempted by physical disability, and wear the University Uniforms as prescribed.
SCHOOL OF COMMERCE. The course in this School is given on page 49; the first term will be occupied in teaching the principles of book-keeping in general; the second, their application to special lines of business, general business forms and papers ; and the thud to the higher operations of a counting house, commercial law and political economy. Students who wish to prepare for a commercial career, and also acquire a general education, may extend this course through two or more years, by taking such collateral studies as their contemplated vocation may render desirable. The studies recommended for this purpose are : English and German, Mathematics, one or two terms of Chemistry (for druggists, etc.) and History, Political Economy and Commercial Law.