Caption: Board of Trustees Minutes - 1874
This is a reduced-resolution page image for fast online browsing.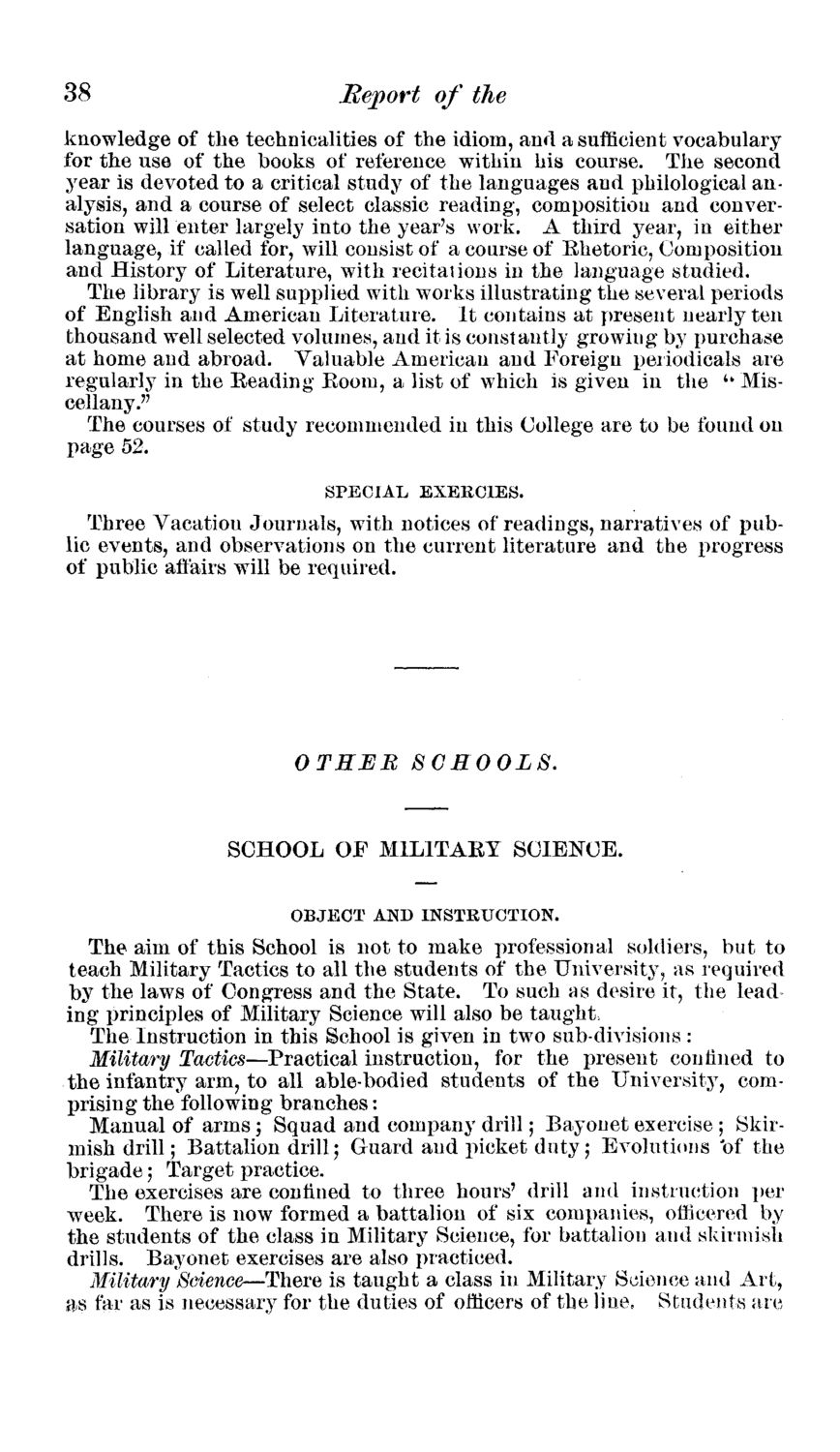 ---
EXTRACTED TEXT FROM PAGE:
38
Report of the
knowledge of the technicalities of the idiom, and a sufficient vocabulary for the use of the books of reference within his course. The second year is devoted to a critical study of the languages and philological analysis, and a course of select classic reading, composition and conversation will enter largely into the year's work. A third year, in either language, if called for, will consist of a course of Ehetoric, Composition and History of Literature, with recitations in the language studied. The library is well supplied with works illustrating the several periods of English and American Literature. It contains at present nearly ten thousand well selected volumes, and it is constantly growing by purchase at home and abroad. Valuable American and Foreign periodicals are regularly in the Beading Boom, a list of which is given in the u Miscellany.'7 The courses of study recommended in this College are to be found on page 52.
SPECIAL EXERC1ES.
Three Vacation Journals, with notices of readings, narratives of public events, and observations on the current literature and the progress of public affairs will be required.
OTEUE
SCHOOLS.
SCHOOL OF M1L1TAEY SCIENCE.
OBJECT AND INSTRUCTION.
The aim of this School is not to make professional soldiers, but to teach Military Tactics to all the students of the University, as required by the laws of Congress and the State. To such as desire it, the leading principles of Military Science will also be taught, The Instruction in this School is given in two subdivisions : Military Tactics—Practical instruction, for the present con lined to the infantry arm, to all able-bodied students of the University, comprising the following branches: Manual of arms; Squad and company drill; Bayonet exercise ; Skirmish drill; Battalion drill; Guard and picket duty; Evolutions 'of the brigade; Target practice. The exercises are confined to three hours' drill and instruction per week. There is now formed a battalion of six companies, officered by the students of the class in Military Science, for battalion and skirmish drills. Bayonet exercises are also practiced. Military Science—There is taught a class in Military Science and Art, as far as is necessary for the duties of officers of the line. Students are